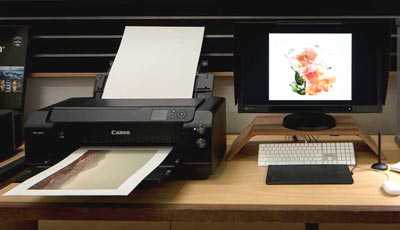 In this digital era, creating a masterpiece on screen is as hardworking as it is on paper. What makes it more challenging is when you want to print it out on paper.
Most of us resort to studios for a quick and easy print, but that means lesser control over the accuracy of it.
Maintaining the color combination and precision is something you can't compromise when it comes to printing your artworks.
That's why it's better to go for the best art printer in the market and take things into your own hands.
Okay, the big question is, which one to go for. It's actually pretty overwhelming if given a choice to choose one from hundreds of models. To help you skip this hassle, I have listed down 12 of the most functional devices you can go after.
Let's begin, shall we?
Why Artists Need A Unique Printer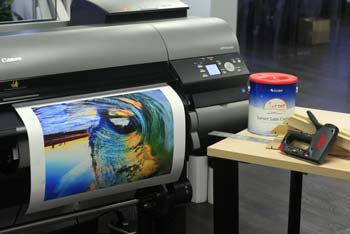 First off, there's a difference between a digital image and a printer version of it. The reason behind it is the way color works on paper and a digital screen. On the screen, shades are all binary numbers.
But on the real printout, it's actually the physical color that your machine is using. So, the gap between these two versions is there. What an artist focuses on is to mitigate the difference.
The more capable the device of representing the actual color sense of the digitized image, the better it is. This is not a field of the game for every printer out there. Most composers are pretty much designed for business- printing that bothers less on the color accuracy and more on the output volume.
If you dig deep, you will find very few devices are capable of maintaining the terms of color that an artist needs. Being fewer in number, these are definitely some of the unique ones in this segment.
That's the sole reason artists are constantly looking for unique printers that can inject life into an image, just like the digital one.
Top 12 Pick For Artists
Well, it wasn't an easy ride narrowing down the list to 12. It cost us a lot of time and research to go through different devices and finally settle down to these following ones. Without wasting time, let's find out why!
1. HP ENVY 5055 Scanner Printer for Artists
Let's kick off the reviews on the best printer for artists with the HP Envy 5055. It's a three-in-one device that takes care of both scanning and copying, as well. But the print quality of this one is definitely going to leave you surprised.
Capable of accurately presenting high-resolution images, this machine is something any artist will adore. Its precise use of pigments while delivering the image on paper marks the excellence it preserves.
Besides that, the Envy 5055 can hold up to most of the regularly-used papers. That means if you are in need of printing on different-sized papers, this one has got your back. Be it a legal, letter, or even envelope-size sheet; there's a place for every type.
The Envy 5055 comes with a unique HP Instant Ink program. When you subscribe to this program, you will be granted 2 months of free ink service. Plus, it will integrate with your device system so that it can reorder cartridges when necessary.
All these benefits come in a seemingly small package of 12 pounds. It's really a compact machine that you can place in nearly any space in your house. This one just suits perfectly! If you ask me for the most promising scanner printer for artists, I will be voting for this one, surely!
The best part is, the Envy 5055 is marked with a Climate Pledge Friendly badge, which basically means it harms the environment to a lesser level.
Highlighted Features:
Connects with mobile gadgets and PC through Wi-Fi and Bluetooth.
Dual-band Wi-Fi for a strong connection.
Mono touchscreen for easy navigation.
Wide range of paper support.
HP Instant Ink service.
2. Epson Expression Photo HD XP-15000
If you are particularly a fan of borderless image printing, say hello to Epson XP-15000! This one is a true borderless printer that holds the reputation of Epson up to the mark, for sure.
Get the most professional HD photo print with this ultra-modern device. For borderless images, you get to compose on pages up to 13 by 19 inches. That's a huge area, especially if you are planning on selling your designs. Listed on the best printers for art prints for a reason!
A surprising fact of this machine is its ink setup. Open up the ink-system and voila! – a red and gray inkpot! "Huh! What benefit do I get?" – you ask? Well, it lets you print ultra wide-color tones. Plus, when you compose black and white, you get an enhanced life in the color.
A total of 6 inkpots are there to support your accurate representation of colors. This comes with another subtle benefit, too. You only need to refill the one that goes short—no need to replace the entire ink system.
Again, the XP-15000 allows you to feed most of the regularly-used paper types. No matter what size of the image you need to print on, resort to Epson XP-15000!
If you compare this one with its peers in the market, it will surely be on the more compact side. As far as the measurement is concerned, the XP-15000 is around 30 percent smaller than most of the devices found in the same segment.
Highlighted Features:
Can be connected to PC and phones via Wi-Fi.
Comes with a 6-color Claria ink setup.
Borderless print up to 13 by 19 inches.
Color touchscreen for navigation.
Allows the most commonly used paper types.
3. Canon Selphy CP1300
If convenient photo printing had a face, it would be the Selphy CP1300 from Canon. Dedicated to photos only, the CP1300 is just the precious stone artists are looking for.
This little dude is a portable, compact, and easy to handle the device. Weighing less than a couple of pounds, it easily fits your carrying bag. You get to move around with it wherever you like. Just lift it, place it inside your carrier, and move on!
The amazing perk of this tiny machine is its instant-dry option. That means when you print your photo, it will get dried within seconds, and you will get a fresh, ready-to-use image. According to Canon, the images will look the same as you compose for 100 years! Insane, isn't it?
And yes, the printouts are water-resistant. You may not bother sprinkling a few drops of water on it here and there, but soaking it with water may damage it. So, be careful with water.
Print at a high definition color level up to 256 levels per color. That's equivalent to 16.8 million colors. The vivid display of shades you get is something extraordinary, I must say.
The Selphy CP1300 supports a wide range of paper types, including postcard, L size, card size, and square label.
Highlighted Features:
Portable and weightless photo printer.
Instant dry image technology.
Water-resistant printing.
Battery backup for wireless portable printing.
Print directly from Wi-Fi and USB devices.
4. HP ENVY 7855 Home Printer for Art Prints
With a unique construction, HP Envy 7855 marks a special place on my list. The fact that it was made from tons of recycled printers is something that deserves a special mention.
Apart from the eco-friendly construction, this one is a true photo printer for your day to day needs. The accuracy of the color it maintains is beyond satisfaction for real. Using a high-quality color system, it can represent every pixel of color in real sense.
The device has a special and separate paper tray for photo papers. It makes sure that you don't mess up with different paper types when you are getting a printout. Just select the photo tray when you are composing an image.
According to HP, it costs only 5 cents to print each picture. This is because of the smart HP Instant Ink service. Once registered with this program, the device will automatically order ink as soon as it detects ink-shortage. Plus, the ink is free fro the first couple of months!
Apart from using the Wi-Fi or Bluetooth to print from your smartphone and tablet, you can alternatively use USB memory to compose from it. Just plug the USB stick into the device, and a few navigations on the color touchscreen will be good to go!
Highlighted Features:
Costs less than 5 cents per print.
Wi-Fi and USB stick print system.
Supports a range of paper types.
Distinct photo tray.
Wireless direct print using dual-band Wi-Fi.
5. Canon TS9120
As an artist, you must have been thinking about a printing device that suits your personality.
I mean, come on! Your work desk is itself a piece of art. Associating something that looks stunning on your desk is not only a preference but also inevitable.
Introducing the Canon TS9120 – one of the smartest looking devices that fit your personality. The design is simple yet smart and fits any place with ease. If you are looking for the best printer scanner for artists, here's your bet.
Apart from that, the TS9120 comes with a brilliant 6-color individual ink system. Every single inkpot is dedicated to individual ink release, and it works great. You can tell it by the amazing detail you get on the paper right away after printing.
Plus, it means you don't need to change the whole ink system when one of the inkpots goes empty. Just replace the one that needs reloading.
Printing at a high-resolution is just a piece of cake for this smart device. You get up to 4800 by 1200 dots per inch for every single print out. That's more than impressive for a photo printer, I must say!
Don't have a phone that connects wirelessly?
No worries, take out the memory card and place it directly into the built-in card reader of this machine. Use the touch screen panel to take a print out from memory in seconds!
Also, if you have your old photos stored on CD, DVD, or even Blu-ray discs, there's good news for you. This device comes with a Disc reader tray to print from these discs!
Highlighted Features:
6-color individual ink system.
Document removal notification.
Composes up to 4800 X 1200 Dots per inch.
CD/DVD/Blue-ray tray.
Memory card reader.
6. Epson WorkForce WF-7720
Epson has been producing some of the best printers for artistsfor decades. The Workforce series has kept the legacy upheld for a good number of years. Their WF-7720 is a true example of such devices.
It enables borderless photo printing up to 13 inches by 19 inches. Enjoy the vivid colors and natural representation of shades on the papers, just like the digital version. Thanks to its 4 durable ink cartridges set up.
The ink system consists of a black, a cyan, a magenta, and a yellow ink cartridge. Together, these inks produce true to life pictures on photo papers instantly. The photos dry up quickly and get ready to use within minutes.
The good news is, this device claims less power usage than its peers in the laser printing category. According to Epson, you can save up to 80 percent of power compared to color laser printers. That's a lot of power to save if you are going to compose professionally.
One thing that you must keep in mind is that you need to use genuine Epson ink for this one. You can use third-party cartridges, but it may cause damage to the device, and surely it will nullify your warranty. So a bit of care is needed in this case.
Highlighted Features:
Borderless printing up to 13 by 19 inches.
Power saving up to 80 percent.
Easy navigation on a 4.3-inch touch screen.
4 different ink pots.
Wireless printing via Wi-Fi and Bluetooth.
7. Brother HL-L8360CDW
If you are planning to take your photo printing job to the next level, you definitely need a professional printer that yields high quality prints for artists. And when it comes to printing professionally, very few stand equal to the devices from Brothers.
Take the HL-L8360CDW, for example. This is known as a business printer by default, and there are plenty of reasons behind it. No matter what color you are printing, Black & White, or colorful ones – the device prints at a speed of 33 PPM.
That's enough speed to support multiple printing on one go. This applies to photo composing, as well.
It can store up to 250 sheets of paper inside so that you don't need to check and replace paper every now and then. Load the entire paper box inside the tray and forget about reloading it for weeks.
The composer has a 2.7-inch touch screen display on top for you to easily navigate through the different options. Scan, print, fax, and even copy with the device just by tapping a few times on the screen. That's why this one is a true claimant of being the best printer/scanner for art prints.
It supports Wi-Fi wireless connection so that you can command printouts directly from your smart gadgets.
Highlighted Features:
Business printer prints at a speed of 33 PPM.
The paper loader can hold up to 250 pages.
Touchscreen navigation pane.
4-in-1 multifunctional device.
Print wirelessly from smartphones and tablets.
8. Canon Pixma iX6820
Have you ever heard the term little bomb? It's something that looks simple and innocent, but in reality, it's capable of doing something beyond expectation. Even though it's compact, it still is a heavy contender for being the best printer for making art prints.
My reaction to Canon Pixma iX6820 was exactly this when I first came to know about it. It looks quite simple by its appearance but man, oh, man! It does an amazing job if printing images is concerned.
The device runs by a FINE print head technology. This technique uses photography inkjet nozzle engineering to produce amazing borderless photos. You will find it hard to differentiate from the digital version.
It couldn't have been possible without the help of the 5 individual ink tank systems inside. Each ink tank supplies different colors to turn the stunning digitized photos into a reality.
Produce up to a maximum resolution of 9600 by 2400 DPI. This allows you to print details that other printers generally miss. Thanks to its 1-picoliter sized ink droplets that produce sharp detail.
Highlighted Features:
5-color individual ink system.
Run with FINE head technology for great photos.
Print resolution can reach up to 9600 X 2400 DPI.
Noiseless printing sessions.
Takes 36 seconds to compoe images.
9. Epson Artisan 1430
Epson never ceases to surprise us with their innovations when it comes to composing devices. The surprise remains the same for the Artisan 1430. It is packed with a lot of fascinating features that are hard to ignore! This is one of the best, if not the best fine art printer I have reviewed so far.
First off, the Artisan 1430 is fully capable of printing high definition borderless images up to 13 inches by 19 inches. It automatically enhances the photo size to fit into the highest possible size.
That being said, it allows most of the regularly used paper sizes, especially for image composing. The true borderless printing experience suits perfectly with these paper types.
For the accurate representation of color, the device homes 6-color ink cartridges. You can find cyan, black, yellow, magenta, light cyan, and light magenta color in the system. Every single inkpot produces high definition prints that are hard to differentiate from the on-screen presentation.
Comprising all these techniques, you get smooth gradation, sharpness, and grain-free images on paper.
One exciting fact is that the device can compose directly on CD and DVD without the need to print on a label. Just insert the disc and seal directly on it! Now that's a great innovation, isn't it?
Highlighted Features:
High definition borderless printing up to 13X19 inches.
6-color Claria ink cartridges.
Print directly on CD and DVD disc.
Up to 4 times long-lasting photos compared to labs.
Supports most of the common paper types.
10. Canon Pixma Pro-100 Printer for Printing Artwork
Canon Pixma is a series that I always look up to. Trust me; you will never be disappointed with a Pixma device no matter what type of printing you do. On number 10, we have the Pixma Pro-100 for you to consider for your next printer for printing artwork.
The device comes with an impressive Image Generating System that works on kind of an AI base. It reproduces the color following your intention and selects the optimum ink combination for you. It measures the ink on the image and the paper type that is selected.
Then it automatically calculates the necessary coloring that will make the image close to the digital version. And truly, it does what it claims.
Based on the 8-dye ink system, the Pro-100 promised great gradients and color representations on the paper. You can expect impressive details and vivid color on every single image you compose.
It allows you to print up to 4800 by 2400 DPI. This produces fantastic results as the entire system is built on Full-photolithography Inkjet Nozzle Engineering (FINE). It is accompanied by a high-quality printhead that can produce microscopic droplets. 
Highlighted Features:
8 Dye based ink for an accurate color representation.
Optimum Image Generator system for details.
Print resolution up to 4000 DPI.
Wi-Fi enabled printing.
FINE featured printhead for microscopic droplet.
11. Epson Expression Photo XP-970
Another brilliant photo composer from Epson is the XP-970. If you are looking for a standout image printer for high quality prints for artists, this is the one you should go for.
That's because this device can print a 4 by 6 inches image just within 11 seconds. It's faster than most of its counterparts in the market and is surely going to save a lot of time for you.
Print borderless photos up to 11 by 17 inches on photo papers. It takes care of the pixel rates and makes sure the image doesn't break in any area.
The XP-970 is fueled by a 6-color Claria ink system that delivers the right amount of ink for a given image. It makes sure that every single pixel of a digital picture is given its due ink to produce smooth gradation and brilliant skin tones.
One great option it comes with is its direct composing capacity on CD and DVD discs. You can place the discs inside the machine and skip the label printing part smartly.
Apart from these features, the XP-970 comes with a USB and memory card reader so that you can connect your flash drives directly to the machine. Plus, you can command the device through Alexa and Google Assistant with your voice, as well, for your convenience.
Highlighted Features:
6-Color Claria Photo HD Ink system.
Photo printing within 11 seconds.
Borderless printing up to 11 inches by 17 inches.
USB and memory card reader.
Voice command enabled printing option.
12. Canon TS9521C
So let me drop the shutter of today's reviews for the best art printer with one of the most promising show-stoppers in the list – the TS9521C from Canon.
This excellent image composer comes with 5 individual ink pots that allow you to get the most accurate image printing experience you've ever enjoyed. If you are composing anything from photos to craft or artwork, this one is worth your try.
The 5-ink system has a perk of its own. You don't need to replace the entire ink system when an individual color tank falls short of ink. Just refill or replace the one that needs reloading, that's it!
With the help of these versatile ink support, the TS9521C can print amazing borderless images up to 12 by 12 inches in size. You don't even need a computer to do this technical stuff as a 4.3-inch touchscreen display lets you explore everything you need.
Plus, connecting through Wi-Fi, your smartphones and tablets can be a source of print commands, too. Not to mention the memory card slot that comes with the device for an easier printing experience from memories.
Highlighted Features:
5-color individual ink system.
Climate pledge friendly product.
Borderless printing up to 12 by 12 inches.
4.3-inch LCD touchscreen navigator.
Wi-Fi connection to smart gadgets.
Printer For Art Print Comparison Chart
| | | | | |
| --- | --- | --- | --- | --- |
| | | | | |
| | | | | |
| Epson Expression Photo HD XP-15000 | | | | |
| | | | | |
| | | | | |
| | | | | |
| | | | | |
| | | | | |
| | | | | |
| | | | | |
| | | | | |
Art Printer Buying Guide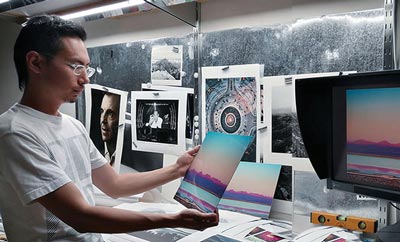 As an artist, before you decide to go for good printers for art prints, you need to consider a number of issues. Remember, random printing is not your kind of game. So, there are some specialties that you need the device to have. Here're a few pro-tips for you.
Ensure Color Accuracy
There's nothing as important as representing true colors when you are printing images. A digital image and a printed one may look different and miles apart if you are not using good-quality ink. Plus, the color processing system has a bit of liability for this, as well.
Try to go for the device that comes with 5 or 6 color Claria ink set up. It will ensure optimum color representation on the paper. Plus, it can integrate with the automatic color organizing technique of the machine to produce true to life printing.
Longterm Ink Support
It's going to be pretty tiresome and annoying if you have to keep replacing the ink cartridges every now and then. That's why you should consider ink systems that provide long-term support.
For this purpose, you can avail of some services that are prevailing on the market. These packages offer lifelong ink support, plus an automatic reordering system. It will take the burden off your shoulder to some extent.
High-Resolution Print Out 
If your artwork contains vivid colors with great detail, you have no choice but to resort to a high-resolution printer for artwork. Otherwise, the print out will never look similar to the actual digital portrait. If possible, opt for the devices that can compose up to 9600 by 2400 DPI. It will make sure your design comes truly to life.
Paper Support
Not all the amazing fine art printers support common paper types. If your designs are versatile and need more than one paper type to compose on, you must go for a composer that supports a wide range of paper types.
Wireless Printing 
The printer industry has already moved on to wireless printing. So should you. There's no point in getting tangled in wires when you can simply sync your smart devices and print by a few taps on the screen.
It makes on-the-go composing a lot easier and smarter. This gets better if the machine is portable and runs on a battery!
Good Printing Speed 
Let's face it; you don't have all day to print an image. You will find a random home printer for art prints taking a decade in composing one single image. Never go for such devices in any way. Find the one that takes the least time in processing images. Any print speed around 30 seconds is good to go.
Artworks Printing Tips For Best Quality
Now that you have the best art printeron board, here're some quick tips for you to get the right print out for your image.
Optimize The Printer 
You can choose the setting to be set at the best photo printing mood. Depending on your model, you can see that the properties or settings tab on the PC has a similar option that refers to photo composing. All good printers for art prints have this option.
Select the option before you proceed to print, as it will optimize the device for composing photos only.
Select The Right Paper 
Not all the papers work equally for all images. You have to analyze the type of photo you are about to compose. For example, see how saturated and deep the color of your image is. If you think it has heavy details, you need to go for a heavier sheet so that it can absorb the ink inside. Otherwise, you will waste both the paper and ink.
Take A Proof Print
Once all set, try to get a proof print before you finally compose the image. If you are about to produce a lot of images, this becomes mandatory to get a sample. You can easily find out if there is any adjustment left to be made before the final production.
Frequently Asked Questions
Q1: Is it possible to print large size photos on photo printers? 
Ans: Yes, if you have a large format printer for artists and the device is optimized to print on a large ratio, you can easily print large images through it.
Q2: Is it cost-saving to go for a printer for art prints at home?
Ans: Yes and no. That's because it depends on the type of device you are using to print. Some studio-labs may offer a cheaper rate to print your images, that's true. But if you are using an ink-saving service from the manufacturers, you may end up incurring less than 5 cents per print.
Q3: How to print high-resolution images? 
Ans: Most image printers come with high-resolution printing capacity. The resolution support may vary from 4000 to 9000 DPI, depending on how much you are spending. If you have got the one with huge resolution support, it gets really easy to print HR images with it.
Q4: Can you print from the memory card at home? 
Ans: Yes, of course. If the machine comes with a built-in memory card reader, all you need to do is just insert the card and use the navigation panel. This way, you can print directly from the memory card.
Final Words
Your artworks are no less than a child to you. It's never okay to have to see your masterpiece get awkwardly messed up as soon as you print it on a photo paper. That's why the quest for the best art printer is quite significant for serious artists.
I tried to pile up the most functional and promising printers on the market that can give life to your digital artworks in seconds. If you don't find any of these devices to be on the same page as yours, feel free to follow our buying guide to land you on the right one!
More Resource: