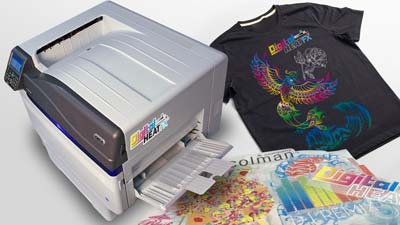 Making and designing t-shirts is a wonderful way to show off your creative talent and make a decent chunk of money as an entrepreneur.
But how you print the designs also plays a crucial role when it comes to the quality and beauty of the printed design on the t-shirt.
There are a couple of different methods out there for printing t-shirts, but sublimation printing stands out from the rest.
That is why we feel that buying the best sublimation printer for t-shirts is an excellent way to kick-start your career in the world of t-shirt making.
But which one would give you the best performance for the money?
In this article, we will explore the many different sublimation printers available in the market and help you figure out which one is better suited to your needs.
Advantages of Using Sublimation Printer for T-shirts Printing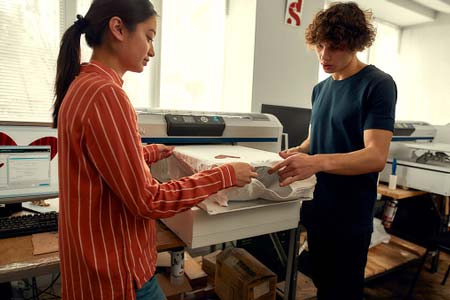 Before we go any further, let us take a moment to see what is so great about this type of printer. A sublimation printer is a simple process and requires little skill and practice to learn. In addition, the expense required for a sublimation printing operation is considerably less than other methods of printing.
There are only two steps to sublimation printing:
Step one is to print the design you want to use for this project using an inject printer along with inks and papers specific to sublimation.
Secondly, you have to transfer the design to a surface using heat, preferably with the help of a heat press.
With this method, there are no extra hassles you need to worry about.
Read our related article on T-Shirt Printing Business Equipment! Discover all of the initial equipment you should invest in to get your business off the ground.
The major benefits of sublimation printer:
You can print on hard surfaces like mugs, plates, or even clocks. Not many techniques allow this.
You are not limited by a specific range of colors. Furthermore, adding new color requires no additional investment on your part.
It is relatively inexpensive. At the cost of one, you can print thousands of units.
Due to its short learning curve, even a beginner can start printing designs on a t-shirt.
The print that you get on the surface with this technique does not wear out over time.
It is also scratch-proof and will not deteriorate in color unless you keep it in direct sunlight all the time.
The process is extremely fast. In fact, you can deliver your orders the same day you get them because of its fast and efficient printing performance.
Because of these advantages, sublimation printing technology has become a very popular choice over the years. However, there are still a few drawbacks you should know about before you make your choice.
For instance, for fabric printing, the fabric needs to be at least two-thirds made of polyester for a good quality print. In addition, dark or dark-colored surfaces do not respond well to sublimation printing.
If these issues are not a cause for concern, then you should get excellent experience out of sublimation printing.
Read More: How to Choose Sublimation Paper for Dark Shirts. If your prints on darker materials aren't turning out as you'd hoped, this guide can help!
Our Top 10 Best Sublimation Printer for T-shirts
When you are on the hunt for a printer for sublimation printing, prepare to be bombarded with a flurry of choices that are available these days.
The popularity of sublimation shirt printer has skyrocketed over the years due to their simplicity of use and user-friendly design.
But it makes the job of picking out a machine for yourself all the more difficult. That is why, to make things easier on your part, here is our short-list of the best printer for heat transfer t-shirts that will give you excellent performance, no questions asked.
1. Epson EcoTank ET-4760 T-shirt Sublimation Printer
At the forefront of our list of reviews is the EcoTank ET-4760 by none other than Epson. It's the only printer you will ever need for all your sublimation work.
This unit offers wireless printing and many other interesting features that can enhance the quality of prints and your productivity.
With a sheet capacity of 250 papers, you will be able to produce large volumes in minimal time. You can also use sublimation papers such as A-Sub.
It also features borderless printing along with automatic two-sided printing giving you a lot of different options at your fingertips.
Instead of cartridges, this unit utilizes ink tanks that saves a lot of upkeep cost on your part. You can skip the cartridges and use sublimation ink instead.
Each ink bottle contains more ink than 80 cartridges, which means it will last you a long time before you need to worry about replacements.
The modern features in the unit, such as voice-activated operation or wireless printing, lets you enjoy a fully hands-free experience with this device.
It features a compact and stylish design that not only looks appealing but is also highly functional in an office environment.
If you are looking for the best t-shirt sublimation printer that allows for wireless operation, then this unit is an excellent choice.
sBesides, its low upkeep cost is a highly appealing feature since the ink bottles last longer than traditional cartridges.
Highlighted Features:
Cartridge-free printing suitable for sublimation ink.
Voice-activation and wireless connectivity.
250-sheet paper tray.
2.4-inch LCD touchscreen display.
2. Epson Artisan 1430 Inkjet Sublimation Printer
Although widely accepted as one of the finest photo printers, the Epson Artisan 1430 is not one to be underestimated as a printer for sublimation printing.
For anyone looking to get started with printing t-shirts, this unit is a must-have. Just get a good ink like Printers Jack Sublimation Ink and you are ready for printing.
The main selling point of the unit is the quality of images that you get from it. It can deliver smooth gradations, sharp, noise-free images without any issues. Even if you are working with texts on t-shirts, you can expect excellent results.
This printer has a media size of 13 inches wide, which should be enough for most professional t-shirt designers. It includes six hi-def ink with your purchase that will ensure your designs and images looks crisp and professional.
Another handy feature of this unit is its wireless connectivity capabilities. Even if you do not have a computer, you can use your smartphone or tablet to get your prints easily without any hassle.
The Artisan 1430 is a popular choice because of how it brings modern connectivity features at an affordable price. Despite its apparent low cost, the performance it gives is quite surprising that comes in handy for both photographers and t-shirt designers.
Highlighted Features:
Excellent image quality full of details.
Includes six hi-definition high-capacity ink cartridges.
13×19 inches print media size.
Wireless connectivity options.
3. Epson WorkForce WF-7720 Sublimation Printer for Shirts
Coming up next, we will be looking at the WorkForce line by the brand Epson. The WF-7720 is a piece of entry-level equipment that delivers amazing performance at a very reasonable price tag making it an excellent sublimation shirt printer. If you have a small creative business, go with this one.
You can easily convert it into a sublimation printer by replacing the cartridges with ink. It comes with three different input trays with 500-sheet capacity and supports borderless printing of 13×19 inches dimensions. Furthermore, the auto document feeder in the unit supports 35 pages, which adds even more versatility to the unit.
But the most attractive part about the unit is its large 4.3 inches LCD touchscreen. It provides a crisp and clear image with an excellent touch response. You can control all the functions of the printer from this panel. This makes it really easy to do all sorts of printing.
The unit also comes with wireless connectivity and even supports an ethernet connection. You get four DURABrite ink cartridges with your purchase and a complete instruction manual to help you set up everything. However, you can easily use heat transfer ink as well.
The WorkForce line by Epson has always been a fan-favorite because of the performance it offers at this price. This unit serves well regardless of whether you have already established your business or building it from the ground up.
Highlighted Features:
Three different input trays.
Large 4.3 inches touchscreen display.
35-page ADF.
Wireless and ethernet connectivity.
4. Epson Stylus C88+ Sublimation Printer for Heat Transfer
For our next product, we will be looking at a fan-favorite from the brand Epson. The Stylus C88+ has earned a loyal following thanks to its excellent design and a reasonable price tag, making it a great choice both for business and home use. If you have a heat-press, this printer will greatly reduce the work for you.
It comes with a single input tray with 120 sheet capacity, and it's also compatible with sublimation papers. Using the DURABrite pigment ink that comes with your purchase, you can get vibrant colors in your images regardless of where you print them. However, you won't be using them for the sublimation process.
Inkjet printers can be easily converted into a sublimation machine by simply changing the ink. In addition, the unit features automated paper handling with a speed of 19 pages per minute. It can also handle borderless printing and will boost your productivity tenfold with its high efficiency.
Another great element of this unit is its compatibility when working with wide banners. With this device, you can work with banners that are 8.5 inches wide and up to 44 inches in length. This means you can easily make designs for t-shirts more efficiently.
If you know any professional photographers, chances are, they have used this printer at some point in their career. Its pinpoint color accuracy makes it a highly viable choice for t-shirt sublimation printing.
Highlighted Features:
Automated paper handling.
Includes DURABrite Ultra Pigment ink cartridges.
Compatible with both windows and mac.
Fast printing speed.
5. SAWGRASS VIRTUOSO SG400 Sublimation Machine for T Shirts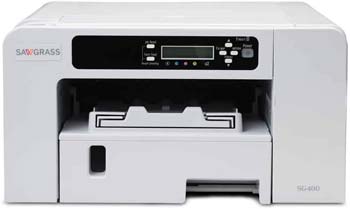 If you do not want to take the hassle of converting your inkjet printer into a sublimation printer for t-shirt printing, then the Virtuoso SG400 by the brand SAWGRASS is the best choice for you. It also comes with exclusive sublimation paper from the popular brand SUBLIMAX.
The unit can print at a high 1200 dpi resolution allowing for vibrant images in your prints. At this resolution, you can print around 34 pictures per hour.
By lowering the resolution, you can get even more points at the same time. This is perfect for someone that is running a small t-shirt business.
This unit features a self-cleaning mechanism that prevents ink clogging or paper jamming. It even has USB 2.0 and ethernet functionality to install drivers or images that you want to print with it. You can also take advantage of the easy-to-use creative studio software to create a wide variety of designs.
Along with the excellent features, the unit also comes with solid build quality. It boasts a classy and modern look making it a prime choice when you are looking for a best sublimation printer for t-shirts. With purchase, you will also get SubliJet-HD sublimation inks.
Although a bit more expensive than other inkjet printers by Epson, this unit by Sawgrass comes equipped with sublimation capabilities right out of the box.
So, if you are not comfortable with converting a printer for t-shirt sublimation printing, this unit is the right choice for you.
Highlighted Features:
Includes a professional image editing software.
Prints high-resolution images.
Made for sublimation printing.
Excellent build quality.
6. WorkForce WF-7710 Printer for Sublimation Printing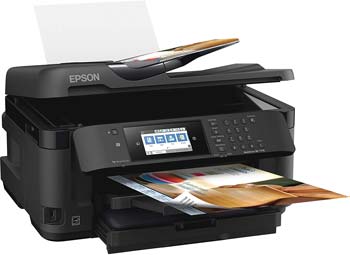 Next up, we will be looking at another popular choice from the WorkForce line by Epson, the WF-7710. This model is a perfect choice for any startup t-shirt business because of its relatively low cost and massive performance. If you are looking to make shop quality sublimation print, this is the printer to go with.
First off, the unit comes with the PrecisionCore technology, which essentially means it features a high-density print chip. As a result, you can expect excellent color accuracy at stunning speed because of its 40 million dots a second capacity. If you are a professional crafter, you will instantly fall in love with this printer.
With 500 sheets capacity, this unit will allow you to deliver a large volume of designs with a maximum dimension of 13×19 inches. It even comes with a rear tray if you want to print envelopes or different types of paper. This greatly reduces the time it takes to print sublimation papers.
The automatic two-sided print mechanism will give you a lot of versatility in terms of what you can print. Its blend of high speed and excellent color accuracy makes it a fantastic sublimation machine for t-shirts. It works great with sublimation inks from Cobra Ink.
The WF-7710 and 7720 share many similarities making both a viable choice for any t-shirt business and makes it the go-to printer for sublimation projects. If you want a more affordable option than the 7720, this one should give you everything you need, including the PrecisionCore technology.
Highlighted Features:
Includes four DURABrite ink cartridges.
Precision Core printing technology.
Wireless connectivity.
High-speed printing capability.
7. DNP DS-RX1HS 6″ Dye Sublimation Printer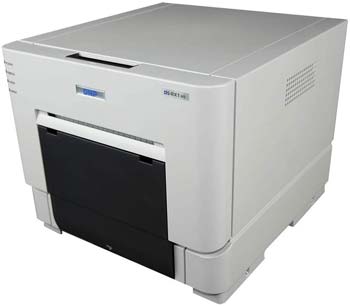 For our next product, we will take a step away from EPSON and Sawgrass. The DS-RX1HS by the brand DNP is an excellent choice if you want a high-quality dye sublimation machine for t shirts offering top-notch performance at a reasonable price. It is simply the fastest, consumer-grade dye Sublimation printer on the market.
One of the main selling points of the unit is its fast-printing speed. It allows you to switch between a high-speed mode and a high-resolution mode if image clarity and quality are what you are after.
As a for t-shirts sublimation printer, this unit offers excellent performance, capable of delivering up to 700 prints per hour.
For any business, this amount of productivity is highly appealing. Although it's a bit bigger, the speed and performance are mind-boggling.
In terms of construction, the unit is built like a tank. Despite its compact design, the unit is quite heavy, which does take away a bit from its portability.
However, for the price it asks, the performance it delivers is exceptional. If printing speed is what you are after, the DS-RX1HS is the obvious choice. Its high-speed printing can boost the workflow of any business and improve your productivity tenfold.
Highlighted Features:
High-speed printing.
Two printing mode.
Sturdy construction quality.
Dye sublimation machine for t-shirts.
8. WorkForce WF-7210 Wireless Wide-format Color Inkjet Printer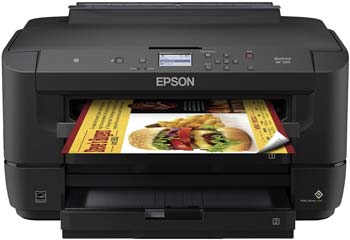 The WF-7210 by EPSON is another handy unit from their WorkForce line of printers. Low price and high performance are the two important aspects of this line of products, and this unit delivers both. This allows you to print full colors on sublimation papers.
Similar to all the other options in this line, you get the Precision Core technology as the main driving force of this unit.
As a result, you can expect fast printing with zero compromises in terms of resolution and image quality. This feature is super helpful when you are trying to sublimate a photo.
Not only is this unit affordable, but also the relatively low upkeep cost makes it a very economical option for people on a budget. The unit consumes less power, and also, the cartridges that come with it last a lot longer.
The printer has a sheet capacity of 500 units and includes a rear tray for specialty papers. It is also capable of automatic two-sided printing of up 11×17 inches adding more to its versatility. This allows you to achieve sharp and vibrant designs on sublimation papers.
The WF-7210 is an economical solution if you are working on a tight budget. Its low upfront and upkeep cost ensures you never have to go out of your way in paying for cartridges or electricity build when using the unit regularly.
Highlighted Features:
Powered by Precision Core technology.
500 units of sheet capacity.
Low power consumption.
Automatic two-sided printing.
9. Sawgrass SG500 Dye Sublimation Printer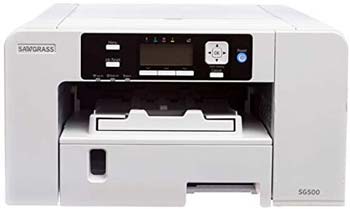 For our next product, we will be going back to the brand Sawgrass. The SG500 is a revamped version of their SG400, which already is an exceptional sublimation printer for t-shirts. This unit offers improved performance without too much of a price increase.
The unit takes pride in delivering high-quality HD images full of rich and vibrant colors that do not fade over time. It consumes less power and ink, giving you a lot more prints at a very low cost.
There are only a handful of desktop printers out there that are designed for sublimation, and this is one of them.
In addition, the unit features automatic maintenance cycle technology that troubleshoots any printing issues such as clogging.
This means you will not have to worry about any problems messing up your workflow and keep on making customized products with vibrant images.
Whether you use it at home or for business, the compact design of the unit fits in just about anywhere. It includes the Sawgrass Print Manager and CreativeStudio Online Designer software along with your purchase to get you started on your project right away.
As we already said, Sawgrass printers are sublimation equipped right out of the box. This unit offers excellent printing performance without consuming too many materials, which directly translates to excellent value for the buyer.
Highlighted Features:
Efficient printing at low ink consumption.
Compact footprint.
It comes with a free software.
Automatic maintenance cycle technology.
10. Epson Expression Photo HD XP-15000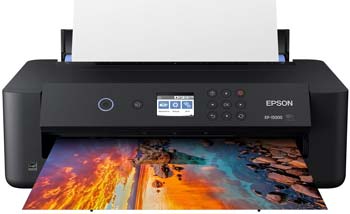 To wrap up our list of reviews, we will be looking at another exquisite printer for sublimation by the brand Epson. The XP-15000 is one of the industry-leading units that is also a fan favorite because of its efficient design and top-notch performance.
Boasting an ultra-high resolution of 5760×1440 dpi, any image you print with this unit will be full of crisp, bright detail. It is extremely color accurate making it an excellent choice for printing photopraphs and t-shirts both.
This unit can also produce high-quality borderless prints of 13×18 inches dimensions. When working with black and white prints, you can expect smooth gradations, enhancing the quality of the image or text.
In terms of speed, this unit is capable of delivering nine pages per minute at a lower resolution. You also get a 2.4-inch LCD color display to control all the printer functions easily without any hassle.
The XP-15000 is the unit you want if you do not want to compromise in any sector. Everything from its pixel-perfect resolution delivery to its bright LCD touchscreen functions gives utmost printing performance, ensuring satisfaction for the user.
Highlighted Features:
Ultra hi-definition images.
Fast printing speed.
It comes with a 2.4-inch LCD color screen.
Includes six color HD ink set with your purchase.
Sublimation Printer For T-Shirts – Buying Guide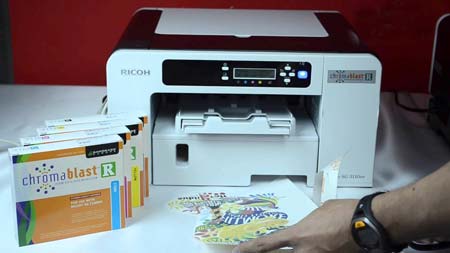 Now that you have gone through our list of recommended products, you should take a look at some of the factors that we considered when choosing them.
Understanding these critical aspects will help you get more in-depth knowledge about the product and, in turn, make the best choice for yourself.
So, without further ado, here are some of the features that you should consider when buying the best sublimation printer for t-shirts.
1. Print Media Size
Not all printers are capable of printing large designs. If you consider our list of reviews, you will find printers that can handle different media sizes.
The one you choose must meet your requirements in terms of size. For instance, printing small logos on t-shirts does not require large media sizes.
In that case, something with a 4X6 inches of printing capability should be enough.
However, for larger designs, the printer needs to feature a larger media size. It all comes down to your needs.
So before settling on a printer, consider your size requirements and cross-check with the capabilities of the printer.
2. Resolution
Higher resolution directly translates to better detail in the printed image. So, if you are preparing complex designs, you want a unit that has high dpi resolution capabilities.
With lower resolution printers, the image might come out blurry, which will affect the quality of your t-shirts.
This again depends on the design that you are going for. With small logo prints, you can easily go with a low-resolution printer without any drawbacks.
However, for large designs, consider getting a unit that offers a minimum of 4800X1200 dpi resolution for optimal results.
Read More: What Kind of Material Can You Sublimate On? We list the materials that are best for sublimation printing!
3. Print Speed
If you are running a t-shirt printing business, print speed is essential to your productivity. With a high-speed printer, you will be able to complete a large batch of orders in minimal time. In that case, you might need to spend a bit more on a high-end printer to get the most value out of your investment.
The resolution of the print also plays a part in the speed of the printer. With high-resolution images, the printing speed takes a drastic hit.
So, before you make your choice, you should try to find the right balance between the speed and resolution of the printer. For personal use, resolution takes priority over speed.
Read More: How Do I Make My Sublimation Brighter? Learn how to make your designs POP!
4. Print Volume
Similar to the printing speed, the volume also plays a significant role in the success of your business. If you are planning to sell designer t-shirts commercially, you need to consider buying a printer capable of heavy-duty work. That way, you will be able to clear large batches of orders easily.
Not all printers can deliver the same volume of printing. Some high-end models on the market can print tens of thousands, while there are models that are limited to only a thousand prints per run. In the end, it all comes down to your requirements in terms of volume and print speed.
5. Connectivity
Some printers in the market allow for wireless or Bluetooth connectivity that can come in handy to some users.
This feature, however, is not for everyone. If you prefer to work from a computer with a physically connected cable, you might not get the full benefit out of it.
Still, this is a nice feature to have if you want to work on your smartphone or tablet. With this option, you will be able to transfer the designs easily to the printer and get them printed without having to use a computer at all. If that is something that sounds appealing to you, it might be worth considering.
Read More: How Do You Do Sublimation On Dark Shirts? We walk you through the steps!
6. Brand
Another element that holds some importance when it comes to sublimation machine for t-shirts is the brand of the product.
If you want a good experience from your printer, it is better to go with a unit from a reputed company. Going with off-brand knock-off products is usually not a good idea.
Epson, Sawgrass, and DNP are three great brands with excellent products that we reviewed in our list.
You can go with any of these companies and get an excellent experience with your product. As long as you stick with a good company, you will get great aftermarket support if anything goes wrong with your unit.
7. Budget
Your budget limitations always play a part in any big investment. When you are on the market for a sublimation t-shirt printer, you will find models of different capabilities at different budgets. However, getting the most expensive model available might not be the best idea.
To get the most value out of your budget, you should consider your requirements and have a fixed reasonable spending limit.
That way, you can make your choice at a price range that is comfortable for you and eliminate any other distractions.
Getting a unit that exceeds your budget, regardless of its quality, often leads to buyer's remorse.
Heat Transfer vs. Photo Sublimation: Which One To Use?

Most beginners in the world of t-shirt printing think heat transfer and photo sublimation are the same processes. However, that is not true.
Before you can determine which method is better for you, you need to understand what each of them is.
Heat transfer or heat press printing is a process that applies prints using heat and pressure. On the other hand, sublimation printing uses the dye in an inkjet or a sublimation printer to transfer print on the print medium.
Typically, photo sublimation printing requires minimal equipment and material cost compared to the heat transfer printing method.
Despite the extra cost, the quality and durability of heat transfer are often lower than that of photo sublimation. In addition, sublimation printing takes less time, and hence you can produce larger batches faster with this method.
The major limitation of photo sublimation printing is the type of fabrics that you can use. For instance, you cannot use 100% cotton fabric for sublimation printing. It must contain poly, or else the print will not come out well.
Furthermore, dark fabrics do not perform well with this method. If you need to work with cotton fabrics or dark colors, then the heat transfer method will be the better choice.
However, if you want to produce large batches at a relatively low investment and can compromise with the type of fabrics you use, then sublimation printing is the obvious choice for you.
Four Tips For Sublimation Success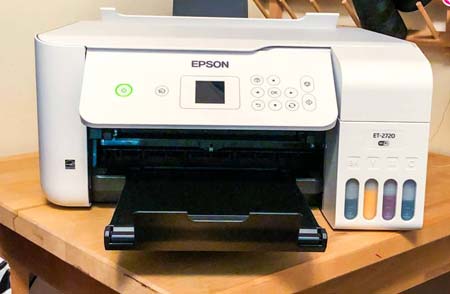 You have seen our products and gone through our pieces of advice when picking out the best option for yourself.
However, before we leave you, we want to give you a few tips to make sure you face no issues when using your sublimation printers. These few tips will allow you to get success each time you fire up your machine.
1. Ensure You Have The Right Equipment For The Job
Getting a sublimation printer for t-shirts does not mean you have everything you need for the job. You also need sublimation ink and paper. If you are using an inkjet printer, make sure you convert it to a sublimation printer before starting anything.
In addition, sublimation printing requires heat. So, you need to get a heat press that allows you to transfer the design from the print media to the t-shirt.
Double-check your inventory to make sure you have everything ready before you get started with your project so that once you start, you do not have to worry about anything else.
See our related article, What is Sublimation Ink Used For? Not sure which sublimation you should use? We cover what you need to know about ink types here!
2. Accessories Are Also Just As Important
With the t-shirt sublimation equipment checked, you need to see if you have the right accessories for the job. Since you will be working with heat, you want to have gloves to protect your hands.
You also want thermal tape or adhesive sprays to safely hold the paper when you use it with the heat press.
While pressing, inks can escape the media and seep on to the heat press. To prevent this from happening, you want sheets made of Teflon or silicone.
You also want heat transfer pillows and heating pads so that the t-shirt can take in the design without any inconsistencies.
Read More: Can You 3D Print Silicone? Here's everything you need to know about silicone 3D prints!
3. Have Spare Sublimation Blanks
It is always a wise idea to have a backup stock of sublimation blanks at the ready. With any sort of project, unexpected issues can occur.
You cannot prevent accidents from happening, but you can definitely prepare for the worst. That way, you will always have a backup plan.
Even if you have a store nearby, keeping a few extra blanks at hand is always a good idea.
If you want to work during the weekend and run into any issues, you cannot find extra blanks in the store. This is a relatively low-cost investment that can save you a lot of headaches.
4. Always Test Your Equipment
Make sure you do a routine test on all of your equipment. Even if everything was working the previous day properly, that does not mean everything is okay today.
Doing routine testing and maintenance on your sublimation equipment will ensure you have full productivity when you start working.
If you start up a batch of prints and notice something wrong, it might lead to massive wastage of ink and paper. However, taking a few minutes out of your time for some maintenance can prevent this from happening. Accidents do happen, and by testing your equipment regularly, you can minimize the risk by a lot.
What Else Do You Need For Sublimation?
Once you have your printer set up, you are halfway ready to start printing designs on your t-shirts. However, there are still a few things that you need.
Here is a couple of additional pieces of equipment that you must have before you can start sublimation.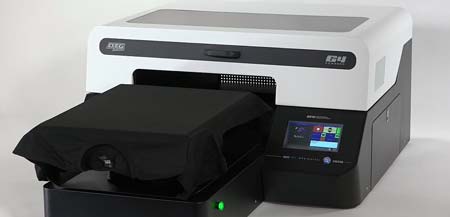 1. Sublimation Inks
Sublimation inks and normal inkjet printer inks are not the same things. For the sublimation technique to work effectively, you need to get a special type of ink. These inks are reactive to heat and can blend easily with the fabric you are working with.
Is pigment ink and dye ink are same? Know actual difference between them before using.
2. Image Editing Software
Image editing software allows you to create your own design on your computer. If you already have your design, you can tweak it to suit your specifications using this type of software. This is another essential tool that you must have in your arsenal before you can start printing designs.
The choice of software varies from person to person and even across platforms. There are thousands of different software that you can use depending on whether you are working on mac or windows. If you do not want to buy software, you can also find a couple of free ones that are easy to use and effective.
3. Sublimation Transfer Paper
You also need the right sublimation paper where you will print your design. This paper will also let you transfer the design directly to the fabric.
The right kind of transfer paper will react to the heat press and instantly transfer the design to the fabric without any issues.
4. Tape
Transfer paper is not the only item you need to transfer the design to the fabric. You also want a tape that can handle the heat from the heat press.
Not all tapes in the market can handle the high heat that is required to transfer designs and will melt when used with the heat press.
5. Heat Press
Finally, you need a heat press with a flat plate that will allow you to apply heat on the transfer paper to transfer the design. There are many different options, and in some cases, you can even use cloth iron for this purpose.
Typically, the transfer paper will come with specific information about the appropriate temperature you should use. Make sure you set the right temperature on the press before application.
Frequently Asked Questions (FAQs)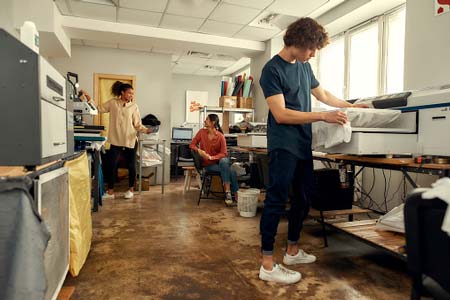 1. Can I use any printer for sublimation printing?
No, not all printers can be used for sublimation printing right out of the box. However, if you have an inkjet printer, you can easily convert it for sublimation purposes by using separate sublimation ink. There are also some printers that are specifically made for sublimation, for instance, the Sawgrass SG-500.
2. How long does sublimation ink last?
There is no definitive answer to this question as the longevity of the ink varies from one model to another. The general rule of thumb is to use the ink within six months of installation. Any longer and you might face issues like color shifting or clogging.
3. Can I use any material for sublimation?
No, you cannot. When it comes to fabric, you need to use poly or poly-blend fabric; otherwise, the color will not be accurate. For 100% cotton shirts, you need to use the heat transfer method for printing designs.
4. Can I use any heat press for sublimation printing?
Typically, yes. In some cases, you can even get away with using heating iron for sublimation printing.
Read More: How to Remove HTV From a Shirt. Easily remove HTV mistakes with these DIY methods!
So, What is The Best Sublimation Printer for T-shirts?
When it comes to t-shirt designs, sublimation printing is the way to go. Although the initial investment cost might be a bit high, the low upkeep cost and high output make it a viable choice.
On that note, the clear winner of this round-up is the EcoTank ET-4760 from Epson. Although it's not a dedicated sublimation printer, you can easily convert it into one by simply adding sublimation ink. It has features that make a good value for the money.
We hope our article on choosing the right t-shirt sublimation printer could help you identify your requirements and pick out the perfect unit for your needs.
Also read: