The most important thing when printing t-shirts is to have a quality shirt.
So what is the best t-shirt material for printing?
Let's take a look at popular t-shirt materials and their advantages.
what is the best t-shirt material for printing?
Natural Fabrics
Natural textiles are made entirely from natural materials.
These natural materials are very soft, so they're excellent for individuals whose skin is sensitive to synthetic materials.
As noted below, each natural fabric has its own set of distinct benefits:
Cotton is biodegradable, soft, and allows the skin to breathe.
Silk is biodegradable, comfortable, light, and luxurious.
Bamboo is a natural insulator that also absorbs sweat away from the body.
Wool is wrinkle-free, long-lasting, and moisture-repelling.
Linen is a comfortable fabric to wear.
The lower the percentage of polyester and the greater the proportion of cotton is, the better because the ink is fully absorbed.
A printing process that uses ink will work wonders with 100% cotton because it is thicker and heavier than other materials.
Synthetic fabrics
While they may not provide as much warmth or comfort as natural materials, t-shirts created from synthetic textiles are ideal for all sorts of physical activity since they can handle perspiration easily.
Cotton absorbs sweat like a sponge, whereas synthetic fibers wick away moisture, resulting in a lighter feel by speeding up the sweating process.
Polyester, rayon, and nylon are the most frequent synthetic fabrics used in t-shirt printing.
Polyester is a popular synthetic choice for producing personalized sports attire because it's inexpensive and easy to sew.
Blended fabrics
Blended fabrics are a combination of natural and manufactured materials.
Blends provide a different sort of dynamic to these clothes by combining the synergy of both materials with their own set of benefits.
If you mix cotton and polyester, for example, you may create a garment that has the benefits of both.
Polyester adds body to the shirt, while cotton improves absorbency.
The following are the most frequent blended fabrics used:
Cotton/Polyester
Wool/Nylon
Acetate/Nylon
Polyester/Ramie
Read More: T-Shirt Printing Equipment. Check out our list of the top equipment you need to start t-shirt printing!
Printing techniques and their preferred fabric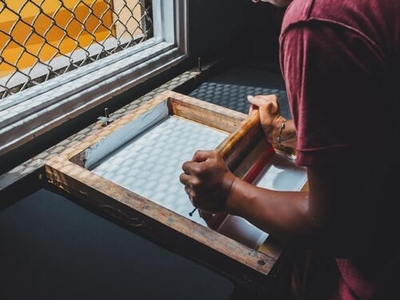 Screen printing
Screen printing, which is one of the most popular types of printing, entails putting many layers of ink through a mesh or stencil onto the cloth.
Screen-printed t-shirts are among the most popular because of their ability to produce high-quality effects.
The best fabric to use: Cotton
Cotton is a popular choice for screen printing since it allows more of the ink to be absorbed into the material, resulting in a more intense and brilliant finish for your unique design.
The video below gives a great DIY method of how to screen print your own t-shirts:
Read More: Best Shirts for Sublimation. Here are the best shirt materials for sublimation printing!
Direct-to-garment printing (DTG)
DTG printing is a simple and fast method for those who are new to the activity since it requires less knowledge and skill than other technologies.
The best fabric to use: Cotton
Because DTG inks are water-based, they must be used with cotton fabric that has been pre-treated to enable the print to fully immerse into the material.
Unfortunately, like oil and water, polyester and water don't mix well.
Liquid is repelled by polyester, so it makes it difficult to fully absorb the ink from DTG printing.
Transfer printing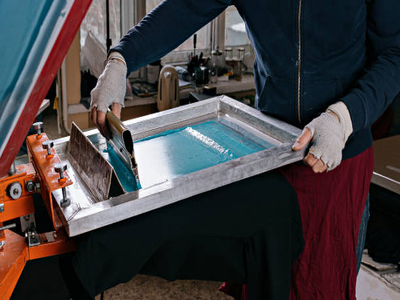 Transfer printing uses a special machine that cuts out designs and letters from colored vinyl sheets.
Transfer printing is used on a majority of sports clothing and team kits.
When using transfer printing, you basically apply each vinyl to the fabric that you're working with using a specialized heat press.
The best fabric to use: Polyester
Transfers may be used on almost any type of material, but because they are created from plastic, transfers are more likely to stick to polyester.
Vinyl t-shirt printing allows you to make bright and original graphics on your polyester shirts.
Final thoughts
T-shirt printing is full of artistic creativity.
After you decide what is the best t-shirt material for printing, you can decide what t-shirt printing processes work best with certain materials.
Continue testing and developing new ideas until you discover what is the best t-shirt material for printing.