Everyone knows what PLA is, right? Without a doubt, it is the single most exemplary material for 3D printing. Well, we do not plan to divulge facts you already know.
In fact, the primary purpose is to bring forth the best PLA filament manufactured globally to acquire flawless figurines and architectural models. We will guide you through various shades and style that ensures versatile applications.
More significantly, we will focus on the advantages of PLA filament that result in the ideal print setting.
The quality of the prototypes and models for many architects and designer plays a vital role career-wise. Therefore, compromising on this aspect is not an option for any of you here right now.
What Are the Benefits of Using PLA Filament for 3D Printing?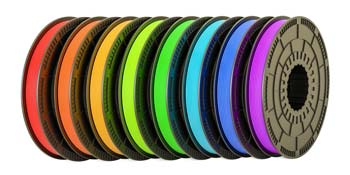 Of course, you want to know more about the different PLA filament varieties, which account for the perfect blend. And that is what this guide will offer. However, it is also wise to get familiar with the range of advantages PLA provides.
Effortless Extrusion
The process of making solid objects using PLA filament is effortless. This particular option pours out of your printer's nozzle by maintaining a standard and low temperature in contrast to other materials. We do a deep dive into nozzle size in our article on 3d printer nozzle sizes and types.
Biodegradable
If anything, the environmental benefits are more than enough to convince you of the purchase. This harmless substance is eco-friendly and readily biodegrades, making pla filament food safe. Moreover, you all have enough information about the intricate detail of accessories made of PLA.
Visually Pleasing
If the aesthetic is not pleasing, we guarantee you immediate cashback. Nevertheless, do not forget to maintain all the instructions provided for an optimal blend.
Odor-Less
You can work in peace, for those of you with a sharp nose, as this material does not give off a pungent or revolting smell. As mentioned earlier, the range of color availability will leave you astounded.
Guaranteed Details
What's more, the benefits do not end here. Even after the development is complete, this material can undergo further refinement with a little sanding and scuffing. Compared to other materials such as ABS filament, creating the models is faster and smoother using PLA filament.
Read our related article, How Much Does Filament Cost for 3D Printing? We break down the costs of filament in this quick guide!
Our Recommended 11 Best PLA Filaments on The Market
You may think about how a filament could have such diverse manufacturers and options availability. Satisfactorily, each material has its unique assortment of qualities and features that set them apart. Therefore, we are bringing the best possible options to light for your convenience.
1. OVERTURE 3D PLA Filament
Most of us tend to focus on the quality of filament solely. And that is what this brand maintains through its long-term experience. Over the years, the standard skyrocketed significantly, which instills trust among the users.
In fact, this particular material ensures a clog and congestion-free execution. As a result, you will have a high-quality outcome without conforming to the fine-bubble formation. The subtle details are a major indicator of superior performance, and warping is not an option for this PLA.
On the other hand, this product is hands down the best PLA filament for Ender 3 and many other 3D printers, including MK3. Furthermore, this budget-friendly option also helps you make a reliable investment.
Be sure to stop by our guide on the Best Way to Change Filament Ender 3. We show you the steps to take and how to avoid hiccups!
The quick-drying process of 24 hours works in your favor if you are in a hurry for a prototype presentation. Besides, the PLA filament's collection of colors is endless with the added benefit of an extended 1kg spool measuring up to 7.88-inch by 7.88-inch.
Subsequently, for effortless resizing, this product includes a grid layout. We noticed that this PLA performs in an orderly manner avoiding tangles at any cost. You can efficiently operate your printer without worrying about cracking the figurines as this filament complies with a simple sailing technique.
This option is by far the best due to its self-adaptive system regulating the printing process according to system objective. Consequently, the dimensional accuracy, which is ±0.05mm of Polylactic Acid filament, determines the feeding consistency.
Highlighted Features:
PLA filament spool is7.88-inch-by-7.88-inch.
Dimensional accuracy of ±0.05mm.
Prevents tangles and bubbles.
Smooth and effortless functionality.
Dries within 24 hours.
2. AMOLEN PLA 3D Printer Filament
Are you an avid artist looking to create visually appealing accessories?
Well, the involvement of more eye-catching elements has a downside to it. However, we guarantee you that the resultant product of this PLA filament will eliminate all concerns.
Technology has come to the point of phosphorescent filament invention. In particular, this manufacturing company's specialty is the enhanced glow-in-the-dark material incorporation. The inclusion of an additional vacuum bag comprising of drying agent is reusable and keeps the filth away.
Unfortunately, all luminous materials available worldwide are a little fragile and susceptible to breakage. Regardless, with tolerance, control, and a dimensional accuracy of ±0.03mm, the final result will have incredible details.
Each measurement of 10 meter PLA filament allows a tint change from green to blue to purple and pink. The luminosity decreases in descending order. Through our experience, we noticed an intense radiance under the sunlight for approximately half-an-hour.
However, the deterioration process due to high temperature starts immediately afterward. Hence, exhibit absolute caution and carefulness. Most importantly, make sure to keep a fixed angle of the nozzle while the filament flows. This material fits perfectly well with almost all FDM printers and 3D pens.
There is no doubt that this option is the best 3d PLA filament that emits light. Additionally, this material is both kid-friendly and biologically degradable. Under normal circumstances, the 1.75mm diameter filament is transparent or whitish.
Highlighted Features:
Consists of dimensional accuracy of ±0.03mm.
Encompasses a diverse range of color change.
Compatible with almost all 3D printers and pen.
Material is eco-friendly.
Showcases maximum luminosity under UV light.
3. SUNLU 1.75mm PLA Filament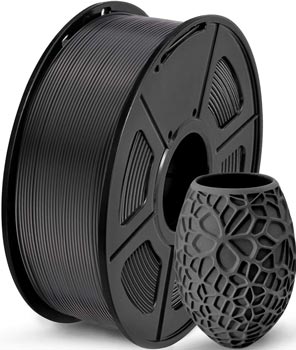 Compatibility is a significant aspect for all PLA filaments. If a company does not accommodate versatility regarding the range of FDM 3D printers, you are at risk of complication during fitting.
Perhaps, for this reason, we are fond of this product, as it insists on absolute cooperation with printers. Undeniably, this PLA offers a great deal of strength as compared with other options.
The recommended bed temperature is 70℃, which does not allow the extruder to become incredibly hot, which results in melting.
Your project's outcome will remain seamless due to its high-quality material and rigid bonds between the particles that resist shrinkage no matter what. Predominantly, the lightweight 1kg spool highlights a length and width of 8-inch and 2.5-inch, respectively.
Concerning this PLA filament 1.75mm, we vouch for controlled tolerances with minimal variations. And more significantly, the dimensional accuracy of ± 0.02mm offers improved resistance to stringing, over-extrusion, and under-extrusion.
User-friendliness is quite hard to find. But, regarding this option, the 24-hour drying process and the incorporation of an impermeable and reusable nylon bag filled with desiccants promote convenience. While feeding, make sure to have a constant temperature ranging from 215℃ to 220℃.
With excellent tolerances come zero chances of entanglement and jamming. As a consequence, your projects will have a smooth and intricate blended surface. From our experience, this best cheap PLA filament makes remarkable architectural prototypes for its detailed execution.
Highlighted Features:
Includes a reusable vacuum bag for storage.
Top-grade material hold out against shrinkage.
Avoids jamming and clogging.
Incorporates a dimensional accuracy of ±0.02mm.
Compatible with a vast amount of 3D printers.
4. 3D Solutech Real Black Printer Filament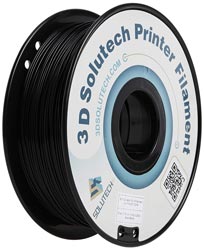 Some may assume packaging is not a critical factor. However, if your PLA filament is not vacuum-sealed, then you are at risk of contaminating the material with dust and moisture. As a result, your outcome will not have an even uniformity.
For all we know, this specific option offers tightly secured reusable covering. On top of that, the dimensional accuracy is ±0.03mm, which implies you will have a diameter variance of around 30-microns for the persistent flow of PLA and an advanced printing setting.
A small card inside the spool hole provides you with the ideal temperature setting for the nozzle, i.e., 190℃ to 220℃. Moreover, the trouble-free conduct derives from the smooth running technology embodied within the PLA filament for optimal extrusion.
You can enthusiastically expect your prototypes and models to have a high-definition of details that match up to no other choices on those grounds. As for the best budget PLA filament, it is quite likely this product will ensure a cost-effective purchase for you.
Tolerances are an essential feature that keeps your solid structure bolt upright; hence, stringent tolerance is the prime attribute of this material. Most importantly, there is no point in purchasing a filament that is not compatible with your printing machine.
From this perspective, the manufacturer incorporates versatility for a wide range of 3D printers such as Airwolf3D, Makergear, and Printrbot. As many of you know, the ideal diameter of the filament is 1.75mm. Not only that, this PLA includes a one kg spool to make your preferred figurines.
Speaking of spools, check out our fun guide on What to Do With Old Filament Spools!
Highlighted Features:
Ensures strict tolerances.
Superior compatibility with virtually all 3D printers.
Confirms dimensional accuracy of ±0.03mm.
Maintains smooth flow of PLA.
Vacuum-sealed packaging.
5. Shiny Silk Gold Silver Copper Filament Bundle
We do not want to introduce you to the PLA filament of dull colors. The goal is to deliver premium-quality and improved 3D prints. As for this option, you will acquire a silky and shiny outlook due to the inclusion of certain additives along with the natural ingredients.
In truth, we are not the only ones satisfied with this material; all the customers well-received this option. The diverse colored spool consists of smooth and glossy gold, silver, and copper. Each spool comprises 0.5kg of material.
Rest assured, you will not run out of filament while printing a large project. Consequently, this silk PLA filament is of excellent quality, and that's clearly understandable through the absence of damaging elements in the end product, including bubbles, odor, and stringing.
What makes this material a good PLA filament?
This 1.75 diameter option harmoniously fits with virtually all FDM 3D printers and 3D pens. Primarily, those aware of the rising environmental issues know the significance of biodegradable plastic, which this company sustains by any means necessary.
Unlike other options, this one includes additional supplies for your ease and comfort. The 3D print remover equipment and a single vial of solid glue come as a savior to mend and fix your prototypes.
Besides, the recommended nozzle temperature ranges from 205 to 230℃. Therefore, you must exhibit cautiousness for better printing outcomes and for avoiding extruder jamming.
Highlighted Features:
Silky and shiny range of colors.
Fits with almost all FDM 3D printers.
Avoids jamming, bubbles, and stringing.
Odor-less and eco-friendly approach at all cost.
Additional equipment is 3D print remover and glue.
6. Marble Silk Wood Transparent Metallic PLA Filament
Have you ever wondered how PLA filament's non-toxicity comes from? It goes without saying PLA is biodegradable, which means the construction material will not harm the environment. Presumably, for this reason, the makers encompass cornstarch as the building blocks for PLA filament.
Aside from our testing and evaluation, this particular option is ROHS certified. This attribute further enhances the trust and confidence of the users. Moreover, the high quality PLA filament preserves its standard through its vacuum-sealed packaging containing drying agents.
Fundamentally, with a dimensional accuracy of ±0.02mm, you will attain negligible variance during feeding. Deformation and warping of filament is a common phenomenon. However, complying with the recommended temperature, which is 190 to 220°C, you will achieve a superior finish.
Concerning compatibility, this PLA filament for 3D pen and 3D printer supports a majority of machines without any complication.
So, how many meters on a roll of filament? We measured the filament in each spool and concluded roughly around 330m to 340m of length.
Furthermore, this extruded filament avoids bubbles and clogging that ensures well-defined and clear surface completion. Apart from a broad range of applications, this high-end material also eliminates unpleasant odor for a delightful experience.
Apart from the diversity of colors of this PLA filament, it also includes various material choices such as marble, silk, wood, and transparent. The makers mix extra ingredients with the PLA to acquire different finishing of the solid models.
Highlighted Features:
PLA made of cornstarch.
Compatible with the majority of 3D pen and printers.
Length of filament is roughly 340m.
Odor-less and bubble-free finish.
Various choices of colors and material.
7. Silk Shiny Multicolored 3D Printer Filament
Silk PLA is rising in popularity when it comes to the aesthetic value of your architectural models. The resultant glossy effect originates from enhancing the PLA filament with additives. This mixture of elements does not alter the previous toughness of the material.
Unlike other production companies, this one, in particular, allows significantly quick and rapid color change. And perhaps more interestingly, the rainbow-like spectrum of color is extraordinary. Under our supervision, we noticed the color change every 3m to 5m.
As much as this 1kg spool of silk filament allows you to assembly structures, undoubtedly, you will acquire a shiny and polished appearance. If your concerns surround the compatibility aspect, not only is this PLA filament for makerbot, but it also supports more or less all FDM 3D printers.
Additionally, if you are an artist or craftsman trying to print 3D projects with precise details, then this is your option. The superior quality aftermath derives from strict tolerances. More importantly, this product avoids warping or stringing and jamming or clogging for uncomplicated feeding.
Evidently, the ROHS-certified material issues an environmentally sound approach to reduce harmful emissions. Furthermore, the nozzle's mentioned heat capacity is 220°C, while the heat bed requires only 50°C to 60 °C.
On top of that, the manufacturer installs additional tools to satisfy the users. This equipment includes ten tiny needles for cleaning the nozzle and a reusable vacuum bag.
Highlighted Features:
Avoids filament tangle and warping.
Ergonomic supplementary tools.
A smooth and consistent flow of feeding.
ROHS-certified to reduce environmental degradation.
Assures shiny and glossy effect.
8. Eryone Silk PLA Filament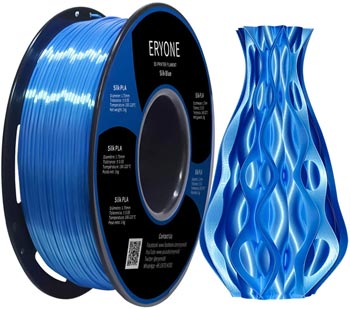 Are you planning on creating decorative accessories using PLA filament? For that, you require a colorful yet robust option. From our experience, glow-in-the-dark material is quite pleasing to look at; however, they are brittle.
By the way… If you're concerned about brittle filament, stop by our guide where we discuss How to Fix Brittle Filament.
On the other hand, silk PLA filament supplies the same level of strength regular PLA serves with the added advantage of a glossy and smooth surface. The color spectrum is outstanding beyond comparison. Similar to almost all the previously mentioned products, the diameter of this option is 1.75mm.
As for dimensional accuracy, if you are working on large-scale projects, this ±0.05mm option, with a little heedfulness, avoids over and under extrusion. As for the 3D printer nozzles mentioned temperature, the range is 190°C to 220 °C.
On another note, the vacuum-packed wrapping fends off any contaminants entrance. Moreover, the incorporation of desiccants keeps the product dry and moisture-free. There is no chance of odor associated with this filament, making sure of a stench-free atmosphere.
Predominantly, this exclusive model assures minimal shrinkage that prevents warping. As a matter of fact, this option is smooth enough for consistent and clog-free feeding from the extrusion of the printer's motor.
Besides, PLA filament for miniatures requires minimal tolerance. And this option offers +/- 0.02mm, which is ideal for small figurines. Minimizing carbon footprint and working towards sustainable development is necessary, and for that, this company incorporates cornstarch as the construction material.
Read our related article on How to 3D Print Figures and Miniatures. We share a helpful video and step-by-step guide to get you started!
Highlighted Features:
Constant and jam-free feed from the nozzle.
Reduces shrinkage and warping of the material.
Dimensional accuracy is ±0.05mm.
Glossy material guarantees toughness.
Vacuum-packed cover for convenience.
9. CCTREE 3D Printer PLA Filament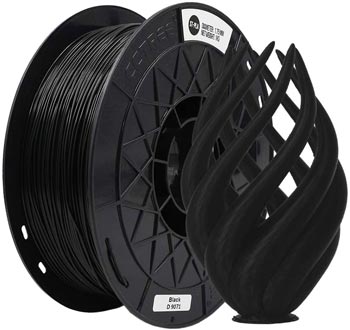 There is always a dilemma regarding the hardness of PLA filament. In that case, this brand concentrates explicitly on modifying the filament for enhanced and improved toughness. As a consequence, the strength is so immense that it resists mechanical damage and conforms to maximum stiffness.
Above all, we observed a shiny sheen on the surface of the prototype created by us. And we believe the credit goes to the involvement of 100% organic material integrated within the PLA filament.
Essentially, the authorization of ROHS and Reach bestows the proof of the eco-friendly approach of the company. For more safety and protection during storage, the vacuum-sealed packaging consisting of desiccant allows the user to have a pollutant-free atmosphere.
Most of all, the tolerance determines the variation in the PLA material, and keeping that in mind, the manufacturer incorporates a tolerance of ± 0.03mm. Thereby, you will obtain a jam-free extruding of filament.
Aside from superior printing ability, there is another crucial aspect that holds great value. The compatibility factor dictates the running action of this pla filament for 3d printer. And for this reason, the brand focuses on harmonious compliance with numerous 3D printers, including Creality Ender 3.
Each spool consists of 1kg of material, and that is perfect for a moderately large model. Complying with the recommended nozzle temperature, 185°C to 220°C, we can assure you with no bubbles on extruded filament. This ultra-smooth and clog-free feeding are possible due to the refined material.
Highlighted Features:
Tolerance level is ± 0.03mm.
Resisting heat up to 220°C.
Complies with several 3D printers.
Construction material 100% organic.
Vacuum-sealed with desiccant.
10. Wood PLA Filament 1.75mm
Frustrating, isn't it, to find out there are so many material options to create artwork using PLA filament? If so, then this specific option will spark your interest considerably.
This PLA filament draws its timber appearance by incorporating wooden fibers. Ergo, you can create PLA-based models with 20%-integrated wood for greater strength and stability. However, you need to maintain a lower temperature than usual for this material.
The capacity to resist heat goes up to 190°C; anything above that may result in melting. Speaking from our experience, the optimal temperature for a heat-bed is approximately 60℃ to 70℃. This best 1.75 PLA filament corresponds to a strict tolerance of ±0.02mm.
In consequence, you will maintain a tangle-free extruding filament that gives you the liberty to create refined and detailed texture. As it happens, the primary cause of this advancement is top-grade building elements of the PLA filament. Each spool has a weight of 1kg for its components inside.
We quite significantly prove that the source material is plant, which is sustainable and can undergo environmental degradation. Since the raw material is entirely natural, there is no stink or aroma associated with it.
If anything, it is an indisputable fact that your prototype's surface will have a smooth and even finish. This advantage is due to the clog-free execution that eliminates the possibility of bubbles. Moreover, the desiccant-filled airtight packaging inhibits the access of dust and bacteria into your material.
Highlighted Features:
Incorporates natural raw material.
Filament contains wooden fiber.
Odor-free execution.
A high degree of tolerance precision.
Smooth and tangle-free extrusion.
11. LABISTS Plastic 3D Printing PLA Filament
Ultimately, we have arrived at the final product. We save the best for the last. However, determining the most reliable option depends upon your preference and choice. It is safe to say that this PLA filament conforms to absolute consistency while unwinding during extrusion.
In fact, the wounded filament possesses the right amount of tension for jam-free performance. Due to its smooth flowability, the 1.75mm diameter filament comes out with no bubbles and stringing. Whatever you plan on making, we can assure you of maximum flawlessness in the structure.
The hole in the spool establishes the compatibility factor. And this one in question has a 1.26-inch measurement. Hence, before you make a purchase, ensure whether the 3d printer PLA filament supports the machine you have at your workplace or home.
Moreover, for suitable performance, the temperature range is 200℃ to 230℃. You have to keep an eye on this matter as temperature fluctuations can result in a deformed structure.
Most importantly, the exact tolerance of ±0.02mm has plenty of advantages in the feeding process. Smoothness is undoubtedly the topmost benefit. However, with uniform feeding, we can guarantee no entanglement of extruding filament.
Having a variety of color choices is an efficient feature, and this particular product offers the four major colors that you often require, including blue, black, white, and red. Furthermore, each spool weighs only 0.25kg.
Highlighted Features:
Contains precise tolerance of ±0.02mm.
Consistent feeding without obstacles.
Colors include blue, black, white, and red.
Firmly wounded PLA filament.
Ensures the prevention of warping.
Comparison Table for PLA Filament 
| | | | |
| --- | --- | --- | --- |
| | | | Reusable Vacuum Sealed Packaging |
| Reusable Vacuum Sealed Packaging | | Spools available in various colors | |
| | | | |
| | | Multiple colored spools obtaniable | |
| | | | |
| | | Metallic colors available | |
| | | | |
| | | Multi-colored gradient change | |
| | | | |
| | | Different colors accessible | |
| | | | |
| | | | |
PLA Filament Buying Guide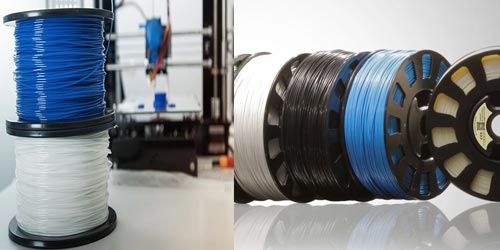 There is simply no way you have not found what you were looking for by now. However, to revise the features and, more importantly, to get a clearer view of the most relevant factors to you, we recommend this segment.
It is better to be safe than sorry. Perhaps this guide will lead you to a better and more appropriate option by your standard.
Upgraded PLA Filament
As the title suggests, this form of PLA is more potent and significantly aesthetic than the regular filament. PLA, in general, is a superior option, without a doubt. However, PLA+, the upgraded rendition of PLA that includes silk PLA filament and wood PLA filament, steps it up a notch.
Conventional Polylactic Acid has few drawbacks associated with fragility and hygroscopicity. However, the addition of additives gives the material more strength than usual. As a result, the filament accommodates high rigidity and exceptional shine.
Read More: Interesting Facts About 3D Printing. These facts may surprise you!
Color Availability
The inclination towards selecting a product that offers a diverse range of colors is real. But how can one spool of filament deliver more than one color, you may ask. Well, there are PLA materials that change color as you unwound the spool.
As a matter of fact, the color change is smooth and occurs every few meters. If anything, few products tend to glow in the dark. The luminosity of the PLA filament is so intense under UV light that it will leave you in awe.
A lot also depends on the manufacturer's product of different colored PLA as you may require a specific color that may not be available in another brand.
Compatibility
Are you still wondering what you are missing out on? Let us investigate a little. Have you ever had the misfortune of purchasing a spool but ended up with an unfit product. Avoiding such mishaps is definitely the prime objective of all.
For that, you must have a clear idea of the roll or spool holes' measurement that is compatible with the 3D printer you own. If you are looking for a 3D pen PLA filament, tread lightly and get all the information and measurement necessary for the perfect fit.
Smoothly Wounded
Nobody really talks about this criterion, but it is as important as all the aspects mentioned above. You may find PLA filament wrapped nicely around the spool. However, sometimes the tension seems too much or too little, or perhaps the filament settled in a wavy manner.
This phenomenon will directly affect the extruding filament and may result in clogs or tangles. Therefore, if you do come across such products, try to steer clear of their path.
Filament Diameter
Regarding the PLA filament's diameter, you will find two standard options of 1.75mm and 2.85mm. You may assume the greater number to have a more impactful outcome; it turns out that a 1.75mm filament consists of a lesser feed.
As a result, during extrusion, the pinion marks reduced the distribution of filament for constructing models. Moreover, the filament decreases the chances of motor heating up exceedingly, which lowers a deformed prototype's probability.
Durability
Without a doubt, PLA is the strongest choice available when it comes to 3D printing. But if you are looking at the overall scenario, you should cautiously look for PLA that strongly vouches against warps and wobbles.
The addition of various additives particularly increments the durability aspect by allowing you to construct heavy-duty models. In fact, PLA biodegradation is inevitable; however, you must look for material that guarantees several years of preservation if kept in a cool, dry place.
Read More: How to Convert Scrap 3D Prints into Filaments. Recycle your failed prints and scraps using our guide!
Top PLA Filament Brand on the Market
There is no doubt that the market of PLA filament is vast and diverse. This single most used product for 3D painting assures you with complete satisfaction. For the most part, the manufacturing companies are the reason behind this contentment of the customers.
Hence, let us get a little more familiar with the most talked-about brands circulating in the market.
Amolen
This manufacturing company is from China. The range of choices this brand delivers is beyond belief. Subsequently, starting from the phosphorescent filament, this company offers varieties of color options in their PLA.
Regarding the year of the company's foundation, it is a very new brand as the company started production in 2017. Nevertheless, it quickly spread its fame and earned popularity. It is well known for manufacturing the best PLA filament at an affordable price.
3D Solutech
No other brand focuses as much on technological innovations like this one in particular. This manufacturing company emerged in 2014. And throughout the pandemic, they helped produce 3D-printed personal protective equipment.
Furthermore, considering PLA filament, the color pigmentation compares to no other corporation. With improved dimensional stability and high-rigidity, all the structures created by this brand's material will surely last long.
Enotepad
We exhibit this recently founded China-based brand specializing in integrating new and advanced development for users' convenience. Their motive for 3D printing is to let you bring your imagination to life. No other company supplies as much diversity in options as this one.
The team working behind the scenes has incredibly valuable experience in forging PLA filament. Using this experience, they incorporate realistic texture on prototypes and smooth feeding consistency of extruding filament.
ERYONE
Straight from China's silicon valley, this production company introduces users to the vast world of 3D printing. Their products are nothing ordinary since their main aim is to include as much new tech as possible.
Without a doubt, their PLA filament is organic and helps make the environment a better place. Unlike any other brand, this company is open to supplying the demands of the customers.
Read our related article on Tough PLA vs PLA to see how PLA and PLA+ compare.
Tips to Use PLA Filament for Newbies
Getting anxious? You may feel like there is so much to do and learn, which is quite right, but it's not as hard as it seems. There are few things you need to maintain before and after the purchase. You can leave your fear here and begin your journey.
School Yourself on PLA
Before you make the buy-in, always gather all the knowledge on the different options of available PLA. We promise you this guide will help you through the process, just scan through it, and you are good to go.
Keep It Economical
Bear in mind, purchasing in bulk will never do you justice. It would be best if you rummaged through different filament types to acquire the perfect product compatible with your brand.
Never Underestimate the Power of Dry Filament
Let's assume you have already made your prototype. It may look indestructible if you have followed our advice, but almost all PLA degrades if exposed to water. In fact, it's necessary to keep your spool vacuumed in a dry bag with desiccants.
Other related filament that you can try for 3D printing:
Frequently Asked Questions
How long can you keep the models made of PLA?
Well, it depends on the way you preserve your prototypes. If you keep it out in the open, the models will sustain environmental degradation in about two months.
Is PLA material harmful?
Absolutely not, this material is widely used by a large margin of the population due to its organic composition. PLA filament is the safest and most eco-friendly option available.
Do you need to use desiccants on PLA?
It is necessary to use a vacuum-sealed bag that contains a drying agent to keep moisture and contaminants away.
Why does my structure keep deforming?
Ensure the nozzle is at the right angle for consistent and smooth feeding, or else your filament may get damaged. Moreover, an increase in temperature melts and deforms the models created.
Does moisture have any impact on PLA filament?
Yes, moisture damages filament significantly. As the material is entirely natural, it rapidly draws moisture in, which hinders performance.
Final Word
Can you boast about any other material except for PLA? We do not think so; in fact, for 3D printing, it is the most optimal option available. Herein, we brought to you some knowledge on different filament types and their functionality to satisfy your requirements.
If anything, we hope this guide helped you find the best PLA filament in accordance with the models you plan to create.
We were particularly excited about the wood PLA filament, as the results were visually pleasing. Working on architectural models with this option helped us ace the presentation.
Not to mention, the carbon-incorporated PLA filament was downright the most durable choice. If you keep the temperature requirement in mind, it will provide you with one of the best outcomes.