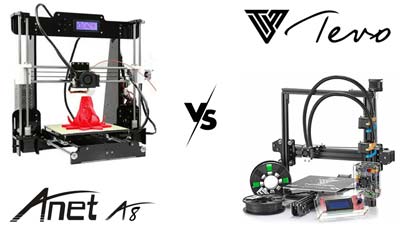 If you are tech-savvy and love to tweak with machine components, no doubt DIY kits always hold their place on top of your wish list.
It's a good thing to go for DIY products because you can familiarize yourself with all the different components and easily troubleshoot should the finished project goes haywire.
Even if you find your sibling or cousin struggling to assemble that 3D printer from scratch, you will have no trouble in lending them a hand.
Speaking of 3D printers, they don't always come as expensive and pre-assembled. There are plenty of affordable
DIY 3D printers with the popular ones being Tevo Tarantula and Anet A8 that give you a whole new experience!
If you've set your mind on getting one of those 3D printers but aren't sure about which one to pick, this Anet A8 Vs Tevo Tarantula will help you.
The Anet A8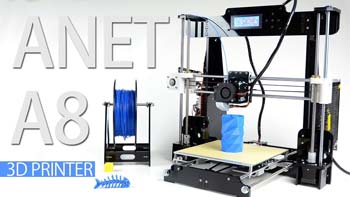 The Anet A8 is a popular DIY 3D printer that offers a great learning experience as well as quality output. It was manufactured by the Chinese company, Shenzhen Anet Technology Co. Ltd and has ever since taken its place in the homes of many 3D-printing enthusiasts.
The printer has a build volume of 220 x 220 x 240mm, which is decent enough to print models of different shapes and sizes. It's also compatible with several filaments, including ABS, Woodfill, PLA, Nylon PVA, and PP. Because of its thick laser-cut acrylic frame, the Anex A8 produces reliable prints that don't wear out easily.
We discuss about different types of filament in detail in others articles like:
It features an all-metal pulley system, which means the rods, bearings, gears, and connectors are all made of stainless steel, and they ensure the prints turn out smooth and precise.
The heating bed is made of aluminum alloy that ensures uniform heat distribution and a flat surface for supporting the printed model.
Often people suffer from the pain of getting a clogged nozzle during the printing process. With the Anet A8 printer, this isn't common as the extruder has a couple of fans equipped that rapidly cools the model and reduces nozzle jamming.
Not only that, but the 3D printer also has a 2.5-inch LCD screen and five buttons to navigate through the menu. As you are printing an object, the display will show you the printing speed and temperature in real-time. This helps you ensure you are printing at the correct settings without worrying about your models getting ruined.
The printer has an overall size of 19.7" x 15.7" x 17.7", which is small enough to fit on your workbench.
Because of its popularity, the Anet A8 has a massive online community where the support team and the users share tutorial videos and mod ideas.
Pros
Large support community.
Large print volume.
Upgradable.
Offers high precision.
Solid and stable build frame.
Affordable price.
Includes all the tools needed to assemble.
Cons
It takes some time and patience to get the perfect prints
Auto-bed leveling is sold separately
The assembly instructions are lackluster
Packaging Includes
Wire cutters
Extruder
Bearings
Motors
Screwdriver
Power cable
PLA filament
USB stick
The Tevo Tarantula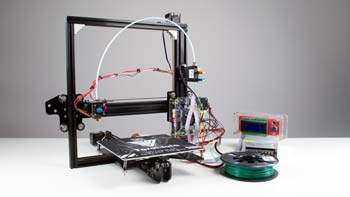 The Tevo Tarantula is a popular entry-level 3D printer manufactured by the Chinese company, Tevo. Tevo has garnered its attention because of its inexpensive Prusa i3 replicas, and the company ships 3D printers all over the world.
The current version of Tevo Tarantula has a build volume of 200 x 200 x 200mm, while the larger version measures 280mm in the Z-axis. You can use the printer to print a range of filaments, like PLA, ABS, Flexible PLA, HIPS, WOOD, PVA, and Nylon.
The printer comes with an aluminum build plate, and when you combine it with the all-metal Bowden extruder, you can use the whole setup to print those different types of filaments. It has a layer resolution of 50 microns and a maximum print speed of 150mm per second.
If you are interested in upgrading the printer parts for the best experience, you have the option with this printer. Its upgradeable features include the build plate, dual extruder, and auto-leveling print bed.
Although it has a default nozzle having a diameter of 0.4mm, you can use 0.2mm and 0.3mm nozzles according to your requirements. Also, you can print an enclosure for preventing your prints from warping caused by temperature changes. And here's a good post If you're interested in learning more about 3D printer nozzle size & types.
The overall size of the 3D printer is 17.0" x 17.3" x 15.7", which is slightly smaller than Anet A8, and makes it easy to be placed in that small space on your desk.
Once you have set up your printer, you can use different slicing software and follow online tutorials on how to print upgradable parts.
Pros
Large build volume
High printing speed than most 3D printers
Upgradable
Does not make any noise during operation
Excellent printing results
Active user community
Inexpensive
Cons
Prone to tangles, heating issues, and sticking
The frame is prone to wobbling
Poor instructions
Upgrades are necessary
Takes a lot of time to assemble
Packaging Includes
Tevo Titan Extruder
Power cable
2 Spools of filament of random colors
USB cable
8GB SD card
Assembly instruction manual
What Do Tevo Tarantula and Anet A8 Have In Common?
Online Community
Both Anet A8 and Tevo Tarantula have a massive online community. That means there is a wide range of instructional videos and resources available to the users of both printers, which help them set up the equipment perfectly.
Not only that but also there are support groups where you can ask questions and troubleshoot your issues with the users who have had the same experience.
Getting in touch with such groups is a good way to further increase your knowledge regarding your 3D printer and also allows you to fix issues on your own should you face them again. This 3d printing problem post has some additional tips to solve these problems.
Pricing
The price tag for both 3D printers is budget-friendly. So, if you are a beginner, you can try using a DIY kit before moving to an expensive, fully-assembled 3D printer.
Read More: New to 3D printing? Be sure to stop by our How hard is 3D Printing? guide
Quality
Because of the price, you can't expect industrial-quality components. For example, the Tarantula has an aluminum frame, yet many users complained that it is prone to wobbling. While the Anet A8 has an acrylic frame, it also wobbles but slightly less than the Tevo Tarantula.
Compatibility
To ensure the 3D printers work smoothly on your device, the manufacturers of both printers made them compatible with Windows, Mac, and Linux operating systems.
Difference Between Tevo Tarantula and Anet A8
Resolution
The resolution of a 3d printer refers to how accurate a 3D printer can print. It is measured in microns. The higher the number, the poorer is the resolution.
When comparing the resolution of Anet A8 and Tevo Tarantula, it is found that Anet A8 has a higher resolution of 100 microns while Tevo Tarantula has 50 microns. That means Tevo Tarantula produces better details than the Anex A8.
Extruder
Extruders are used to eject filaments in liquid or semi-liquid form through a heated nozzle and place it in successive layers. 3D printers use two types of extruders- a direct drive and a Bowden system.
Direct drive extruders are located on the print head, and it pushes the filament directly into the hotend for melting it. While the setup minimizes issues regarding extrusion, it causes vibrations that can reduce the accuracy in X and Y movements.
On the other hand, a Bowden system has the extruder mounted on the printer's frame, and it pushes the filament into the hotend by means of a PTFE tube. Since the extruder is not placed on the print head, there is less weight, and so the printer using this setup can print faster.
The Anet A8 uses an MK8 direct drive extruder, whereas Tevo Tarantula uses the Bowden system.
Print Speed
Print speed refers to how fast the motors of a 3D printer moves to create prints. A 3D printer having very low speeds can cause deformed prints, while very high speeds can cause overheating issues. It is ideal to select the appropriate speed when printing different parts of an object.
The Anet A8 is a mid-speed 3D printer because it has a maximum print speed of 100mm/s, whereas Tevo Tarantula has a maximum print speed of 150mm/s and is faster.
Memory Card Format
3D printers come with either an SD or TF card for storing pictures of objects to be printed. Among these two, SD cards are commonly used because they are secure and offer more storage than TF cards.
The Anet A8 supports an SD card, while Tevo Tarantula supports a TF card.
Comparing The Key Specs Of The Printers
| | | |
| --- | --- | --- |
| | | |
| | | |
| | MK8 Direct Drive Extruder | Full Metal E3D Bowden long-distance Extruder |
| | | Full Metal Aluminium Frame |
| | | |
| | | |
| Max Heated Plate Temperature | | |
| | | |
| | | |
| | | |
| | | |
| | | |
| | | |
| | | |
| | | Dual Switch AC 110/220V, 250W, 50Hz, 0.89A |
| | ABS, PLA, Wood, Nylon PVA, PP, Luminescent | PLA, PETG, ABS, PVA, Wood, and Flexible Filaments |
Bottom Line- Which One Is For You?
Although Tevo Tarantula has more advantages, you'll be surprised to know that Anet A8 has more fans. That's because Anet A8 is easy to assemble, has a larger community for support, and plenty of resources to choose from for upgrades.
While Tevo Tarantula is known to offer better print quality, it is more prone to instability which is absent in Anet A8. It also costs slightly more and requires hours and patience to assemble the components.
The choice is yours, and whichever 3D printer you choose will satisfy your printing needs as long as you are comfortable using it in an optimized way.
Also read: