When we discuss FDM 3D Printers, we're mostly talking about the Cartesian variant printers.
That said, most 3D printer users are unaware that there are four types of FDM 3D printers: Cartesian, Polar, Delta, and Scara 3-Dimensional Printers.
We'll cover these four types of FDM 3D printers for new users and learners, as well as define the four coordinate systems on which they're based.
types of FDM 3D Printers
The most common types of FDM 3D printers, and the most popular worldwide, are the Cartesian models.
The Cartesian printer Coordinate System is one of the most basic coordinate systems employed in a wide range of industrial and academic applications, making it popular among manufacturers.
In a Cartesian 3D printer, three values – X, Y, and Z – are used to define the position of a point in space.
The X & Y axes represent the lateral and longitudinal placement of a point, whereas the Z-axis represents the elevation.
According to Prusa Research, Cartesian 3D printers are the most popular, with over 1.7 million units sold in 2016 alone.
The best part about using a Cartesian 3D printer is that it's simple to master, and perfect for both beginners and experts to learn how to 3D print.
Some well-known Cartesian 3D printers include Ultimaker, Zortrax, and Roboze among others.
Delta 3D Printers
Delta 3D printers are the second most popular type of FDM 3D printer.
Due to their taller appearance, they are readily distinguished from Cartesian 3D printers.
Additionally, the unusual architecture is fascinating to look at, and it is exciting to observe how the Delta 3D printer works.
Some well-known Delta 3D printers include Kossel – RepRap, Anycubic Delta, and DeltaWasp.
Operation
The Delta 3D printhead is connected to the printer's three arms that all operate in tandem to print a layer of the object.
Operating in a triangulation configuration, the build volume of the Delta printer is not a cube but rather a cylinder with a circular base.
The three arms adjust their angle to place the print head on the build platform according to the model, rather than positioning it at X, Y, and Z locations.
A sequence of trigonometric operations is used to find the precise location by taking into account all positioning arm angles.
The short video below demonstrated how a Delta 3D printer works:
Advantages
The Delta 3D printer's greatest advantage is its increased speed as the extruder does not carry the stepper motor's weight.
The Delta 3D printer's height is also an advantage.
Manufacturers use the delta coordinate system for producing items with a higher Z-axis, as it is suited for creating taller things.
Delta 3D printers are perfect for architecture models as they can be used to build tall structures like columns.
Disadvantages
However, Delta 3D printers do have several disadvantages.
For starters, they cannot be used with Bowden extruders, which means that flexible materials aren't an option.
Additionally, because of their size, they often come as kits that new users find difficult to put together, keeping them away from this printer type altogether.
Scara 3D Printers
The XYZ Coordinate System, also known as the Selective Compliance Assembly Robot Arm (Scara), is a common coordinate system used in industrial robots.
A 3D SCARA printer resembles industrial robots and provides more flexibility and freedom of movement as it is not restricted to a build platform.
Scara printers can also move in any direction, making it simpler to print geometric complicated components.
Because Scara 3D printers utilize a similar grip, they can operate at a greater speed than Cartesian 3D printers.
Presently, Scara 3D printers are used in the construction of bridges, structures, and even massive industrial projects.
Two examples of Scara 3D printers include the MX3D printed steel bridge in the Netherlands and the Dobot M1 3D printer. 
Polar 3D Printers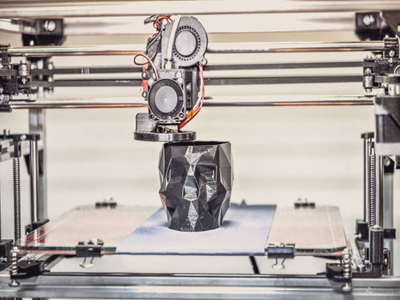 The design of the Polar 3D printer is unusual and intriguing and can employ a Cartesian 3D printer's circular grid rather than a square.
The position of a point in a Polar 3D printer is determined by two integers, such as an angle in 3D space and the distance (or radius) from a defined center.
Additionally, a Polar 3D printer's build platform may freely move left to right – back and forth, as well as spin while the arm (printhead) only moves in the Z-direction.
As a result, much larger items can be created in less time making these popular 3D printers for architecture models, as Polar 3D printers are utilized to create tall components such as columns.
Conclusion
Those are the four different types of FDM printers! Hopefully, our guide helps you decide which type of FDM 3D printer is ideal for your needs.
While the Cartesian 3D printer holds sway, other printers like the Polar and Scara are gaining popularity fast.