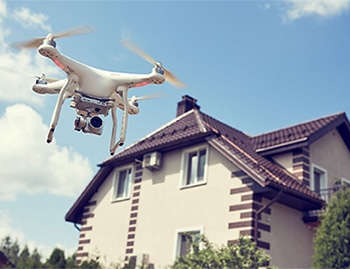 An iconic aerial shot in a big-budget video is enough to grasp the attention of its audience. These scenes leave the viewers awestruck by showcasing the most attractive parts of that setup with grandeur.
Many industries have drawn inspiration from such shots to make their business a little more interesting! Using drones, they manage to recreate the same magic for something much more practical – attracting potential buyers by highlighting the exciting aspects of a property on sale!
This is where the quality and features of those drones has become a focal point. Since the ones meant for professionals do not come cheap, you need to be sure about your choice before investing in it.
So here we are to discuss the models that can be the best drone for real estate photography. Read on to know the options.
Top 9 Drone For Real Estate Photography
1. DJI Mavic Air 2 Fly More Combo – Drone Quadcopter UAV
The Chinese company named DJI or Da-Jiang Innovation prides itself in being among the leading producers of camera drones and related accessories in the world. Mavic is one of their most popular series of drones which offers consumers many options to choose from in terms of technology and resolution.
The latest item from this collection is the Mavic Air 2 – a major upgrade to its predecessor Mavic Air. This new model comes with a bigger CMOS sensor measured at half an inch. So, now you can capture images at 48MP in addition to the usual 12MP. The resulting photos are stunning where no detail is spared.
What will make you the happiest though is its inclusion of the Quad Bayer image sensor. Because of it, you can now take smooth shots with a resolution of 4K at the frame rate of 60 fps and the bit rate of 120 Mbps. This guarantees better performance than even the Mavic Pro 2 which is much bigger and pricier.
This is a complete package. You will be getting two extra batteries, three extra pairs of propellers, three ND filters, a battery charging hub, a battery adapter and a durable carrying bag with multiple compartments!
So it comes as no surprise that many consider it to be the best drone for real estate photography!
Highlighted Features:
½-inch CMOS sensor enables it to capture 48MP photos.
Supports video transmission distance of up to 6.2 miles.
4K/60 fps HDR videos possible by Quad Bayer image sensor.
Impressive flight time for up to 34 minutes with obstacle sensing.
Rechargeable lithium-ion batteries and remote control included.
2. Holy Stone HS720 Foldable GPS Real Estate Drone
The company of Holy Stone believes people can fly with the right tools and right skills. That is why they have been focused on making innovative drones since 2014 using advanced technologies. One of these drones is the HS720 model that offers commendable performance and convenience along with affordability.
A common issue with drones is their camera not being able to withstand the wind speed and producing shaky clips or images. Holy Stone has figured out a solution to this problem through their Shock Absorption holder.
This feature is built into its optimized 4K UHD camera as a holder which prevents vibration while shooting in high resolution like 3840×2160.
Therefore, you can deliver much better quality and clarity for your real estate photography. The potential clients will be able to see all they need to before making a decision.
Additionally, the drone also allows 5GHz FPV transmission through a 90° adjustable lens. Using these attributes, you can take the most flattering photos and videos of a property on sale. It can also be configured to automatically follow you which scores high in convenience.
You can keep this in the air for up to 26 minutes. The required lithium polymer batteries and a carrying bag will be included in its package.
Highlighted Features:
4K UHD camera with 5GHz FPV transmission.
90° adjustable lens can follow you automatically.
Flight time of up to 26 minutes with auto return home.
Shock Absorption allows shooting without any vibration.
Lithium polymer batteries and carrying bag included.
3. DJI Mavic Mini – Drone FlyCam Quadcopter UAV
If you have been looking for a quadcopter that is much more portable than the usual frames, DJI Mavic Mini is as ideal as it gets! It is ready to offer you one of the most lightweight aerial photography experiences available in the market right now.
While most other drones built to help in this area of photography weigh around 16 oz to 20 oz, this one weighs only 8.8 oz! That makes it be as light as an average smartphone.
As a result, you will not have to register for it with the US or the Canadian government. So you can both save yourself the time spent on paperwork and carry it comfortably in your backpack.
The camera produces decent photos with its 12MP resolution and can deliver 2.7k HD videos. After shooting the necessary shots, you can transmit them as far as 4km. Its 3-axis gimbal makes sure that the clips are not disrupted by any vibration.
With a fully charged battery, you can keep it up in the air for about 30 minutes which is longer than most other consumer FlyCams. The DJI Fly app can work with different brands of both iOS and Android platforms.
Highlighted Features:
Camera allows 2.7k HD videos and 12MP photos.
Capable of HD video transmission of up to 4km.
3-axis gimbal to stabilize shot at different angles.
Offers a maximum flight time of 30 minutes.
Ultralight design doesn't need registration.
4. RUKO F11Pro Drones with Camera for Adults
For those of you who are not satisfied with flying the drone for 30 minutes, there is the F11 Pro made by Ruko. This popular model has caught the attention of drone enthusiasts because of its extendable flight time which can be up to 60 minutes! An extra battery included in the package will provide this boost.
With this additional battery, you can capture the most lucrative photos of your real estate properties using the 4K UHD resolution of its camera.
Besides, it can provide dreamy shots of the surroundings with a video resolution of 2.7k. This is even better than the usual HD that is only 1.92k and 40% smaller.
Along with impressive resolution, the camera will also enable you to broaden the photo frames because of its 120° FOV lens.
Find the most flattering way to showcase your property by utilizing the 90° adjustable angle. All these technical options should give you plenty of creative possibilities to play with.
Like the best drones for real estate photography, you can check real-time images and videos with this model, even if you are as far as 500 meters!
Protect all the important gears of this set by storing them carefully in the carrying case provided with it. 
Highlighted Features:
Camera offers 4K UHD photos and 2.9k video.
Broad view with 120° FOV lens and 90° adjustable angle.
30 minutes of flight time can be extended to 60 minutes.
Live image and video transmission of up to 500 meters.
Comes with an extra battery and a carrying case.
5. DJI Mavic 2 Pro – Drone Quadcopter UAV with Hasselblad Camera
The Mavic 2 Pro model from DJI is not for casual drone enthusiasts. It is something only the most serious drone lovers would go for since its price point might be more than some people's rent! However, the features and technologies incorporated into this model will be worth every penny of your investment.
The biggest highlight of this model is the iconic image quality it has as a result of the renowned Swedish Hasselblad L1D-20c camera used here. This brand of camera has a proud history of capturing moments of the first moon landing!
Now, after two years of research partnership and co-engineering between the two brands, you can make the most of their unique Hasselblad Natural Color Solution or HNCS technology.
With a 20MP resolution, each photo will show stunning color details that will grab the attention of your future buyers!
Compared to the Mavic 2, this model can be four times more effective and perform better in a low-light environment because of its 1-inch CMOS sensor.
You can also enjoy more flexibility in the grading room with its 10-bit Dlog-M color profile. For a more elaborate viewing experience, plug the drone into a 4K TV!
Highlighted Features:
Swedish Hasselblad L1D-20c camera ensures an iconic image quality.
HNCS technology generates stunning color details in 20MP aerial shots.
1-inch CMOS sensor is four times more effective than the original model.
10-bit Dlog-M color profile allows more flexibility in the grading room.
Can be plugged into a 4K TV with its 10-bit HDR support.
6. Contixo F24 Pro 4K UHD Foldable RC Quadcopter
Since its inception in 2013, Contixo has been providing a range of electronic products including drones, headphones, tablets and even robots. One of their most well-received items is the F24 Pro quadcopter that makes quite an affordable solution for drone enthusiasts of all levels.
Enjoy capturing images with a 4K UHD resolution where every little detail of your property shines! It can also make FHD videos to give your client's a bird's eye view of the surroundings. You can keep it in the air for 30 minutes and extend this period using the extra battery provided in its package.
Because of its 3D foldable design, you can easily store it after use without even taking off the propellers and then carry the lightweight drone anywhere.
Its dedicated remote controller also adopts the foldable ergonomic design approach so that you can comfortably keep your smartphone there.
Enjoy a powerful flight with four brushless motors without worrying about a breakdown. They can increase the speed and adjust the altitude of your drone with impressive precision. All the standard features of orbit mode, follow me and gesture control are present in this model.
Highlighted Features:
90° vertical adjustable camera for 4K photos and 2.7k video.
Allows you to take shots in broad view with 120° FOV lens.
Can stay up in the air for up to 30 minutes or 60 minutes.
Live video and image transmission distance up to 1700 ft.
Includes orbit mode, follow me and gesture control features.
7. Parrot – 4K Drone | Anafi Work
Anafi is the trademark series of drones produced by the brand of Parrot. It has an amalgamation of some of the most convenient features and cutting-edge technologies.
Such a combination may be the reason behind their high-end price point. But despite that, this is one of the best real estate drone models you can lay your hands on.
The camera of the Anafi Work edition can take 4K aerial images where your clients can feast their eyes at all the fine details. It is further enhanced by the unique 180° orientation incorporated into its design which enables them to inspect and film areas that are generally difficult to access.
Moreover, they only weigh 9 grams or a fraction of an ounce which is remarkably rare among all popular real estate drones. Usually, they weigh at least 8 ounces or more.
However, this level of ultra-lightweight design means you don't have to go through the registration process for it and save yourself from all the hassle!
It is also very compact and thus can easily fit into any backpack. You will get plenty of useful items like four smart batteries, eight extra propeller blades and more in the carrying bag provided with it. Besides, it supports 3D modeling software for precise measurements.
Highlighted Features:
4K HDR 21MP camera with hybrid 3-axis image stabilization.
Unique 180° orientation can film areas that are hard to access.
Lossless zoom allows inspection while maintaining a safe distance.
3D modeling software to measure distances and surfaces precisely.
Package includes 4 smart batteries and 8 extra propeller blades.
8. Holy Stone HS120D GPS Drone with Camera for Adults
Holy Stone brings you another great drone with the capabilities of both real estate photography and friendly selfies! This model of HS120D comes with an FPV camera that can provide 2K UHD images while adjusting its field of view up to a 120° angle. So you can experiment a lot with the shots a lot to find the ideal one.
Along with the camera specifications, there are several convenient features offered in this model. For instance, it has a headless mode where the drone's direction is oriented towards you and thus makes it easier for you to operate even if it reaches as high as 300 meters! It is less likely to lose direction in this way.
There is a GPS autorun mode where the RTH functionality enables the drone to fly back to you automatically if it either drains in power or goes out of range. As a result, you don't have to worry about losing it in the middle of nowhere!
It can take selfies with the gesture control feature which takes photos as soon as you pose. You can also adjust the speed, make it hold altitude and take the advantage of taking off or landing it with the same key! It can stay in the air for up to 36 minutes.
Highlighted Features:
Its adjustable FPV camera is 2K UHD 120°FOV.
Provides 36 minutes of immersive flying experience.
Gesture Control takes your photo as soon as you pose.
Easy to operate with headless mode and altitude mode.
Lightweight drone returns to you automatically using GPS.
9. DJI – Mavic Pro Quadcopter With Remote Controller
The last but not the least option we have for you is, once again, from DJI. Its Mavic Pro quadcopter brings you the major advantage of being very compact. You can easily fit it into your pockets and can find a spot for it in your backpacks.
It has the in-house transmission technology of DJI called OcuSync that makes the communication between the drone and the remote controller much more effective. Because of it, the drone can fly as far as 8 miles or 13 kilometers and still maintain a connection with your controller.
This system also can support multiple outputs. You can take advantage of that with Mavic Pro which can also be connected to two controllers and several DJI goggles. It supports video streaming at 1080p full HD resolution so that your potential buyers can check out every detail of the property.
Depending on the wind conditions that day, this drone can stay in the air for 21 to 27 minutes. The only drawback is its weight of 1.64 lbs which is considerably heavier than most other quadcopters.
Highlighted Features:
OcuSync transmission technology offers a range of 8 miles.
Can stream the shots at 1080p resolution without any bump.
Pocket-sized remote controller is easy to fit into backpacks.
Can stay in air up from 21 to 27 minutes depending on wind.
Much heavier than others standing at a weight of 1.64 pounds.
Comparison Table of Drone for Real Estate Photography
Drone For Real Estate Photography Buying Guide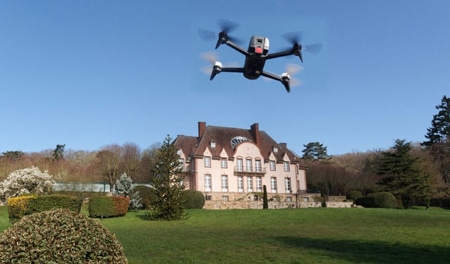 1. Camera Specs
Since the main purpose of your investment in the drone is to capture magnificent photos, its camera specifications should be of the highest quality. For images, their resolution usually ranges from 12MP to 48MP.
Real estate photography drones should have UHD (Ultra High Definition) or 4K (3840×2160) resolution. For videos, it should be FHD (Full High Definition) or 2.7k HD whose resolution is 1080p at the very least. This generates high-quality photos and videos with the tiniest details visible.
2. Flight Performance
The flight performance of a drone is mostly measured by its flight time, speed and distance. A drone needs to combat the wind present all around it for reaching an impressive altitude in a short timeframe. The best drones for real estate photography should be able to stay in flight for at least 30 minutes.
Its speed needs to be 20 mph or 40 kph at the minimum. Along with the bird's eye view, having such a high speed will allow you to attach the drone to a moving object like cars or boats for an unusually mesmerizing view of the property. This approach can result in many interesting and captivating shots for your clients.
3. Transmission
Transmission technology of your drone will have a significant impact on real estate photography. Most quadcopters rely on Wi-Fi transmission which is easily accessible but not the best option to take shots of real estate properties. It works great in open spaces where there is not many obstacles or interference.
Some leading brands like the DJI have come up with their own transmission technologies like OcuSync. There have been two versions of this technology already which extends the standard transmission flight distance for a drone and also improves the feed quality.
Of course, the inclusion of better technologies will result in a higher price point. So you will need to figure out if the benefits of such advancements outweigh the increase in cost.
4. Stabilization
Any feed or photo taken by a drone will be useless if it is not stabilized properly. That is why your chosen drone should have effective and efficient stabilization features like the incorporation of gimbals. Without these measures, every shot and clip will turn out as jittery and incomprehensible for the audience.
Gimbals make sure that the position of the attached camera stays undisturbed no matter how much the drone itself is struggling to stay stable. Even if the frame is moving to and fro with the wind, you will get smooth and stable shots on your drone feed.
5. Security
While taking some incredible photos, you will need to make sure that beings and elements present around the drone are not affected negatively. That is why ensuring flight safety is an important aspect of using drones. People walking by or birds running their errands – neither should be hit by the quadcopters.
Thus, try to find a drone that has respective measures in place to guarantee such safety for others, as well as yourself. Some of them may include vision sensors and GPS positioning. For more complex setups, look for drones with more vision sensors than usual.
6. Portability
Having a portable drone is essential for real estate photography projects since you will need to move around from one location to another frequently. This is how future buyers can check out the property from all angles without physically visiting it. In terms of portability, compact and lightweight drones are ideal.
7. Flight Modes
Many drones come with pre-programmed flight modes meant to make the job even easier for you.
For instance, there are intelligent modes offered in DJI models that can get you dramatic footage through intricate flight patterns. So even if you are a beginner in drones, you can take remarkable images and videos in no time!
8. Ease Of Use
Before making the final decision based on its technical features, remember to check out the associated software, aircraft and remote controller. Learning to use them should not take too much time or be too complex to wrap your head around.
9. Battery Life
Since you will need to spend quite some time outdoors to get the required shots, your drone must have a long enough battery life to complement those long hours. Although residential drone shoots require only about an hour of battery life, commercial ones like real estate photography will need a lot more.
10. Cost
Drones for real estate photography come in all levels of price points. There are economical ones which come at about a couple hundred bucks, while the most expensive ones cost more than a thousand!
So make sure to balance between your shooting requirements and affordability to find the most feasible option.
Difference Between Real Estate Drone And Normal Drone

Normal drones usually refer to the quadcopters you can use casually or for entertainment purposes. They are not involved in professional projects which require high resolution of photos or efficient transmission systems providing feed too long distances.
There are several stark differences between such normal drones and the ones used for real estate photography. Here we go into more detailed discussions about those dissimilarities.
Camera
Instead of having a separate camera standing on gimbals, normal drones usually come with a built-in camera that scores very low on the resolution. As a result, you will struggle to get even a decent quality of photos and videos from such drones, let alone something marketable.
Speed And Distance
Drones made for real estate photography tend to have a lot higher ranges for both speed and distance than normal drones. You can fly the regular quadcopters within 300 meters at maximum whereas the photography drones reach kilometers in their flights.
Stabilization
Normal drones usually don't come with a gimbal which is the most crucial element for ensuring stabilization in your shots. Even when they do include one, the gimbal is not designed well enough to handle the height. They may lack the altitude hold function which makes them lose elevation control and drop rapidly.
Battery Life
You will not be able to rely on the battery life of regular drones since it may run out before you can get a decent shot. It may last only about 10 minutes! On the other hand, photography drones can have a battery life of an hour or longer. That is a lifesaver if you are determined to get the perfect shot in a day.
Professional License
The hobbyists or beginners who are just learning to use drones don't generally need a professional license. Their drones are also built to be extremely lightweight, often including foam as a material, which reduces the need for official registration even more.
However, if you are going to get paid for capturing drone photos or videos like in real estate photography, you legally need to get a professional license for it.
Special Features
Professional photography drones used in real estate may come with many special features that are never seen in normal drones. Some of them include supporting multiple overhead maps, 360-degree panoramas, cinematic reveals, blast off shots and more.
Price Points
Normal drones don't have high-quality cameras, long enough battery life or stabilization features. So, understandably, they come at very economical price points. Real estate photography drones offer all those features and many high-end ones, which is why they come at a higher cost.
Real Estate Drone Photography Tips

Listen To The Weather Forecasts
Any outdoor photo must have nice weather in its backdrop. In real estate photography as well, you will need to keep an eye on the weather forecasts for the shoot day. This is especially significant in the case of drones since they do aerial photography and will need to capture the sky to some extent by default.
Pick The Right Setting Options
It might get overwhelming to pick from the array of settings your drone is offering unless you prepare for it beforehand. A good tip to always keep in mind is to shoot the photos or videos in raw format. This will open up all the doors for you in the editing phase and increase the possibility of a mind-blowing end product.
Remember to use autofocus instead of manual focus since the latter may still produce blurry images. Another simple way to upgrade your image quality is to use the aspect ratio of 3:2 or 4:3 instead of the default one. Doing this will let the images utilize the maximum resolution available on your quadcopter.
Do Aerial Reveal With Smooth Transition
Aerial reveal is one of the main reasons why professionals choose to invest in a drone. No other device or camera can deliver this kind of shot where the viewer can look at the house like a bird flying towards it. Besides, your client can clearly see the surrounding landscape with this shot.
Remember to adjust the gimbal pitch as required to make sure the transition effect goes smoothly. This will ensure maximum effectiveness for the aerial shot.
Include Nearby Facilities In Photo
Along with the beautiful landscape and surroundings of the property, remember to also include the facilities located nearby in the drone images.
We all love aesthetics but it comes down to conveniences and necessities in the end. So the presence of hospitals, schools, parks, cafes and others will make the house more appealing to the potential buyers.
Use Intelligent Flight Modes In Large Open Areas
Intelligent flight modes are available in the leading drone brands like DJI to help both newbies and experts to create some stunning shots. Among them, the POI or Point of Interest mode does a phenomenal job of capturing the entire property and its surrounding areas in one shot.
You can make it happen by first taking the quadcopter up to 45 meters or 150 feet above the ground. Then use the app to increase the radius of its circular flight path up to 200 meters or 600-700 feet. Now tilt the gimbal a little bit so that the horizon covers about 20% of your screen.
Following this method will make the clients feel like they are passing by the front of that property in a vehicle. It is a refreshing take on the usual aerial shots and top views drone photography usually generates.
No Need To Go High Every Time
Even though flying high is what drones are known for the most, you do need to go low in some shots to provide the client with an accurate view of the property.
For instance, it is better to take a shot from the front of the house to highlight its position of doors, windows, chimneys and so on. Trying to capture such an image from the above would result in roofs covering the majority of it.
Small Drone For Large Properties
If you have one of the more compact drones like Mavic Mini, you can still record some amazing images and clips of the large property. You can do so through immersive shots or spherical videos that provide a 360-degree experience. Remember to clear the area and check the lighting before going for these shots.
Refrain From The Wrong Camera Angles
Like any creative person, you should experiment with the different angles your drone camera can handle to pick your favorites. However, there are certain angles you should refrain from to make the images or videos more effective on potential buyers.
For instance, try to avoid taking the shot from top to bottom since it makes the property look like a 2D object. However, you can go for it if there is a particular design or feature that can be highlighted this way.
Schedule Shooting At Ideal Hours
The natural light conditions generally seem to be the most ideal during midday. This timeframe usually covers from 11 AM to 3 PM. Besides, the sky looks full of blue with the perfect strokes of white clouds and warm sunshine in this period. As a result, the aesthetic appeal of your images reaches new levels.
Frequently Asked Questions
What Does FPV Mean?
FPV is short for First Person View and it is a very common term used for drone photography.
The reason behind its widespread use is you can see what the drones are seeing as if you are on the quadcopter itself. This can be possible if you have a video downlink transmitting its camera feed to your LCD or smartphone monitor.
Do I Need A License To Fly A Drone?
The necessity of a license to fly your drone depends on the area you live in or work in. Usually, you will not need to apply for a license if your quadcopter weighs less than 2 KGs or 4 lbs. and is meant for private use only.
However, for any commercial application of the drone, getting a license is mandatory in the USA.
What Is A Normal Flight Time Of A Camera Drone?
A camera drone should have a flight time of 25 minutes or more. You can think of this as the minimum requirement for a drone meant to be used in real estate photography. For jobs like this, you will have to move around a lot with the drone to get multiple impressive shots and thus its flight time needs to be longer.
Can I Fly A Drone Above The Sea?
Technically, there is no regulation stopping you from flying your drone above the sea. However, you have to remember that chemically the device might get damaged by doing so. There are elements in the sea spray that can be highly corrosive for motor windings and electronics.
Hence, it is recommended to not fly a drone above the sea since most quadcopters are not designed to be waterproof.
Is There An Advantage To Having More Rotors?
Yes, there are multiple advantages you can enjoy with more rotors on your UAVs including drones.
An extra rotor can increase the flight time for your device, as well as increasing the payload capacity and stabilizing the quadcopter in flight. You can enhance the overall endurance of your drone by getting more rotors.
Final Word
Since there are many options to choose from, we are sure, with the know-how, you will find the best drone for real estate photography in no time.
Even keeping the business aside, getting a drone itself is a very exciting experience! It will open up new doors of creativity for you as a professional photographer.
Using drones for real estate endeavors will surely elevate your game. Make sure to find one that will give you the least amount of hassle regarding portability, registration and camera-resolution without breaking the bank!