Almost everyone who has used a 3D printer has experienced a failed print at some point and wondered what to do with failed 3D prints.
3D printing is often seen as a futuristic technology, but the reality is that it's been around for years.
While this process has come a long way, some common problems can still occur, such as failed prints.
This article will discuss what to do with failed 3D prints!
What to Do With Failed 3D Prints
When a print fails, it can sometimes be challenging to determine what went wrong.
There are many reasons why your 3D print might not turn out as expected, including filament jams, issues with the print bed, and problems with the slicing software.
If you encounter a failed 3D print, it is essential to take a few steps to troubleshoot the issue.
Common Approaches For Failed Prints
There are many different options for what to do with failed 3D prints.
Some common approaches to fixing failed prints include:
Reprinting the object using different settings or materials.
Breaking down the failed print and using the pieces to create a new design.
Seeking help from an online community or 3D printing expert.
Donating the failed print to a cause or recycling it.
Using the failed print as a learning opportunity.
No matter what approach you take, it is essential to be patient and persistent when dealing with failed 3D prints.
With a little bit of effort, you will be able to find a solution that works for you and continue on your journey of 3D printing success!
Can You Recycle Failed 3D Prints?
You know it can be frustrating if you've ever failed a 3D print, but what if we told you that failed 3D prints could be recycled?
That's right! Companies out there will take your failed prints and recycle them into new filaments.
This process is called filament recycling, and it's a great way to reduce waste and save money on your 3D printing costs.
Read More: How Much to Charge for 3D Printing. Thinking of getting into the printing business? Start here!
How Does Recycling Work?
Filament recycling companies take your failed prints and grind them into small pieces.
Then, they melt the pieces down and extrude them into new filaments.
The resulting filament is typically lower quality than virgin filament, but it's still perfectly usable for most applications.
Best of all, it's significantly cheaper than buying new filament.
This video shows someone who recycled their old PLA prints and made filament out of them. Check it out!
If you're looking for a way to save money on your 3D printing projects, consider recycling your failed prints.
With just a little bit of effort, you can help to reduce waste and keep your 3D printing costs under control!
Tips On What To Do With Failed 3D Prints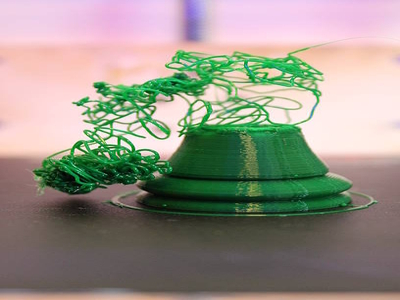 We've all been there.
You hit the print button, wait eagerly for your new model to finish, and then disaster strikes.
Your printer starts making odd noises, the filament gets jammed, or the extruder decides to stop working altogether.
It's a frustrating experience, but it doesn't have to be the end of the world.
Here are a few things you can do with your failed 3D prints:
Use them as templates for future prints
If your print didn't turn out quite the way you wanted, use it as a template for your next attempt.
This way, you can ensure that all of your prints are identical.
Turn them into art
Just because your print didn't work out doesn't mean it can't be aesthetically pleasing. T
urn your failed prints into sculptures or wall art.
Recycle them
Most 3D printers use PLA or ABS plastic filaments.
If your failed print is made of one of these materials, you can recycle it and use it again in the future.
Check out our Best PLA Filament and ABS Filament Reviews to see our thoughts on the top filaments!
Donate them to a maker space or school
If you're finished with your failed print, donate it to a local maker space or school.
This way, someone else can use it for their projects.
Use them as testing grounds
Use your failed prints as test subjects if you're working on a new design.
This way, you can make sure that your design is sound before you waste a bunch of perfect filaments.
Sell them on Etsy
Believe it or not, there's a market for failed 3D prints.
If you're feeling entrepreneurial, sell your failed prints on Etsy and make extra cash.
Whatever approach you take with your failed prints, it's essential to stay patient and persistent.
So, no matter what you do with your failed prints, don't let them get you down.
The important thing is to learn from your mistakes and keep on printing!
Final Words
Hopefully, this article has given you a few ideas of what to try first with your failed prints.
If all of those fail, don't worry – there are still plenty of options for salvaging that failed 3D print.
Articles You Might Enjoy Reading: