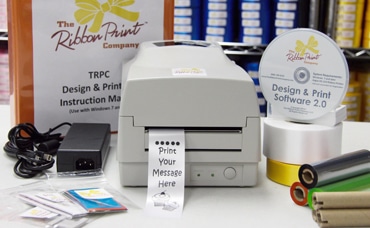 Starting from being on the gift wrapper to being a bookmark, wreath, lanyard, decorative balls, flowers, toys or wristband, a ribbon has multiple uses. It just depends on how you style that piece of fabric.
There are different ribbon printers that have emerged to make you get creative with it. My favorite would be an inkjet printer because it's more affordable.
There are some extra steps but it would be very easy to get crisp, beautiful designs and font styles on the piece. You'll just need the right kind of tools and proper instructions.
I know what you might be thinking now, "How to print on ribbon with inkjet printer?"
Well, that's what I'll answer here. Keep on reading to know more about this.
Why Use Inkjet Printers for Printing Ribbon ?
You will find 2 kinds of printers that are quite popular- laser printer and inkjet printer.
A laser printer uses laser beams to print documents. Meanwhile, inkjet printer uses liquid ink, electrostatic field and ultrasonic pressure to print images or texts on paper or fabric. It propels ink into tiny, highly-controlled streams of jet and onto the substrate and creates beautiful images or fonts.
If you're planning to print on ribbon, an inkjet printer would be ideal. It gives you premium-quality images as it blends the colors very well. It doesn't matter if the ribbon is colorful or not, the device would get it printed by using those rich colored inks.
When it comes to the fabric, you can pick a ribbon of different materials. It can be slippery or glossy or any other kind. Not just that, inkjet printer works with heat sensitive materials too unlike laser counterpart.
Types Of Ink To Use With Inkjet Printers
2 kinds of inks can be used in an inkjet printer. One is pigmented ink and another one is dye-based ink.
1. Pigmented Ink
Although pigmented ink has less color depth, it does blend the color well. So, you'd find them ideal for photos and colorful texts.
If you want to use ribbon outside, then opt for pigmented ink as it has better UV-resistant properties. Its particles sit on the paper in layers rather than getting absorbed that makes it resistant to elements like UV rays and environmental gases.
So, the fading of prints would be slow even if you keep them exposed to sunlight.
This also means that you'd get to enjoy more longevity of the prints with pigmented ink.
2. Dye-Based Ink
Dye ink produces deep, vibrant color and can give you a wide color range. The black prints of dye ink are much darker and sharper than the pigmented. So, it's outstanding for sharp text creations.
However, dye ink tends to get absorbed into the fabric. So, if you use the prints outside, the UV-rays may cause the text to fade fast. For this, dye inks are mainly recommended for indoor use.
Also know: Head to head difference between pigment and dye ink.
Tools You'll Need:
1. Inkjet Printer
The first and foremost thing that you need for this DIY project is the inkjet printer. I'd suggest you use pigmented ink for vivid text or image. Make sure the device has smudge-resistant features since it offers premium-quality printing.
2. Ribbons
You can use ribbons of different types. This includes Grosgrain, Satin, Silk, Taffeta, and Twill. However, since Satin and Grosgrain are most popular, I'd explain the ways to print on these two kinds of materials.
3. Double Faced Tape Or Iron
You'll need double faced tape for the satin ribbon, or iron for the Grosgrain ribbon.
4. Plain Or Heat Transfer Paper
If you're working with a satin ribbon, a plain paper will do. For the Grosgrain ribbon, you'll need to get heat transfer papers.
5. Word Processing Software Or Microsoft Word
Make sure you install word processing software on your laptop, computer, or any other device that you will be using for printing. You'd need this to customize, resize and mirror your materials.
6. Scissors
This is to cut the document into individual pieces for the grosgrain ribbon.
7. Ink Fixative Spray
An ink fixative spray helps protect your computer prints from getting smudged. However, it's not compulsory.
Easy Step By Step Tutorial Abount Printing on Ribbon
If you have all the materials needed at hand, let's move onto the process of printing on Ribbons using the inkjet printer. However, your method of printing will vary depending on the type of ribbon you're using.
How to Print on Satin Ribbon at Home
Satin ribbons give off a shiny glow. They tend to be silky and smooth. If you're choosing a Satin ribbon for printing purposes, make sure that both sides of the ribbon are polished. Typically, printing on a Satin ribbon is easier than other fabrics. You'd find the printing processes very simple too.
Step 1: Open The Software
Open the word-processing software on your laptop or computer. You can use Microsoft Word. Select your desired image or type the text that you want to print on your ribbon.
Step 2: Select The Right Size
Make sure that the size of your font or image fits into the size of your ribbon. In case you make them bigger, the rest of the letters or image would not appear on the fabric and you'd see half of the result.
Step 3: Print Out
After selecting the right font size and the kind of paper that would be suitable for your ribbon type, use plain paper to print the document for Satin ribbons.
Step 4: Place The Ribbon On Printed Document
Use the double-sided tape to attach to the back of your ribbon. Then place it on the printed text. Make sure that the ribbon is covering the image or letters well.
Step 5: Place The Paper Back On The Inkjet Printer
Now, place the paper into your inkjet printer again, but this time with the ribbon attached.
Step 6: Start The Print
Change the paper type to "Inkjet Transparencies" from the settings. Now, start printing the ribbon by giving print commands.
Step 7: Let It Dry
Take out the printed ribbon along with the paper from your printing machine. Wait until the printout dries.
After that, separate the paper from the ribbon and take the tape off your ribbon. Make sure to wait for 24 hours before you use it.
It'll be great if you use your customized satin ribbon next day.
Way To Print on Grosgrain Ribbon
Grosgrain ribbons last longer than the others since they are extremely strong with rough and flat surfaces. You'd find such ribbons available in different prints and designs.
However, printing on Grosgrain ribbon can be slightly tougher than the satin ones because of its sturdiness. But it'll get easier once you follow the steps properly.
Step 1: Wash Your Ribbon
A ribbon of an inch would be enough to be printed. Wash it well and let it dry completely.
Step 2: Open The Software
Open Microsoft Word and add the image or type your desired text. You can choose any color or design. Just make sure the image or font size is compatible with the ribbon size.
Step 3: Create Copies
After selecting the right size, create copies of the text you'd like to print on the grosgrain ribbon in the same doc file.
Step 4: Create Mirror Image
Now, use the word processing software to create a mirror image of your document before printing it out. If you're using the Microsoft Word, just copy your text and paste it into a textbox.
Now, go to the setting option and change the 3D Rotation option from X to 180. This will create a mirror image by flipping your text horizontally.
Step 5: Place The Paper On The Printer
Keep the inkjet transfer paper on the tray of your printer and then print out the document. A mirror image of your document will get printed on the paper.
Step 6: Let The Paper Dry And Cut Into Pieces
Wait for a while so that the paper dries. Then cut out each copy of your texts using scissors into individual strips.
Step 7: Place The Strips On The Ribbon
Place each strip of inkjet paper on the pre-washed ribbon carefully. Make sure you place them over an ironing surface. The size of your strips should match the size of the ribbon.
Step 8: Iron The Paper
Iron slowly over both the ribbon and paper so that it fuses your text on the ribbon due to the heat. Wait at least 24 hours.
Now, once it cools down and settles, you can use the ribbons to decorate your gift boxes.
Step 9 (Optional): Coat The Ribbon To Avoid Fading
You can make the ink slightly more long-lasting if you use fixative spray on the ribbon. Avoid spraying it too thick. Just a couple of thin coats will do.
Although experts recommend this option, you may find some DIY ideas too for the same purpose. One would be using a salt bath while the other is a vinegar bath. Both may or may not prevent fading but help set the color.
You can also use a solution of neutral ph. PVA glue and water. These ingredients will help set the color but that depends on the fabric of your ribbon.
Note that, if you brush the solution, it may look like you've applied white paint on a printed photo. However, it'll get normal once it dries clear. The only thing you may hate is the plastic feel of the coating. It would be somewhat stiff with a little gloss and slippery texture that might put you off.
Tips and Caution That You Should Take Care While Printing On Ribbons
Making customized ribbons using an inkjet printer is easy and very much fun, but there are some things that you should be aware of before starting with this DIY project.
The result of printouts on ribbons varies depending on the printer and inks. Even different models of the same manufacturer would give you different results. Apart from that, the result will also be different for different kinds of ribbon fabrics.
Fading is one of the major issues for a printed ribbon. Such customized ribbon wouldn't last long if you wash it no matter how much water-resistant the ink is. However, if you're making the ribbons to use on a bag, tie a gift box, collage or poster, then there's nothing to worry about! It's because you won't have to wash the ribbons in these cases.
Another major problem with inkjet printers is that their inks tend to bleed. However, you'll find some special waterproof fabric ink in the market that works to control the bleeding.
Inkjet printers do not work as fast as laser printers. Plus, the tray cannot hold a bulk of papers altogether. For this, you won't be able to print on more than a single ribbon at once.
Make sure you purchase an inkjet printer that has the setting for fabric inbuilt in it.
Final Words
Ribbon does look simple but it's both elegant and useful at the same time. You can even make it more versatile if you customize it in any design you like.
For that purpose, nothing can be better than an inkjet printer. Although there are other ribbon printers that you can use, an inkjet one comes as an easier and cheaper option.
You won't need to have extra skills to produce those beautiful ribbons with it. Not just that, you'd get the kind of quality you want, we're talking premium here.
Now that you know how to print on ribbon with inkjet printer, why not start the DIY project you badly wanted to do today?