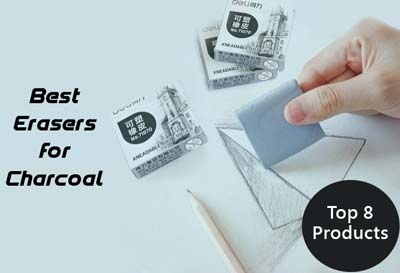 Normally, beautiful charcoal artwork has undergone a lot of fixing to get rid of errors and present the excellence you see.
Fixing means cleaning out marks, bringing back highlights, modulating the tone, and doing smudging. All these are critical issues in art, and you know what they have in common? They need the best eraser for charcoal to accomplish.
But while using charcoal erasers might sound like an effortless task, it is not always so. Once you bring a number of charcoal variants into the picture, such as applying different weights of charcoal media or varying types of paper, things tend to get tricky. Perhaps the tooth is too deep or the marks are too dark.
Often, a standard pencil eraser does not suffice. You need a high-quality charcoal eraser.
If it is time to get an eraser, I should tell you there are endless options out there. You can end up a little mixed up. That's why I came up with this guide. I have scrutinized 8 erasers for charcoal and created a nice presentation of what to expect.
Let's delve in.
Our Top 8 Best Erasers for Charcoal
1. Faber-Castell kneaded Eraser, Large size Grey
Faber Castell is quite familiar with people that have been in the creative arts industry. This is a giant brand in the market, dominating many others in the supply of pencils, art paper, and erasers among a variety of other items.
What the brand is particularly loved for is the excellence of its products. If you want to purchase from the number one supplier, you got to try Faber Castell. So, what does its eraser have to offer?
"Magical" is the closest you can get to describing how well this eraser works. It is one of those products that are able to remove the marks effectively and completely without ruining the surface. Immediately when you press lightly on the surface, the writing or drawing starts to disappear. You don't need much effort.
You know how you have to keep rubbing the drawing with the eraser to get it off?
You can say goodbye to this issue when you purchase the Faber-Castell kneaded Eraser. As soon as you put it on the art and press lightly, the drawing starts to disappear. How cool!
Aside from erasing, this product serves another function. If you're looking to lighten some areas of the art, you will find it quite useful. Light strokes on the drawing take a few shades off, delivering the lightened appeal you need.
As you continue to use an eraser, the object accumulates dirt, which can transfer to the surfaces you're trying to erase. However, with this Faber Castell, the problem is suppressed, thanks to the design of this product.
What I mean is that the eraser is flexible. It bends, twists, and turns to the shape you want, giving you access to fresh parts that you can use without transferring any dirt.
And not just that. This functionality enables you to erase thin lines or strokes without affecting the adjacent parts.
For many artists, Faber is the best eraser for charcoal art, but it does not work with charcoal alone. It is a handy versatile product that you can use with watercolor, pencil, pastel, and graphite art.
Highlighted Features:
Great absorbing capacity that gives it great erasing power.
Elastic eraser for removing little sections without affecting surrounding parts.
Doesn't leave crumbs.
Cost-effective – 4 in 1 pack.
Works with a range of media including watercolor, graphite, charcoal, and more.
Holdable size.
2. Prismacolor Premier Kneaded
Ask any artist that has been doing charcoal art for years. You're likely to find that almost everyone has used it at some point. The Prismacolor Premier Kneaded is, with no doubt, one of the most popular erasers for charcoal out there.
If you're very interested in precise cleaning, then you want to be able to press your eraser into various shapes. Thankfully, this is an elastic unit that allows you to do that.
It doesn't matter how little the spots are, or how deep, this elastic cleaner will help you get rid of them with high precision.
Ever used an eraser that kept releasing crumbs as you rubbed the surface?
I can imagine it was not a good experience. If you want an eraser that leaves no crumbs, you will find the Prismacolor eraser quite useful. With it, you can say goodbye to residues and dirt and enjoy a cleaner workspace.
The eraser is also latex-free. This further ensures that you're able to work with less mess.
As you continue to use the eraser, the surface gradually gets saturated with carbon and the erasing effectiveness dwindles. However, with this kneaded eraser, there's less worry. By kneading the eraser on your palm, you make the surface ready for erasing all over again.
Versatility is one of the factors that make this product such a popular choice. In that regard, you can use it with a wide selection of media. Whether you're using chalk, pastels, pencils, or charcoal, this eraser will work.
If you're operating on a limited budget, this is the product for you. It's one of the cheapest in the market, yet the quality is decent. Give it a try. You can get the 1-unit option or the 3-in-1 or 4-in-1 pack.
Highlighted Features:
Molds into different shapes easily.
Good size for easy grabbing.
Versatile in that it works with different media from charcoal to pastels.
3-in-1 unit with a kneaded eraser, Artgum, and plastic eraser.
Latex-free plastic eraser for cleaner erasing.
Crumb-free erasers that produce less mess.
3. Mr. Pen Eraser Set
The story of Mr. Pen is one of true care and concern. Unlike most other brands, this one was started by teachers in different parts of the US.
Seeing the struggles of both teachers and learners, they came up with revolutionary stationery that addresses real issues.
The product we're concerned with here is their Mr. Pen Eraser Set. This is a pack of 9 erasers grouped into 3 classes. In there, you find 3 vinyl erasers, 3 kneaded rubbers, and 3 art gum erasers.
With so many varying erasers, you're assured of the ability to solve a variety of needs. With regard to that, you get to tackle different erasing tasks with ease. Whether you want to rub out large sections of drawings or thin and small areas that need high precision, the set comes with the right tools for the job.
For removing pencil lines as well as smudges from surfaces, the 3 art gum erasers in the pack have you covered. They absorb dirt and graphite with such effectiveness that you'd think it is magic.
If you want to correct or lighten charcoal, the 3 kneaded erasers will be very helpful. These mold easily into the shape you want, thereby enabling you to clean with high precision. Apart from charcoal, they also work for pencils and pastels.
And finally, the 3 plastic erasers are there to help you clean out pencil marks effortlessly. As these are latex-free, they reduce the mess, thus helping you do cleaner erasing.
Highlighted features:
Latex-free plastic erasers for less mess.
Moldable kneaded erasers for precision and flexibility.
Artist gum erasers absorb smudges and graphite efficiently.
Can be used with different media like charcoal, watercolor, pencils, etc.
4. Magicdo Cube Erasers
Being able to hold erasers comfortably is crucial to ease of use. One important thing that determines whether an eraser is easy to use is its shape, and this is the same factor that makes so many people go for the Magicdo Cube Erasers.
The erasers feature an ergonomic design. In that regard, there is a little indentation at the center of each unit, where you place your thumb when operating the eraser. In addition, the indentation is enhanced with textured spiral shapes. 
This clever design makes it possible to have a comfortable but firm grip without a struggle.
The package comes with 4 units. These are erasers of varying shapes, including an oval, a prism, a shield, and a diamond. For kids, these are really interesting shapes to work with. What's more, they are comfortable to work with.
For someone seeking mess-free cleaning power, the Magicdo Cube Erasers are a great choice. They do not release crumbs. Instead, they are shaped in a way that they can delete without leaving residue.
Imagine using an eraser that keeps tearing your workspace. It irritates the surface with its roughness and ruins your art. I reckon that can be quite the ordeal. Well, I have some good news. This eraser does not tear the paper.
In fact, it is designed to deliver smooth cleaning action with no ghosting or smudges.
Eco-friendliness is yet another aspect that makes these special. These don't contain latex and again, they're cruelty-free. That makes them a favorable choice for someone who wants to contribute to environmental conservation.
For your peace of mind, there are no harsh chemicals in these. You can comfortably get them for your little ones.
Highlighted features:
4 units with great shapes.
Concavity with spirals, which makes them comfortable to hold.
Does not release crumbs – good for mess-free cleaning.
Made from latex-free, cruelty-free eco-friendly materials.
5. Vanish 4-in-1 Artist Eraser
Looking for an eraser set that will solve a good number of your paper erasing needs? How about the Vanish 4-in-1 Artist Eraser?
As an artist, you probably know media come in a range of types. From charcoal and pastels to graphite and chalk, these erasers help you deal with a wide assortment of media, which can come in liquid or solid form, by the way.
If you work with charcoal a lot, you will find the medium quite suitable. It removes soft charcoal lines without a hitch, whether the lines are drawn on soft or hard art paper.
And when you're looking for a way to deal with harder media such as graphite, these erasers will serve you well.
As you can see, you need not purchase an eraser for soft media and another one for hard media. The eraser has you covered in both scenarios.
Crumbs, as you might already know, are a by-product of rubbers. But they're not an appealing by-product. In fact, they're quite annoying when they keep falling on your workspace and ruin your art.
If you've had enough of crumbs, you got to try this eraser. There are no words to explain how well the product cleans itself up. It is like it has some magical property that ensures no crumbs are released. That means you no longer have to remove them by hand, and hence the risk of ruining your work is greatly reduced.
Aside from getting rid of parts of your art, you could be looking to achieve other functions. For instance, you could want to blend different media, such as pastels and charcoal. Or you could want to clean out a line beneath an ink stroke. The Vanish Eraser is here to help you achieve that and much more.
For someone seeking a large rubber that they can use for weeks to months even when doing regular work, this would be a perfect selection. Its size of 2.5 by 0.75 inches is large enough to cover you for quite a while.
Highlighted Features:
Self-cleaning properties that ensure there are no crumbs left.
Large size for longevity.
Works with both soft and heavy media.
Compatible with pastels, chalk, charcoal, and other media.
Durable material that can serve you for a while.
6. General Pencil GEN-140E-BP
When you hear that an eraser is kneaded rubber, that basically means it was made from chemicals as opposed to being obtained from natural materials.
I understand how many people might feel about items that are made chemically. But tell you what? The General Pencil GEN-140E-BP does not contain harmful ingredients such as latex and PVC.
This product is made in the United States under the supervision of experts. That's to tell you there's nothing to be afraid of. Rigorous testing is done, as the product has to meet quality standards.
Well, the item comes as just one unit, though you have the option of ordering in bulk.
Versatility is one thing that this rubber is really loved for. With it, you're able to deal with not only charcoal but also other media, including pastels, chalk, highlights, and charcoal.
If you touch the rubber, you will feel how soft and elastic it is. The material is one that you can mold with your fingers. That allows you to access the unused parts of the item and continue rubbing with the same effectiveness as when it was new.
Have crumbs given you a headache in the past? Then go ahead and pic this rubber. It is designed such that it erases without leaving crumbs on your paper. That way, your desk stays clean and you avoid ruining your project by using fingers to try and get rid of the crumbs.
The one frustration that accompanies this unit is that it doesn't come in frustration-free packaging. Removing the rubber is quite a task but once that is done, you get to enjoy versatile rubbing action.
Highlighted Features:
Made in the USA.
Elastic – for precise erasing.
Versatile – works with pastels, chalks, highlights, etc.
Free of latex or PVC.
7. Putote Drawing Art Kneaded Rubber Erasers
What Putote, as a brand presents, is every artist's dream come true. It brings you an excellent-quality rubber in a case and for an unbelievably low price.
The package comes with a dozen rubbers all for a cheap price, making it suitable for any artist out there even those on a budget.
Among the 12 units, there are 4 separate colors. Three for each color. I found this color separation quite useful, as it helps you subdivide the erasers by use. You could use some for heavy and deep sections and some for the lighter parts.
As the title tells you, these are kneaded erasers. One thing that people love them a lot for is the fact that they are super soft. You can literally mold them into any shape. For instance, you can make the surface wide for erasing large sections quickly, or create a thin or sharp edge for erasing tiny parts.
In art, erasers are some of the most important tools. But they can also cause a headache, particularly when they leave a smudge or gunk. And this is a real issue in drawing art. A rubber will be so soiled that it will keep discoloring and messing up your workspace. However, things are different with the Putote erasers.
The way this works is first, that the erasers are self cleaning. Secondly, as they are soft, you can pull and push and get new clean parts that will not create a mess.
If there's one thing that gives us trouble when using erasers, it is where to store them. You want a good place where the rubbers are organized and protected from dust. Here's the good news – these come in little clear plastic cases for stress-free storage.
Highlighted features:
Super soft – can be manipulated easily.
Affordable – a dozen erasers for under 10 dollars.
Comes in 4 different colors for easy separation.
Little plastic cases for hassle-free storage.
8. Sntieecr 4 Pack Kneaded Erasers
Coming in last in the list is the Sntieecr 4 Pack Kneaded Eraser. It's a pretty new entrant in the market but it's already attracting quite a following.
This product is presented as a pack of 4 erasers. Each of these has a size of 1.8 by 1.4 by 0.4 inches, meaning they are rather little units, but adequately large for comfortable grabbing.
Compared to other packs, this one is a little higher-priced. The reason is that its quality is superior. How?
First, this is a really versatile unit. You can use it for a range of needs as it works with both light and heavy media. It seamlessly absorbs chalk, pastels, charcoal, color pencils, and other materials. With fantastic plasticity, the eraser has a surprising level of absorbency.
What's more, when it comes to elasticity, the rubber's performance is great. This feature allows you to manipulate it with relative ease and bring it into the shape you want for your erasing needs.
The standard shape of the eraser is such that you can grasp it comfortably, applying the correct levels of pressure for hassle-free erasing.
If you're serious about art, chances are that you will need an eraser for more than just cleaning out the unwanted parts. You will need to smooth up your drawings, correct the shade, make sketches brighter, and so on. The good news here is that with this eraser, you get to accomplish these needs as well.
The last feature I'd like to bring to your attention is the storage cases. Yes, these erasers are finely packed in small clear plastic cases. These keep the erasers safe from dust accumulation and help you keep your stationery organized.
Highlighted features:
Absorbs media efficiently.
Great size for easy grabbing and rubbing.
Soft and kneadable into various shapes.
Compatible with different media from pastels and charcoal to chalk.
Nice storage cases.
What to Look for Before Buying Eraser for Charcoal Drawing?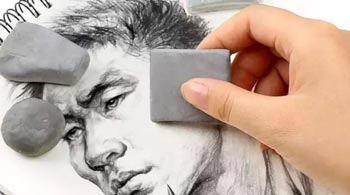 Wondering how I chose the products on the list above? The trick involves a careful assessment of the factors that make the best eraser. In the section below, I am going to help you hone your selection skills by presenting you with the factors to consider when shopping for the right erasers.
Medium suitability
When working with paper arts, we use a range of media. These media include pastels, chalk, charcoal, graphite pencils, and more. Some erasers can work with just one or two of these, while others can work with virtually anything.
If you're looking to work with these varying media, then you better get a versatile eraser that is designed to with the needed versatility. The units in the review above are some of the most versatile you can find that can be used with a wide assortment of media.
Erasing effectiveness
Have you come across rubbers that just do not work? You try erasing but instead of the rubber cleaning the drawing, it leaves streaks of dirt. It's quite frustrating, isn't it?
That is why before getting an eraser, you need to find out how effective it is. Go through reviews to see what those that have used the eraser say about its cleaning effectiveness.
A good rubber is one that you don't have to press hard against the paper for it to clean. It absorbs the drawing without a struggle and without dirtying the surface.
Is it moldable?
When getting rid of drawings on paper, you will come across varying sizes of areas. Sometimes, you will need to erase large areas and smudges, and other times, you'll need to clean out thin lines and other intricate details.
A rigid rubber that you cannot mold might be good for the large areas, but it will not always be useful for removing intricate details or introducing new elements such as lightening dark areas.
That is why moldability is essential. A soft, moldable rubber is one whose shape you can change by bending, twisting, and so on. It makes it easy to deal with large and small areas and to add new elements in the drawing.
The Size
You might not think about it when buying, but size matters. You don't want an extremely huge rubber and at the same time, you don't want an exceedingly little one. None of them will be comfortable to hold and use.
If you're looking for maximum comfort, then try choosing a rubber that is neither too large nor too small for your fingers. Check the dimensions to see if it fits you.
Generally, rubbers with a length of 1 to 5 inches, a width of 0.5 to 1.5 inches, and a thickness of 0.1 to 0.5 inches are preferred.
Crumbs
Crumbs can be viewed as the by-product that is released when using a rubber. They are what is produced as the rubber wears.
A rubber that releases too many crumbs is undesirable as it creates a mess on the workspace. Moreover, when there are too many crumbs and you have to keep trying to get rid of them by hand, the art might get ruined in the process. Go for a unit that is designed to resist crumb formation. Follow this article to know more charcoal art supplies.
Final Words
As an artist or an art enthusiast, you know just how important an eraser is. With it, you not only get rid of the unwanted writings or sketches but also take care of a multitude of art elements from smudging to adding highlights and lighting up areas of your drawing.
Well, I hope that my work has been helpful in your quest to add more erasers to your art arsenal. When choosing the best eraser for charcoal, pay attention to the factors we have talked about. These include size, effectiveness, moldability, and the ability to resist crumb formation.
I wish you all the best in your journey with art.