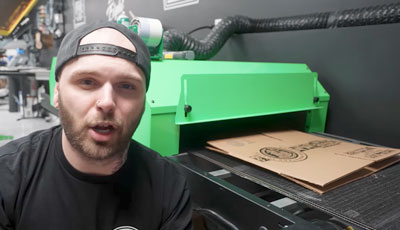 The secret to success for any brand is perception and impression. Sure, making high-quality products is essential, but if your brand does not manage to stand out among the rest, there is a good chance that no one will even try it out.
And that does not bode too good for business. A simple yet effective way to enhance the status of your business is to focus on the packaging. Most businesses ship their products using cardboard boxes.
It is cost-effective and keeps the product secured to survive the long journey. But with personalized packaging, you will make a deep impression on the buyer the first time they get their hands on it.
In this article, we will explore the various ways you can print cardboard boxes to give them a personal touch and enhance the credibility of your products. So, without further ado, let us jump in.
How To Print On Cardboard Boxes : Easy Method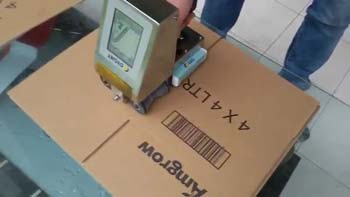 Whether you're a brand, a print shop, or whatever the case may be, if you're shipping products to customers having some sort of custom packaging is very important.
When it shows up on their doorstep, that package is their first visual; their first impression of what you and your brand are all about. Let me show you how easy it is to print cardboard boxes.
Here Is A Quick Disclaimer:
There are many ways you can print your own custom boxes and don't need a crazy expensive printing setup. You can do this with the absolute bare minimum.
If you really wanted to, you could do this with nothing but ink, a squeegee, and an exposed screen. However, in my opinion, at the very least, you should be using a cheap entry-level single station screen printing press.
This way, you're going to get much cleaner, much more consistent, and much more professional results out of it. Without further ado, let's get to printing cardboard boxes.
Things You Will Need:
Some universal-size cardboard boxes.
A T-square
Any illustrator software/vector-based graphics software.
280-305 mesh screen.
Water-based screen-printing ink.
Step 1: Select The Right Cardboard Size
Obviously, the first thing you need to do is figure out what size of a box you need to ship your stuff in. This is because you will have to determine how big the design will be. You will need to measure all the printable surface areas of the box.
Step 2: Measurements
Measure the outer edges of the box. If it's a universal-sized box, it will be 18×14-inch. A T-square is perfect for this job. Also, you will have to measure all the individual printable pieces.
Step 3: Illustration
Now, you will have to draw your design. You can use any illustration software for this. Or, if you already have your design ready, proceed to the next step. There are a bunch of tutorials online for that, so do check them out.
Step 4: Choosing Your Mesh Screen & Ink
For your screen, you're going to want to go with anywhere between a 280 to a 305 mesh because we're printing onto a somewhat harder surface that doesn't absorb a lot of ink. After that, print out your mesh screen with your design.
And we don't want to lay too much down on there. What we're looking for is a nice, thin crispy ink deposit. As I mentioned earlier, we're going to be using water-based ink for this.
Step 5: Start Printing
When it comes to the print, you can use a push stroke or a pull stroke. It really doesn't matter. When you are printing boxes, it's much faster to do a push stroke. Once you are done, it's time to cure the print.
Step 6: Curing Time
There are plenty of ways you can do this. But I've found that using a heat gun is the easiest way to cure a print if you don't have a dryer machine. Using a heat gun is simple. Turn the heat on and blast away. The paint will dry quickly.
That's how easy it is to start printing your own branded cardboard boxes. If you're a company of some sort and you want to start stepping some things up, this is definitely a route to take because these little details really add up.
Different Methods to Print Cardboard Boxes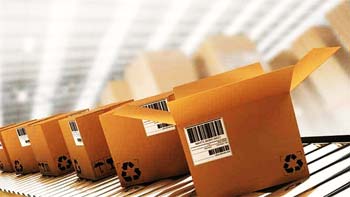 When it comes to printing cardboard boxes, there are four different ways to do it. Each of these processes has its own sets of pros and cons, and after looking at how they work, you should be able to pick out the best way for you.
So, your options for cardboard boxes printing are:
Screen Printing
Flexographic Printing
Lithographic Printing
Digital Printing
In the following section of the article, we will give you a brief rundown of how each of these techniques works and the advantages and disadvantages they offer to the user.
1. Screen Printing
Despite being the oldest form of printing cardboard boxes, screen printing is still in use for packaging, especially for small startups. This printing technique uses mesh to transfer the ink. Since it is a barebones printing technique, it cannot work with a variety of images and typically uses only one or two colors in printing.
Stencil is an important part of screen printing. For multiple colors, you need to use multiple stencils. The idea of this process is to cover the areas you do not want to print with a mesh or polyester screen where the ink cannot pass through. And the areas where you want to print the image are made with porous material for ink passing.
If you are printing short production runs, then screen printing is a viable way. It is quite inexpensive and easy to pull off. However, it takes quite a while to set up, and most of the process is manual. These days, screen printing is mostly used for transit packaging.
Advantages of Screen Printing
Capable of producing high resolution prints
Suitable for almost any print surfaces
Cost-effective option for low-volume runs
Decent durability of the print
Disadvantages of Screen Printing
It takes a long while to set up
Not suitable for large volume printing
Not suitable if you want multiple colors
Limitation in image size
2. Flexographic Printing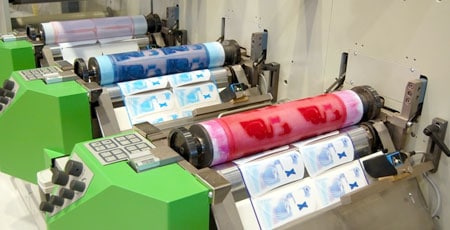 If you want the modern-day equivalent of the letterpress, then Flexographic printing is the way to go. This technique utilizes a flexible relief plate to transfer the print on cardboard boxes.
It is suitable for printing on a wide range of materials, including cardboard boxes, plastic, brown paper, or any other packaging substrates.
The first step to flexographic printing is to develop the plate. This type of plate comes with a raised image. When printing the design, only the raised portion of the plate comes in contact with the printing surface, which transfers the design and deposits the ink on the substrate.
The flexographic plates are made using different types of flexible materials like photopolymer or rubber to attach them to a roller to apply the ink.
In addition, the ink used in this type of printing dries faster because of its low viscosity. IF you are printing mid to high volume of cardboard boxes, this is a great option.
Advantages of Flexographic Printing
Nearly unlimited range of color options
Fast production due to low viscosity of the ink
Suitable for food packaging
Cost-effective option of large production runs
Disadvantages of Flexographic Printing
Not suitable for complex images or graphic designs
Not very cost-efficient for short production runs
The shadow quality is not that great
Possibilities of ink bleeding or pin-holing in the product
3. Lithographic Printing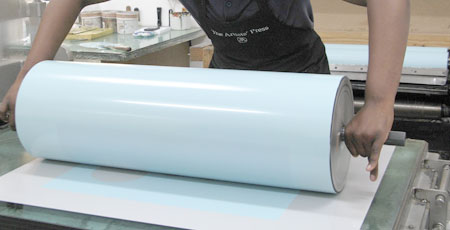 If you run a large-scale business, then going with lithographic printing is the best choice. It is suitable for high-volume commercial printing and is used by many large companies to print their packaging. It produces a highly accurate image and gives you a full range of colors.
At first, the image you want to print is transferred to a printing plate from your computer. The image is cut on the plate using a laser to get the highest color and photographic quality possible. This image is coated with ink from the rollers, and the areas not to be printed are coated with water to prevent ink deposits.
When used for packaging, instead of printing the image on cardboard boxes, it is printed on paper and laminated on top of the cardboard.
Since cardboard is a thicker type of paper, the traditional way does not create the desired quality. This is why lithographic printing is also known as litho-laminated printing for cardboard boxes.
Advantages of Lithographic Printing
Produces high-quality images consistently
Can use all the colors without any issues
Cost-effective for larger volumes
Suitable for specialized finishes such as metallic or Pantone spots
Disadvantages of Lithographic Printing
Expensive to set it up
No way to tweak the image after starting the print
Not suitable for short volumes
It takes a long time to print a large batch
4. Digital Printing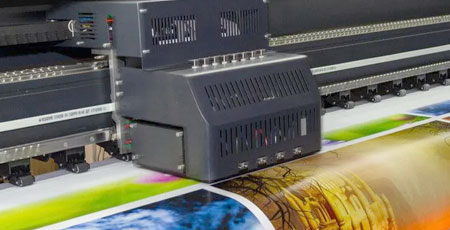 Digital printing is no doubt the easiest way to print cardboard boxes as you do not have to worry about any printing plates or lamination. It uses the CMYK color spectrum and can produce quick images on a printed surface without any hassle. Speed and accuracy are the two major selling points of digital printing.
However, there are a few issues with this process. Firstly, you need a large format inkjet or laser printer for this printing method. You need to use design software to create an image and send it to the printer so that it can print on the cardboard material.
Another major issue is that the cost per print of this method is typically higher. However, if you are making short volumes of packaging, this should not be too much of an issue. Since there are no mechanical setups involved in this process, you might actually be saving money.
Advantages of Digital Printing
Easy to use and set up
It does not require any plates or laminating
You can easily tweak the image in between prints
Inexpensive for short volume printing
Disadvantages of Digital Printing
Not suitable for large volumes
Inconsistencies in quality
Less range of colors that you can use
Difficult to achieve finishes like metallic or Pantone colors
Which Printing Method is Best For Cardboard Boxes?
Now that you know about the four different methods that are being used today, which one do you choose?
Well, it depends on a couple of factors, such as how fast do you want to print or the quality you are after. It also depends on how much you are willing to spend on printing cardboard boxes.
Check All The Available Printing Options
Taking a look at the strengths and weaknesses of the different printing methods should give you an idea of what you can expect from each of them.
For example, if you want the highest quality, with no regard to the volume or budget, then the obvious choice would be lithographic printing.
Understanding Materials
Typically, you do not want to go with screen printing unless you are working with materials like Correx or protective cases. It is also a viable choice for plastic packaging. Besides, its limitations in colors and volumes make it a poor choice for large-scale printing.
The Viable Choice
The bold and striking color output of flexographic printing makes it a viable choice. Since it offers a good balance of price and print quality, it is a great choice for people on a budget.
Cost-Effective Option
However, similar to lithographic printing, if you are printing low volumes, the cost is considerably higher. In that case, the best choice for low-volume printing would be digital printing.
Since you can print right at your home and you do not need to spend a lot on mechanical plates, it is quite cost-effective. But its limitations in volume and color inconsistencies might be an issue for any running business.
Final Thoughts
Cardboard boxes are the most common and popular choice for packaging and using printed cardboard boxes is a good way to boost your brand. With the right printing method, you do not have to worry about spending too much on this.
We hope our article on how to print cardboard boxes could offer you all the information you need to figure out which method is suitable for you. Each of the techniques offers something different and choosing the right one will help make things a lot easier for you.