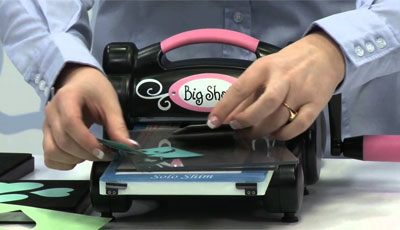 The Sizzix Big Shot is one of the most popular tools for die-cutting. For those that do not know, die-cutting is the process of cutting out a specific shape using a machine and a die.
With the Big Shot, you will not have to spend hours cutting the shape manually using your hands.
The Big Shot is the most affordable option that sizzix offers. It can cut almost any materials up to a width of six inches easily without any issues.
Because of its entry-level price point, those who are new to the world of die-cutting choose to go with this unit.
In this article, we will give you a quick and easy rundown on how to get the perfect shape anytime you fire up your Sizzix Big Shot. So, without further ado, let us get started.
Why Would You Use Die-Cutting?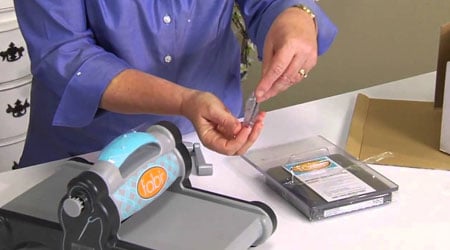 Before we get started, you might be wondering why you would want to bother with die-cutting anyways. Well, the answer is simple.
If you like arts and crafts, you probably have spent a lot of time crafting out specific shapes using scissors. But if you had a die-cutter like the Big Shot, it would take only a few seconds to get the shape you want.
With the Big Shot, you can cut designs from simple shapes and patterns to complex structures like animals, alphabets, symbols, etc.
It is a great way to make cards, scrapbooks, or even clothing embellishments on the fly. Some people even use it on their gift wraps to give it a personal touch.
Die-cutting is not only suitable for home crafting but can also serve as a powerful marketing tool. It can make print marketing less expensive and more efficient. Since there is minimal waste of materials, you will be saving a lot on material costs.
A Bit About the Sizzix Big Shot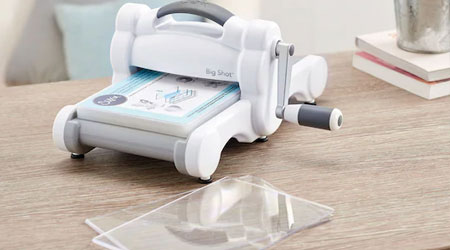 As we said, the Big Shot by Sizzix is one of their most affordable die-cutting and embossing machines. It comes in a compact and portable form factor. At first glance, it might look like a toy; however, if you are dedicated to your crafts, then you can get a lot of use out of it.
The unit features a core of steel rollers along with solid steel gears that let you cut a slice through almost any materials. It also has a solid base with hinged tabs to work with thin dies. The opening of the unit is around 6 inches, which lets you cut any form and pattern you want in just a matter of seconds.
Since it is a manual machine, you have to turn the crank by hand. It does not feature any electrical functionality. Still, using the tool does not require too much effort, even when you are working with tough materials. Overall, it is a super versatile tool that can greatly enhance your crafting capabilities.
It is also quite easy to set up when you get it out of the box. The unit comes in several different color options and can handle a wide variety of dies. As long as the six-inch die limitation is not a dealbreaker for you, there is no reason for you not to get one for yourself.
In addition to die-cutting, the Sizzix Big shot is also capable of embossing. It can cut through tough materials almost effortlessly. Whether you want to cut vinyl, fabric, or even felt, you should have no issues when using this device.
Also read:
How to Use the Sizzix Big Shot?
Now that you have a clear idea about the Big Shot and everything it can do let us give you a few ideas on how to use it. If you have never used this sort of machine before, finding your way around it can naturally be a bit intimidating. However, with our help, you will be able to cut and slice any shapes and designs you want like a pro in no time.
To be honest, there is no special trick to making it work. The Big Shot is one of the easiest die-cutters available, and even a kid can make it work without much effort. As a bonus, you get a multipurpose platform with your purchase to make the cutting job even easier.
First, place a cutting pad on the multipurpose base. Then place your material on the cutting pad and place a secondary cutting pad on top of it. You are essentially making a sandwich with two pads on two sides of the material that you want to slice or cut.
Then all you have to do is rotate the crank to roll the material through the Big Shot machine. When the material comes out of the other end, it will be neatly embossed with the design that you chose. That is the basic idea of using the Big Shot.
As you should notice from the multipurpose base, there are many different designs and cuts you can make using this machine. The base, in essence, doubles as an instruction manual for different sorts of cutting purposes.
Although the basic process of operation is pretty much the same, some of the designs require a few additional steps here and there. You can find all the information for specific cuts and slices on the base. Follow this article to know the details of sizzix big kick vs. big shot.
Die Cutting Options with Sizzix Big Shot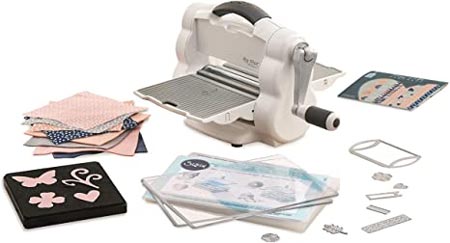 The Sizzix Big Shot machine is a versatile tool when it comes to die-cutting. Despite having the obvious limitation of only a 6-inch opening, it still offers a lot of flexibility in the type of design and pattern you can make with it. The multipurpose base that you get with the unit is what makes it so versatile.
The unit essentially gives you four different options. You can check the multipurpose platform and will see three different tabs. Firstly, you have the base tab, then tab one and tab two for different levels of thickness. In addition, you get a steel rule die for the maximum thickness.
The Steel Rule Die
The steel rule dies actual blades in it that make the cuts. So you want to be careful when using it. You do not want to expose the box and poke a hole in your fingers with the cutters.
Using this platform is pretty simple. You just take it and sandwich it between the two cutting plates. Then you can send it through your machine. With this platform, you do not need to use your multipurpose base.
In fact, if you try to roll it through the Big Shot machine by putting it on top of the multipurpose base, it will not go through simply because it is too thick.
The Multipurpose Platform
For all of your other embossing or die-cutting needs that you do not do with the steel rule die, you will be using the multipurpose platform. As we have already said, you have three different tabs to work with, the base tab, tab one, and tab two.
The proper instructions for what each of the tabs can do are clearly printed on the surface to make things a lot easier on your part. However, we will still be discussing their functionality so that there is no confusion.
An easy way to use the top tab is that if you put a die, sandwich it between cutting pads, and it does not go through the Big Shot machine, and it is too thick. This means you need to switch to a different tab.
Since new dies are hitting the market constantly, you will not find every type of die listed on the platform either. So, it can make it a bit confusing for beginners to choose the proper platform for their dies when using the Big Shot machine.
For Sizzlits, Embosslits, or Clearlits, you want to use tab one or the middle tab of the multipurpose base. Since these types of dies are quite thin, using them in the top pad along with the cardstock sandwiched between the cutting pads is not possible to get through the machine.
Tab two or the top tab is better suited for Framelits or Edgelits, which are also the newest type of dies to hit the market. These dies are used to work as an edge around your cardstocks. Since they are extremely thin, you need to use the top tab for cutting them.
For embossing folders, the best way to use it you want to go with the base platform. This means you want to remove the tabs, but the bottom cutting pad over the base, then place your embossing folder, your cardstock, and finish up the sandwich with the top cutting pad.
Troubleshooting Your Sizzix Big Shot
Although the Sizzix Big shot is a well-built machine, it can show some issues after you use it for a long time. However, before you discard it or get it replaced, there are different ways to fix it. In this section, we will give you a thorough guide to restore your Big Shot machine to fix issues like uneven cutting or scratchy handles.
The most common issue that people face after a certain time is uneven cutting with the Big Shot. This means, when you put your sandwich through the machine, it will not cut properly, and you have to put it through multiple times for the best cuts.
Another common issue is the handle that you turn gets rigid. You will not rotate the handle as easily as you could when you first started using the machine.
Disassembly Steps
To fix these issues, first, you need to disassemble the machine. Pulling it apart is pretty easy if you just have a screwdriver. Start with the handle. There is a simple screw on the handle that you can take out to detach the crank.
Then flip the machine over and undo the four screws on the bottom with a large Philips head screwdriver. There are eight other screws along the edges of the bottom that you need to pull apart using a smaller screwdriver.
Now you can pull out the sides of the machine easily to reveal the mechanical gears that power the unit. By this point, the unit will come apart fully. Take the plastic body parts and give them a thorough wash.
Fixing Uneven Cutting
To fix uneven cutting, you need to oil the gear mechanism on the unit. Over time, as dirt and debris settle on it, the gears cannot move as freely. Applying a dash of oil will help lubricate it and make it cut perfectly.
After applying oil, make sure all the gears are moving smoothly. If you notice the circlet of the gear coming off, you can put it back into place using a set of pliers easily. Sometimes this also can be a reason behind uneven cutting.
Fixing Rigid Handles
If the crank on your machine is not moving smoothly, there is an easy fix for it. In fact, you might not even have to disassemble the entire machine for it.
Start off by taking out the handle from the machine by undoing the single screw. Then apply a bit of oil on the screw end of the handle for lubrication. See if there is any dirt blocking the slot of the handle.
Then simply put it back in and screw it up. Now, your handle should be moving as smoothly as before.
Final Thoughts
The Big Shot machine by Sizzix is a fan favorite because of its excellent balance of price and performance. Sure, you cannot go over six inches, but for basic home crafting, you usually do not need anything more than that. Besides, it is hard to put a price on how easy the unit makes to create many shapes and designs you want.
We hope our article could help you figure out how to use the Sizzix Big Shot. Now you should be able to make any designs or embossing using this fantastic tool without any issues. Good luck!
Up Next: Cricut design space alternative: Which is the best?