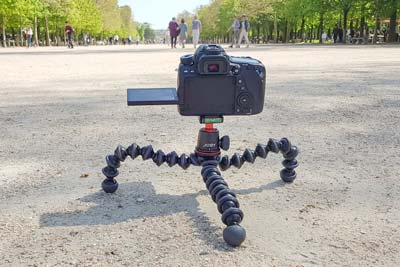 In the earlier days, photography or video making was only a profession. Things are different now in 2021.
People take it up as a hobby, vlogging for fun, occasional money-making, freelancing… the list goes on!
The technological advancement in this field is rapid and advanced. One of the latest innovations in this field seems to be GorillaPods.
The best part is that it comes with flexible and twistable legs allowing you to attach it with/on any surface.
There are a lot of GorillaPods in the market, each having its own traits and uses. The problem is there is no trial-and-error process in buying one.
The whole experience can be a bit overwhelming especially knowing that there should be no room for error. That's where we come in!
We conducted holistic market research on this product and came out with the best GorillaPods to buy in 2021. We have pointed out the best things in each and how it might suit your need.
Rest assured that if you are buying from this list, you won't be disappointed. This list will help to pinpoint exactly which model you need and why you need it for.
Our 5 Best GorillaPod Reviews in 2021
1. Joby JB01507 | Best Joby Gorillapod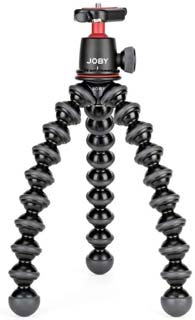 Our list kicks off with a pod that offers an extreme degree of flexibility for the user. When it comes to using pods, you need the freedom to operate wholeheartedly. You need the utmost flexibility.
This pod allows you to twist, turn, wrap and stand the legs of the pod in every way possible. Extreme flexibility brings a keen sense of professionalism to your project that takes your project to the next level.
Additionally, another reason why we chose this product is because of the preciseness it offers. Are you having difficulty taking a shot? No worries. It offers you360 degree panning bed along with 90 degrees super tilt.
Plus, it has bubble level installed, ensuring preciseness in your shots. This makes sure you don't hold back from capturing anything you want.
But, wait, there're more!
This model comes with the ability to withhold an incredible amount of weight. No longer will you have to worry about the possibility of your camera crushing down the pod. You can mount your compact DSLR as well as mirrorless cameras on it.
Additionally, you can also mount flashes and lights on itto help you out with the video. In essence, any device that weighs less than 3kg (6.6 lbs.) can be mounted on it without a worry. Neat, huh?
An awesome pod with incredible flexibility, super precise shots, and the ability to withstand more than average weight, Joby JB01507 handsomely makes the top position in our list for the best gorilla tripod in 2021.
Highlighted Features:
Super flexibility allowing you to wrap, grip and twist the legs with complete freedom.
Extreme preciseness with angles making sure you capture the impossible.
Comes with bubble level installed so that you can get level and even shots everywhere.
You can mount items on it up to 3kg.
2. Joby JB01503 Compact GorillaPod with 1K Kit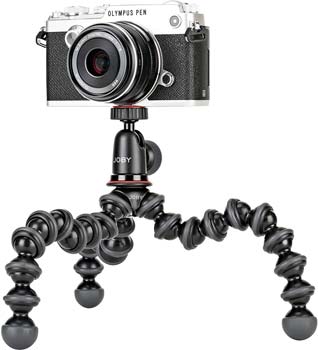 Being a photographer or a vlogger means high dose traveling. No matter you do it as a hobby or profession, there is no shying from the fact that you need to carry your device and travel.
And when you need to travel for uncertain distances for that perfect shot, carrying heavy devices can be a sore job.
If you can relate so far, then we have the perfect tripod for you. Say hello to Joby JB01503 that can save you from a lot of trouble.
The best thing about this product is the incredible lightness it comes with. Weighing only 6.88 ounces, it makes your traveling easy, convenient, and relaxing.
Being relatively light itself reduces baggage, makes vlogging more effortless, and keeps you more focused on what's around you and less on what is with you.
Additionally, it is also very straightforward to carry. Being overly portable, you can take it in your pocket, handbag or backpack.
Last but not least, it offers extra stability compared to other brands of pods. It comes with a unique rubberized ring on the feet of the legs.
This unique anatomy leads to extragrip than that of other brands. For you, it means extra firmness while you capture your shots.
If you are likely to carry out projects in or around rough surfaces or rugged terrains, this product will make your life easier. Besides, this pod is very durable. It is because these pods are made out of plastics that selected after a lot of tests.
In fact, over 100 different plastics were tested for the perfect candidate to make these pods. This durability adds to the list of reasons to buy this pod if you are likely to work in a harsh environment.
Overall, an extremely light tripod with enhanced stability and made from the most suitable plastic. All in all, the ideal pod to buy for working in a challenging, rough, uncertain environment.
Highlighted Features:
Weights lesser relative to other models making it easy to carry around for long distances.
Incredibly portable in nature so that you can fit it in pockets, handbags, or even bag packs.
It comes with rubberized ring and foot grips enhancing stability in your shots.
Made from the best-chosen plastic, ensuring durability.
You can mount items such as speakers, cameras, or flashes up to 1kg.
3. JOBY 325 | Flexible Tripod for Compact Cameras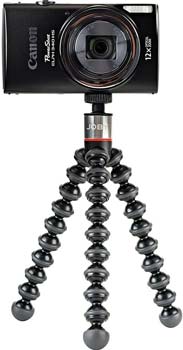 If Joby JB01503 impressed you a little bit and you are convinced to buy that one, hold on to your horses because it gets better.
When we said our list is the ultimate go-to for buying the best gorilla pods in 2021, we meant it. Say hello to JOBY 325, an upgrade to the previous one. Hear us out!
Get ready for the ultimate lightweight pod. This pod, weighing only 1.76 ounces, is bound to be the ultimate stress reliever when you have to travel long distances. 
Massively lightweight makes carrying it around a walk in the park. All the more reason to buy it!
Don't worry about getting the right angles, as it is immensely flexible. Thus, it allows you to get almost any angle. Get virtually unlimited angles in your project like never before.
Additionally, get rubberized ring in the feet of the legs. This unique anatomy gives extra grip and adds to the stability of your project.
What about its body? Well, get ready for the best built in the industry. This pod is made up of stainless steel made up balls, ensures the ultimate durability so that nothing can damage its body.
Moreover, it can mount point-and-shoot cameras. You can also attach lighting, microphones, speaker, or any devices with it. However, we must tell you that it can only take devices weighing up to 325 grams.
Since the pod is incredibly light, it also limits itself on weight capacity. Lastly, it is cheaper than the previous one for all the same benefits.
Highlighted Features:
Made from stainless steel, meaning the most durable JOBY pod you can ever buy.
The lightest pod meaning complete portability and sore-free carrying around.
Comes with rubberized ring and foot grips so that you can get extra steadiness while shooting.
You can mount accessories on it up to 325 grams.
4. JOBY GorillaPod for Phone – Action Video Tripod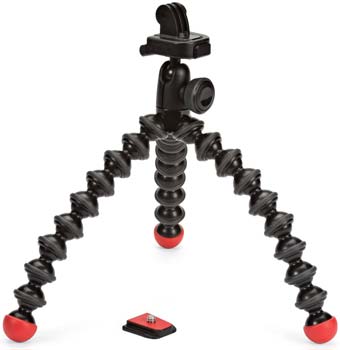 The kind of camera you operate with also plays a large role in the pod you buy. If you operate with action video cameras such as the GoPro HERO series (5/6/Session).
Contour or Sony Action, you might want tripods that offer more fluidity. For a greater degree of control, you can look to buy this tripod. Why?
Because these models were made for integrating action cameras. For optimal performance, an action camera needs top-notch flexibility and a frictionless mechanism, which this tripod offers.
Your GoPro will work more smoothly with this model. This model was made explicitly for vlogging. We can say that it is the ideal pod for your GoPro.
It also has a strong ballhead with it. The ballhead makes sure your action camera stays firm and stable.
Besides, you can attach your iPhone or smartphones as well. However, for that, you need their GripTight Mount, sold separately.
Additionally, it has two quick-release-clips- Mount for your action cameras. These clips hold the camera tight and give a sense of rigidity to your shot.
 If you work in a harsh environment and your camera needs a strong attachment with the tripod, we suggest you get these.
It offers natural adaptability for your action camera, a strong ballhead, and a set of clips that enhance your shot's stability.
Suppose you are capturing curves and swerves and seeking the utmost composure level, even and linear images. In that case, you should get this tripod.
Essentially, it compliments your action camera and goes hand in hand with it. This is the best vlogging Gorillapod available in the market.
Highlighted Features:
Comes with quick-release-clips so that you can attach/detach the device in the blink of an eye.
Integrated ballhead control gives accuracy in your shoots.
Gives you the freedom to work with 90°/ 360° orientation smoothly and efficiently.
Mount devices with combined weight up to 1kg.
5. JOBY GripTight GorillaPod Stand PRO Tablet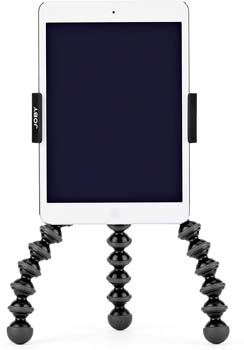 So far, we have listed the best GorillaPod for DSLRs and similar devices. If you are less into photographing and video shooting and need a tripod simply for the purpose of holding your tablets, we have something for you as well.
The finest thing about this neat tripod is the subtle versatility it offers. This device is compatible with almost all brands of tablets.
You can fit 7 – 10″ tablets in it. The tablets' likes include tablets such as Samsung Galaxy Tab, Google Nexus 9, iPad mini, iPad Air Pro 9.7. The list consists of the Kindle series as well.
Get a pretty strong hold and tight grip on the tablet you attach. Ideal for home use when you want to listen to a little music while doing other stuff around the house. You can also carry it with you to your office.
It allows room for rotation almost instantaneously. You can shift from watching your favorite show to FaceTime virtually in no time.
You can change from vertically to horizontally in the blink of an eye. Very fast, dependable, and adjustable for every application in your tablet.
Lastly, for a tripod to hold tablets, it is well-built. It is made from durable plastics, TPE grip pads, and stainless steel plates. All these give it a robust nature, ensuring long-lasting product life.
Highlighted Features:
You can fit a wide range of tabs (7 – 10″) in it.
Allows you to adjust for any type of activity almost instantaneously.
Made from durable ABS plastic, TPE grip pads, and stainless steel plates ensuring long-lasting product life.
Ideal for making your life easier at home or the office.
Comparison Table of Top Gorilla Tripod
Maximum Height
(in centimeter)


Joby JB01507 GorillaPod 3K Kit

Joby JB01503 GorillaPod 1K Kit

JOBY GorillaPod Action Video Tripod

JOBY GripTight GorillaPod Stand PRO Tablet

Can lift and hold most tabs available in the market
Gorilla Pod Buying Guide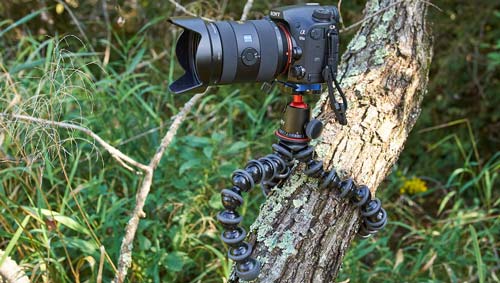 As a customer, it's essential to know about the product you are going to buy. It's 2021, and there are a ton of products out there in the market.
Purchasing a product has never been more challenging. Here is a detailed buying guide for those of you looking to buy a Gorillapod in 2021. 
It contains a few keen insights on what to look for when you buy a Gorillapod. Go through it and educate yourself. Surely it would help you to decide which one fits your profile.
The things to consider when buying a Gorillapod are:
The maximum weight that can be mounted on the pod
This one is very crucial. You should ideally take your decision based on this one. Essentially, you need to figure out how much-combined weight the GorillaPod has to carry. Each pod has its weight carrying capacity.
Now, it is essential to understand the concept of "combined". By combined, we mean the total weight of the camera body, lens, and any complementary equipment you may need to carry, such as lighting, mics, etc.
Once you figure out how much potential weight you might have to carry, choose the GorillaPod that has the capacity to take your potential total weight.
If you are not sure about the weight, then go for one slightly heavier than your maximum potential weight.
Attachment methodology
The next thing you need to consider is your preference of attaching your device with the tripod.
There are a couple of options to choose from at this point:
Fixed
This system uses screws to attach your device with the pod. The head screws in directly with the hole of the tripod.
This is more secure and offers more stability. To remove the camera, simply unscrew the entire GorillaPod.
Removable
This is pretty straightforward. The Gorillapod offers a quick-release tripod plate. This plate then attaches to your device. The benefit is that the camera can be quickly removed from the GorillaPod.
P.S.: The primary take from this is it depends on whether you need to be quick or not. If your project requires quick attaching/detaching your camera, then select the one with the removal.
If not, then simply choose your camera based on the weight it needs to carry
People Also Asked
Q1. Can you use it as a selfie stick?
Ans: Yes, you can. Just bend all the legs together in a similar way. A little bit of twist should do it enough.
Q2. Are the feet magnetic?
Ans: No, the feet are not magnetic. The legs are flexible in nature with rubberized rings that ensure stability.
Additionally, there are foot grips that add to the grips. No, it does not have magnetic feet, but you don't need to be concerned with the extent of grip on it.
Q3. How to identify which GorillaPod model you need?
Ans: Interestingly enough, JOBY products have their weight capacity already included in its name. This should make things very easy for you.
If you own a small point and shoot camera, then you can buy GorillaPod 325. If your equipment weighs greater than 1 kg, then you need GorillaPod 1K. Similarly, if your project equipment gets heavier, get one with a higher capacity. 
Q4. What is the tradeoff you need to make when buying a GorillaPod?
Ans: The thing to remember is the tradeoff taking place. If you want a lighter pod, it will have a lesser weight capacity.
Similarly, a heavier pod will have a higher weight capacity. Keep in mind lighter pods are more comfortable to carry than the heavier ones.
In the end, it all depends on you and your equipment.
GorillaPod Vs Tripod
Any time you want to buy a GorillaPod, you might stop yourself and ask, "Wait, why don't just buy a tripod?" 
And believe us when we say, it is one of the commonly asked things. We mean, it makes sense right? Both seems to operate in the same way so why not just invest in a tripod?
Well, today we are going to debunk the key difference between a GorillaPod and a tripod.
GorillaPod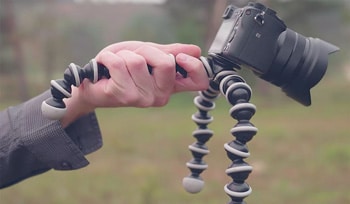 A GorillaPod is more of a crazy, wacky innovation in photography. It is a small holder that has a flexible, twistable leg. You can use these legs to attach the pod to any surface.
It kind of gives your camera a cool spider-man ability. It allows your camera to attach with any surface. Your photography takes in a different perspective when using a GorillaPod.
Fans of GorillaPod loves it because of the cool angles it provides. Additionally, it also helps to carry around cameras and other devices, giving the user a strong portfolio to work with.
Pros of GorillaPod
Gives impossible angles to work with, delivering exciting and refreshing perspectives.
Very lightweight, so you don't have a sore hand or back from carrying it.
Extremely portable so you can take your devices anywhere while traveling.
GorillaPod Cons
Inconvenience when you have nothing around to stick or wrap on.
It might wear off with time.
Tripod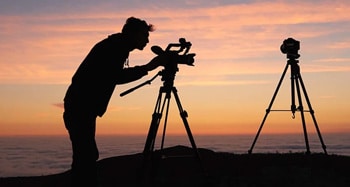 Tripods are the standard tool of photography. Premium and elegant set of legs adding weight to your professionalism. Nevertheless, it has its share of pros and cons too.
Tripods give stability to your works. Enhanced stability allows you to take composed shots as well as try out various techniques.
Additionally, the body parts are extendable. It means you can work with very high or very low levels. Tripods are a must for smooth and professional video shootings.
Pros of Tripod
Enhancing the stability of your work.
Brings elements of composure to your work.
Ideal for HDR and long exposure shots.
Essential for video shooting.
Extendable parts.
Tripod Cons
Slows down your work.
Restrictions of usage because some places restrict using tripods.
Inconvenient to carry around.
Someone or something might clash with your tripod and damage your equipment.
Read More: How to Put Film in a Polaroid Now. Here's how to put film in your modern vintage-style camera!
Final Words
We sincerely hope this article educated you with insights you never had before. GorillaPods have a decent product life, so buying the wrong means money wasted. So, be careful not to buy the one that doesn't fit your agenda.
For optimal performance, we recommend buying 1K or 3K. Whether you are a professional or amateur, these two should suffice your workload.
best Gorilla Pod give flexibility and add fun to your projects that other tripods do not. It helps you set cameras in nearly impossible locations and get shots from impossible angles.
If you are with us so far, now you know everything there is to know about GorillaPods.
What are you waiting for? Browse through one of our selected products for the best experience.
Get the ultimate edge in your projects that you never had before. Rest assured, your money won't go in vain!
Also read: