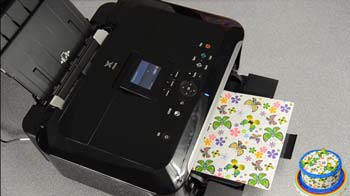 ​You just started a cake business, and a customer approaches you with a wedding photo.
She tells you that she wants you to prepare a cake for her wedding anniversary. You're to place the picture on the cake.
How do you do that? Of course, you can't place the paper picture on the cake!
Don't fret; all you need is an edible cake printer.
Whether you're running a cake business or you're a DIYer who wants to start placing beautiful printed designs on your cakes at home, a good, efficient edible image printer is something you want to have.
In this article, we'll help you get the best edible printer by presenting the finest models in the market, which we've studied carefully.
Read on.
Things to Consider Before Buying an Edible Printer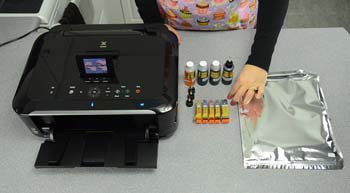 When you go out there to buy a cake printer, there's one thing you need to realize. There are many models, but not all of them will serve you well.
Here are a couple of features to consider to ensure you get a worthy model.
Ease of use
Ease of use is defined by these features:
An LCD screen and buttons facing frontward – a control panel that's easy to access and use
Top loading and rear feeding – no slouching or struggling to load
Maximum printing size
The maximum printing size depends on your unique needs. However, for most people, a printer with a maximum printing size of 8 by 11 inches works best.
That's because the regular cake size is between 7 and 12 inches.
Comprehensive package
When looking for an edible printer, it makes sense to get one that comes with cartridges, edible ink, and a few sheets to last several printings.
You might want to get a package whose ink is FDA-approved for your safety or your customers' safety.
Does it support other icing sheets?
Some brands sell printers that accept sheets provided only by themselves. If you try using other brands of sheets, the printing doesn't come out very nice.
We suggest you stay away from these. Get a printer that supports any icing sheets as long as the size is appropriate.
Ease of disassembly
There's something you need to know about edible ink – it's more viscous than standard paper printing ink. Therefore, there are higher chances of blockage with an edible printer.
Solution? Cleaning. You will need to clean the components (especially the head) on a regular basis to prevent clogging.
That's why the parts need to be easy to disassemble.
Now, it's time to go over our edible printer reviews. We chose the finest, most reliable ones for you. These satisfy the requirements we've discussed and many more such as durability.
Let's jump in.
Our Top 10 Best Edible Printers Reviews in 2021
1. Icinginks Edible Printer Bundle
The Icinginks Edible Printer Bundle comes with everything needed to get started. You get a good Canon cake printer, 50 edible sheets, edible markers, and even five cartridges filled with edible ink.
Rather than having to get your cake printing supplies one by one, you could just purchase this bundle and get started at once.
One of the coolest perks of this machine is that it is super easy to use.
In that regard, it is a top loader, back feeder printer. That means you won't need to slouch to operate it.
You want an edible printer that you can connect to a computer or mobile device, don't you?
Well, you can connect this one to your PC and mobile devices. And that's not all. The printer is compatible with any phone or computer model as long as it has USB ports or wireless connectivity via WIFI or Bluetooth.
So, whether you have an iOS, Android, Mac or Windows device, you can use it to feed your designs to the printer.
You will love the performance of this device. The images come out beautifully, and for that, it's a printer you can depend on for professional work.
The safety of your health matters a lot when you're looking for items like edible printers.
You'll be glad to know that the printer is made with the highest standards, by a well-known brand – Canon.
The cartridges and wafer sheets are also very high quality and food-grade. In fact, they're certified by both the FDA and Kosher.
Highlighted Features:
Bundle includes all items needed – printer, wafer sheets, cartridges, etc.
High quality edible printer from Canon
Printing dimensions – 8.5 by 11.7 inches maximum
Cartridges come filled with ink
FDA approved ink
Excellent customer servic
2. Canon Edible Printer
One of the problems that cake decorators complain about is the incompatibility of printers with other models of frosting sheets.
If you've dealt with such an issue and want to avoid it, then you might want to try the Canon Edible Printer.
This printer is built to work with different icing sheets. So, when the provide ones run out, you can just order more from elsewhere or rush to the store and get the ones you like.
The bundle comes with some of the essential items. Apart from the printer, you get 5 cartridges, 6 frosting sheets, and food-grade ink, that is, actually, approved by the FDA.
FDA approval tells you that the ink is safe for consumption as food.
Aside from those items, you also get 5 cleaning cartridges. These are prefilled, and they are resettable.
In other words, this is the complete package, with which you can immediately start working on your projects.
What people love most about the printer is that it produces good quality prints. Although they're not exactly professional, they're good enough for a kid's birthday and for general home baking needs.
You can connect the printer to any of your devices, be they computers or phones or tablets. The connection can be made via a USB cable, or you can use WIFI.
As the printer is cloud-enabled, you could also source your designs from web storage. That is great convenience right there, waiting for you.
Highlighted Features:
Compatible with different icing sheets
Connects with different devices via USB and WIFI
Cloud-enabled
Prints, copies, and scans designs
FDA-approved cartridge ink
3. Canon Cake Image Printer (Sweet And Magical)
Need the best edible image printer for home use? We recommend you try the Canon Edible Printer Pack.
Firstly, the printer is extremely easy to use. What's more, it has a sturdy construction and will last many years.
With regards to the ease of use, the printer is a top loader. Thus, you won't have to slouch when loading the sheets.
The printed sheets come out seamlessly from the front side.
A smart control panel is conveniently situated at the front with several buttons for configuring the printer. With the buttons, you can start or stop the print, and you can even select the colors you like.
The LCD screen makes things even easier, allowing you to select your designs effortlessly.
You get to enjoy three different functions with this printer – print, copy, and scan. That means if you have a photo, you can scan it, save the design, and use that design for your project.
Apart from scanning photos, other sources of designs include USB transfer from external devices, cloud storage, and WIFI.
As opposed to the cheap models, which place dark designs on the icing sheet, the designs that the Sweet And Magical Canon printer places are vivid.
They've also executed in a beautiful manner; no missed spots. You'll have to try the printer yourself to experience the magic.
Highlighted Features:
Digital control panel
Buttons and LCD panel are conveniently located at the front
Top loading design – easy to use
Prints beautifully
Different functions – scan, copy, and print
4. Icinginks Professional Edible Image Printer
The Icinginks Professional Edible Printer is on the expensive side, but its performance is more than worth it.
This appliance is truly unmatched when it comes to print quality.
If you're looking for the best edible printer for business use, then don't search any further. This is the one for you, and we'll show you why.
First of all, the printer, which is a professional model from Canon, is very easy to use.
Being a rear feeder that's loaded from the top, it eases the effort you have to use. If you place it on a table, you won't have to lean to the point of discomfort to load the papers.
The fully digital operation of the machine also makes things very easy for you.
An LCD screen along with 6 buttons face towards the front. The buttons are easy to press and extremely responsive, and the screen is wide enough, displaying elements vividly.
When it comes to versatility, you have a lot to be glad for. First of all, you can use wireless technology (WIFI) or transfer your designs via a cable.
If you have a photo, you can scan it with the printer and use the image.
This professional printer bundle gives you all you need to start – food grade ink in 5 cartridges, syringes, a manual, icing sheets (8.5 by 11 inches), and, of course, the printer.
The prints are exceptional with regards to color vibrance and general quality. This bundle is trusted by thousands of cake decorators, and for sure, this is the bundle you need for your business.
Highlighted Features:
Nice, vibrant, accurate prints
Easy to use with digital controls
Comes with all the tools – sheets, ink, syringes, etc.
Top loader rear feeder – simple to use
Lifetime technical support
1 year warranty
Scan and print feature
Accepts 8.5 by 11-inch sheets
5. Sweet And Magical Cake Printer
Half-full cartridges, bad icing papers, horrible packaging – these are some of the problems you can run to if you buy just any model out there.
They're the same issues you get to dodge if you get the Sweet And Magical Edible Printer Bundle.
Many customers have confirmed that all the items were delivered nicely packaged and looking great.
The icing sheets are also fresh, and the cartridges are full of ink. It's just amazing.
If you like electronics that are easy to set up, then this bundle is for you. As it comes with everything need to get started, including the cartridges, inks, and sheets, things go smoothly.
You just hook it to a power source and get started immediately.
This printer model, from Sweet And Magical, in collaboration with Canon, is super simple to use.
The sheets are loaded from the rear side of the top, and they come out at the front – that denotes convenience for those of you who hate bending too much.
This printer also has digital control features. That includes an LCD panel and a few buttons to control the printing.
With the printer, it's goodbye to the old ways of sending data. You don't need a cord to send your designs from your devices to be printed. You just need to turn on the WIFI and send them without a hitch.
Or, you can even download them from cloud storage.
Highlighted Features:
Receives designs from external devices via WIFI
Compatible with different devices
Cloud-enabled
Comes with cartridges full of ink
Easy to set up and use
6. Edible Printer Art Package by Icinginks
If you're new to edible printing for pastries, then you're already feeling the pressure of coming up with designs. But don't let the confusion bother you. Icinginks is here to give you a hand.
When you get the Edible Printer Art Package by Icinginks, you're provided with details on how to come up with the designs.
And that's not all. You get a complete set of instructions on the installation and how to use and clean the frosting sheets.
Many pastry chefs love this printer. What most of them cite is the outstanding customer service from the seller (Icinginks).
If your model arrives with a problem, you can be absolutely sure that Icinginks will replace it promptly without taking you through an exhausting process.
Again, if you're having trouble understanding the machine or how to use it, they're always ready to help.
The printing size goes to a maximum of 8.5 by 11.69 inches. That means you can use this machine to decorate large-size cakes for the whole family.
What is most pleasing about the device is the quality of the prints. They're super good with brilliant colors.
The bundle is comprehensive. In other words, you receive all the items you need. That includes fifty wafer sheets, five frosting sheets, XL size cartridges filled with edible ink, and six edible markers.
Highlighted Features:
Supports different icing sheet models
Easy set up
Supports frosting sheets with a size up to 8.5 by 11.69 inches
Brilliant prints
Wireless connectivity
Outstanding customer service
7. Wirless Canon Edible Picture Printer For Cakes
Whether you're having a graduation, wedding anniversary or birthday party, you want to have the best cake. And you what is going to help you with that? Good icing sheets.
You don't want the mess of your cake cracking while trying to cut it, do you?
Well, we suggest you try the Wirless Canon Edible Printer Bundle. Its icing sheets are awesome.
They're flexible and dependable in that they don't crack when being fed into the printer or while the cake is being cut. You can fold them and cut them effortlessly.
Because of their nature, these sheets are great for creating cake tiers.
The printer is built with the latest technology to make it produce great designs, without jamming, and to make it last.
It comes with 5 XL cartridges, which are already filled with food-grade ink. The ink will last you a while, and the amazing part is that you can replace it with any edible ink. It doesn't have to be from Canon.
The printer doesn't just print; it scans as well. Hence, you can copy a photo and use that design.
As its name denotes, the printer can be connected to devices like computers and phones wirelessly via WIFI.
Whether it's a MAC or Windows computer or any phone brand, you can send artwork from it to the printer.
The printer and the icing sheets are easy to install and use.
Besides, this bundle comes with lifetime technical support. If you should run into problems, all you got to do is call the manufacturer, and your issue will be sorted out immediately.
Highlighted Features:
Great icing sheet – easy to fold and cut with no cracking
Prints sheets up to 8.5 by 11 inches
5 cartridges filled with good food-grade ink
Free icing sheets
Lifetime technical support
best printer for edible images
8. Birthday Cake Printer Bundle by Sweet & Magical
This bundle comes with such a beautiful printer that is colored black with a reddish top. There is a nice Sweet And Magical logo at the front, and the overall design is just awesome; you will love it.
But is beauty the only perk that this printer has to offer? Definitely, no. The device is packed with great features that enable it to perform excellently.
First of all, it is a top loading, rear feeding model that makes the operation a breeze. No need to stretch your back so much to operate the device.
Secondly, the printer is fully digital.
The control panel faces frontward, and it's made of a few buttons and an LCD touch-screen that enables you to configure the appliance without a hitch. The screen makes operating printer so much fun.
Most edible printers come with 5 cartridges; this one comes with 6 of them.
The cartridges are filled with eatable inks of different colors. There's even gray to enable you to make precise designs.
What you will like most is the vibrance of the prints. The device and the inks are of the greatest quality, giving you exceptional color performance.
Great quality makes you feel good about buying a product, but there's something else you probably want to be assured about – fast shipping.
If you don't like delays, this is the bundle to purchase. Many users have conformed that it arrives quickly and in good packaging (to avoid breakages).
Highlighted Features:
Fantastic design
6 cartridges filled with ink
Excellent color performance
Digital controls
Easy to operate
Quick shipping
Tips to Take Care of And Maintain Your Edible Printer
A printer is, without a doubt, a great addition to your pastry kitchen. With it, you no longer have to outsource edible printed designs for your cakes and cookies.
You get to make them, thus saving lots of time and money, and enjoying great personalization.
But a high-quality printer isn't cheap; it's not something you want to buy now and then.
Here are a few care and maintenance tips that will help you ensure your best edible printer lasts a long time.
Clean the printer
Dust slowly collects on the printer and left there, it might curtail the device's operation badly.
Use a compressed air can to blow out the dust or a pressure-regulated vacuum cleaner to suck it out.
Alternatively, you can use a damp lint-free cloth to wipe it off. But when doing it, be gentle. Using too much force might lead to damage.
A soft-bristle brush will come in handy for removing the grime.
Clean the print head regularly
The print head is a CRUCIAL part of your printer. Its work is to deposit ink on the print media.
For this part to work properly, it needs to be kept free of blockage. How?
Take off the cartridges and remove the print head. Your manual should have some instructions for that.
Then, put some clean water in a bowl. Dip the print head in there and leave it for around 3 minutes.
Clean the head at least once a month.
Here's a YouTube video that you might find very useful. In place of the proposed liquid, use water as you're dealing with an edible printer and not a standard one.
You might also want to check out this detailed WikiHow.
Important: always use water to clean. Other liquids like rubbing alcohol aren't applicable as you're dealing with a gadget to be used in food preparation.
Maintenance diagnostics
These days, printers are designed with built-in diagnostics. These tell you when there's something wrong with the parts, so pay attention to them.
Often, they will give you recommendations on what's needed to be done, whether it's repair or replacement.
Remember, it's best to replace a small part that wait for one rotten egg to ruin the entire basket.
And, when purchasing replacement parts, you want to go for the highest quality rather than keep returning to the shop. Keep an eye on the compatibility also.
Get the right cartridge
When the ink levels are low, your printer should give you a notification. At that time, you want to replace the cartridge. Bear in mind that waiting until the cartridges are dry causes unnecessary wear.
Original cartridges are costly, and the cheap ones can be very tempting. Don't fall for the low price of the cheap ones if you want quality prints.
You got to read the manufacturer's instructions for replacing the cartridges. For instance, you might find it written there that touching the cartridge's bottom is bad as it ruins the print's quality.
Don't keep it on all the time
When printers are on, they produce lots of heat. If the device is not in use, the head can dry up the cartridges, subsequently causing clogging of the head.
This problem leads to increased wear.
Thus, if you're not using the printer, just switch it off.
Use it frequently
If you don't use the printer, the cartridges will most certainly dry up.
when you leave the printer inactive for days, the drying ink clogs the head, and there's bad damage.
That's why we encourage you to print a sheet or two at least once every few days, even when you don't have regular work.
Top Rated Edible Printer Brands on The Market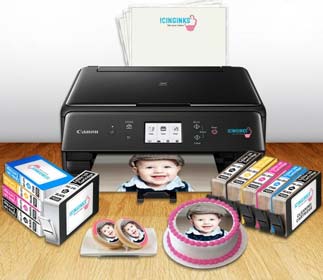 When it comes to edible printers, there are only a few brands that customers trust. Because you see, we're dealing with a gadget used for food preparation, and safety is key.
Here are the most reliable names in the edible printing niche.
1. Canon
Canon is a Japanese brand whose origins date back to the 1930s.
Now one of the most recognized brands in the world, Canon is associated with a wide range of electronics, from cameras and photocopiers to medical equipment and printers.
Today, this brand happens to be the manufacturer of the best edible ink printers in the world. There's a good chance that most of the cake businesses you visit that print cakes use a Canon printer.
Canon sells its edible printers mostly through suppliers like Sweet And Magical, though they have their own store and accounts on Amazon and other retail sites.
2. Epson
Epson is yet another Japanese brand with a huge influence in the edible printing niche.
Founded in 1942, Epson rose to become a prominent manufacturer and seller of printers, LCDs, laptops, and imaging-related supplies. They're the manufacturer of the famous Inkjet printers.
Like Canon, Epson sells its edible printers through major suppliers and through various internet platforms.
3. Icinginks
Iciginks is not a manufacturer of printers. Instead, it's a supplier that offers you cool deals.
This Southern California-based brand offers you nice edible printer bundles that come with everything needed to start printing. That includes the printer, which they obtain from Canon, and edible inks, icing sheets, and wafer papers.
Their inks are gluten and allergen free, and they're also approved for human consumption by the FDA.
4. Sweet And Magical
Based in Miami Lakes, Florida, Sweet And Magical is another brand that operates as a supplier of quality edible printers.
The brand doesn't actually make printers; like Icinginks, they partner with major producers, like Canon, to offer their customers great packages.
Sweet And Magical's printer bundle comes complete with a printer, cartridges, inks, and icing sheets.
Their quality is always admirable.
Frequently Asked Questions (FAQs)
What is edible ink?
It is just food coloring combined with a set of other ingredients like water and glycerin. It's made in a food lab to give it the qualities necessary for jetting through a printer. This ink is used to print images on edible paper, otherwise called icing paper.
The result is a printed paper that is safe for you to eat.
Can I use any printer model with edible ink?
Sure. However, there are major setbacks. Firstly, if the printer has been used before for standard works, the residual inks might contaminate the edible ink and make it unsafe for human consumption.
Secondly, the resolution might not be very good.
You're better off using a special printer meant for edible printing.
On what side of the wafer sheet should I print?
Wafer sheets differ from icing sheets in that they don't come with a plastic backing. These sheets have a rough and a smooth side.
Though both sides can be printed on, the smooth one normally produces better prints.
What are icing sheets made of?
Icing/frosting sheets are created using icing or sugar, which is blended specially before being made into sheets.
How do I print a frosting sheet?
Feed it into the printer such that the side with the plastic backing faces down and the other side faces up. From there, hit the print command on your printer or external device and the printer will do the rest of the work.
You ought to give the printed sheet about ten minutes to dry before using it.
What makes a good edible printer?
The ability to print out vivid images and to keep doing so for years.
The reason as to why Canon is the preferred brand for edible printing is that their printers have slots for individual inktanks and also removable print heads. These two qualities make them very easy to use.
Final Word
We trust that our list of the best edible printers has helped you get a model that suits your needs. We trust that now, you'll never again have to worry about creating a highly-personalized cake, whether you're a business person or just an enthusiast.
The models we chose are the most trusted in the market. As long as you give them the appropriate maintenance, such as regular cleaning, you'll enjoy great service for a long time.
Feel free to air your thoughts in the comments. If you found the post helpful, please share it with your friends.