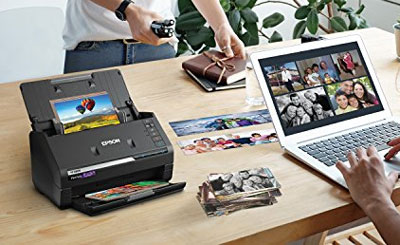 Whether you are a photographer or not, you must have captured a couple of wonderful moments through the eyes of a camera.
If you want to preserve the photos so that the memory doesn't fade away, you want the best photo scanner with feeder in your arsenal. A picture scanner with auto feed capability will let you scan a bulk load of images in a short time.
These devices can also scan texts and lets you keep your documents organized and safely preserved in the cloud or any other digital location.
With so many options available these days, it can often get difficult to figure out which product you should go for.
In this article, we will give you a quick rundown of some of the finest automatic feed photo scanners that you can buy from the market.
Best Photo Scanners with Feeder | Our Top 10 Picks
You need to spend countless hours searching various forums and asking your friends before you get a good idea about the better units among the bunch.
However, with our help, you do not need to worry about all that. In the following section, we will give you our top picks for the perfect and efficient photo scanners with a feeder that you can buy without any second thoughts.
1. Epson WorkForce ES-400 Color Duplex Automatic Document Scanner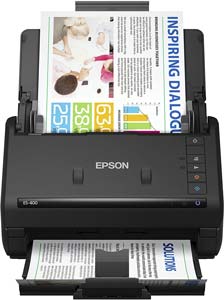 To kick things off, we will be looking at the WorkForce line by the brand Epson. The focus of this series of products has always been towards a productive work environment. And when it comes to the right balance between price and performance, the ES-400 is truly one of the best automatic photo scanner with feeder.
The 50-page automatic document feeder in the unit lets you quickly prepare and work with multiple photo albums or documents. That combined with a fast-scanning speed of 35 pages per minute or 70 images per minute, ensures you will be able to get through your task quickly without any hassle.
Furthermore, the high dpi output of 1200 interpolated dpi lets you print images without sacrificing any of the quality. You no longer have to worry about images coming out blurry or noisy when printing with this photo scanner. It also has an Enhance feature to further edit your photos before printing.
You also get access to a number of handy software when buying this device. These programs allow you to manage your albums or even upload and email them with minimal hassle. Its USB 3.0 interface also minimizes data transfer time. All of the software you get works with both Mac and Windows.
Highlighted Features:
High-speed scanning.
50-page automatic document feeder.
Comes bundled with software.
High data transfer rate thanks to USB 3.0 interface.
2. Fujitsu ScanSnap iX1500 Color Duplex Photo Scanner and Automatic Feeder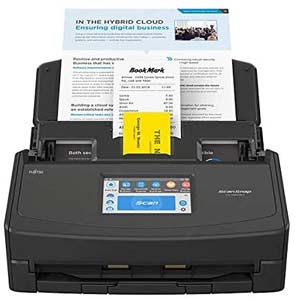 For our next unit, we will be looking at the ScanSnap iX1500 by the brand Fujitsu. If you are looking for a fast document and photo scanner that delivers accurate colors and features a robust set of included software, then this unit is one of the best options in the market.
It is a simple unit with a smart design. Armed with a 50-sheet ADF or Automatic Document Feeder, this unit can get through stacks of documents and photos quickly. In addition to your typical pages, the ADF also supports scanning longer and wider documents up to tabloid-size.
Speed and accuracy are two of its primary concerns, offering you a speed of 30 pages or 60 images per minute. However, it does not use any standard resolution quantifiers like dpi but rather gives you options like good better or best. But in terms of color quality, you will be thoroughly pleased with the output.
You also get a handy set of software for different functions like automatic naming or tagging. It includes cloud support and has wireless connectivity for those who would not use ethernet. The unit also features a USB 3.0 interface for high-speed data transfers.
Highlighted Features:
Excellent color accuracy.
Fast scanning speed.
It comes with a 50-page ADF.
Wireless connectivity and cloud support.
3. Brother High-Speed Auto Feed Scanner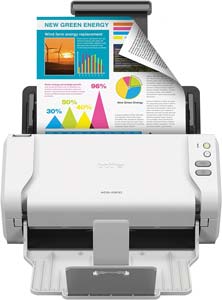 In the world of scanners and printers, Brother is a trusted name. With the ADS-2200, you are essentially getting a simple and straightforward desktop document scanner at an entry-level price. Sure, it does not come with any modern LCD touchscreen, but at this price, the features are hard to beat.
It has a standard 50-page automatic document feeder that supports two-sided scanning. Thanks to the continuous page scanning option, you will be able to get through large stacks of documents and images in little to no time. Its OCR is also quite fast and straightforward to use.
The unit allows you to scan both sides of the document in a single pass at the speed of 35 pages per minute. When you switch to image, the speed goes up to 70 images per second. In addition, the unit supports a USB flash memory drive, multi-feed detection, blank page removal, and many more time-saving features.
It also includes support for multiple drives for Windows, Mac, and Linux, like Twain, WIA, ICA, and SANE. Because of the lack of a touchscreen, setting up the device initially might be a bit harder, but once you get everything set, it is extremely simple and straightforward to use.
Highlighted Features:
Two-sided duplex scanning.
50-sheet automatic document feeder.
Scan to USB, file, or E-mail.
Multiple feed detection.
4. Raven Pro Scanner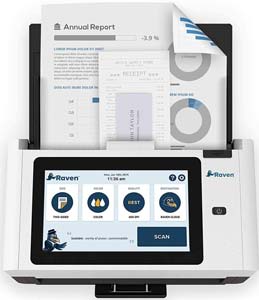 If the unit by Brother was a bit too simple for your taste, you might get better use out of this modern option by the brand Raven Scanner. This is the "Pro" version, meaning; it has everything you might ever need for a professional work environment. Understandably, the price of this unit is also a bit higher.
The unit features a 100-page automatic document feeder with an adjustable anti-jam function along with ultrasonic detection. It can handle not only standard documents but also business cards, IDs, receipts, etc., into the expandable tray. Any document you scan creates a PDF with OCR that you can search.
In terms of speed, it allows you to scan a whopping 60 pages per minute and supports scanning to clouds, files, email, or even FTP. So you can keep your documents organized and save backups in case something goes wrong easily. The bundled software also enhances its functionality.
The best part of this device is the large 8-inch LCD touchscreen display. Because of this, all of the functions of the unit are laid out right before your eyes. It makes accessibility easier and allows you to control all the different functions effortlessly. The unit also supports wireless scanning along with standard ethernet.
Highlighted Features:
60 pages per minute scanning speed.
Large 8-inch LCD touchscreen.
Wireless and cloud support.
Automatic blank page removal and straightening.
5. Canon Image FORMULA R40 Scanner for Photos and Document
The next unit on our list is an affordable, entry-level option by the brand Canon. The ImageFORMULA R40 office scanner comes equipped with everything you would need at a very attractive price. It can even hold its own when pit against more professional units.
With this unit, you get a decent speed of scanning and conversion for the price. For one-sided printing, this unit can dish out 40 pages per minute, and for two-sided images, you can expect 80 images per minute. Although the number is low, for a compact entry-level unit, it is not bad at all.
The accuracy of scanning, on the other hand, is a sight to behold regardless of whether you are scanning text or images. It offers remarkable text accuracy with minimal errors making it one of the best sheetfed photo scanner on a budget. In terms of connectivity, it only offers a single USB 2.0 on the back.
It also does not come with any wireless connectivity or cloud support. The lack of a touchscreen also can be a bummer for some people. However, if you are looking for a simple and straightforward unit to handle most of your basic photo and text scanning tasks, you cannot go wrong with this one.
Highlighted Features:
Simple and straightforward design.
USB 2.0 port.
Impeccable accuracy.
Respectable conversion and scanning speed.
6. KODAK Slide N SCAN Auto Feed Picture Scanner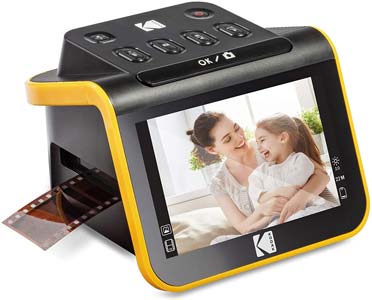 Next up, we will be looking at a unit that focuses completely on the photographers. The KODAK Slide N Scan is one of the best photo scanner feeder for beginners and people with limited technical knowledge because of its simplistic design and fast scanning.
It is a slide scanner that lets you convert your 50mm slides, color negatives, and films into high-resolution images that you can view, edit or even store to an SD card. The supported resolution in the unit is 14 megapixels, but you can enhance the images up to 22 megapixels to get more vibrancy and colors.
Because of the large 5-inch LCD screen in the unit, you can view your photos any time after scanning. You can also edit your photos on the go with this unit. The device features a gallery mode that offers wide viewing angles for previewing the memories that you captured from the camera.
The feeding tray in the unit allows you to load images continuously and quickly from the film role effortlessly. You can hook up an SD or SDHC card to the unit to transfer the photos. If you would rather use your computer, you can use any Type-C USB port to make the connection.
Highlighted Features:
Compatible with any type of photo slides.
Large 5-inch LCD screen.
High-resolution image output.
Advanced capture software to edit photos on the go.
7. Plustek PS186 High Speed Photo Scanner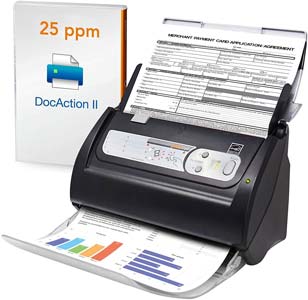 Plustek might not be the name you often hear when you are looking for the best auto feed photo scanner. However, the PS186 does not disappoint because of the excellent value it offers in terms of price and performance. If you are on a tight budget, then this unit is worth strong consideration.
The scanning speed in the unit is also quite excellent delivering 50 images per second. Thanks to the 50-sheet automatic document feeder, you will be able to ruffle through stacks of documents within no time. Its color accuracy is also quite impressive, to say the least.
With a scanning resolution of 600 dpi, the unit fits well regardless of whether you are using it in your office or hope. It even comes with features such as Auto Rotate, Auto Crop, Blank Page Removal, Auto Deskew, and Character Enhancement that lets you get even more use out of it.
The software in the unit allows you to create different scan profiles so that you can start the task with a single touch. You also can create searchable PDFs and store them in the cloud, email, or even to an FTP server. All in all, the utility it offers is hard to beat at this price point.
Highlighted Features:
Advanced Scanning Features.
Quick and easy to use.
Can generate searchable PDF or Barcode files.
Excellent image resolution and scanning speed.
8. Xerox DocuMate 152i Dual Side Scanner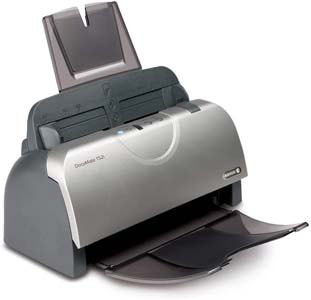 The next unit we are looking at is mostly aimed at students. The DocuMate 152i by Xerox might not be the most hi-fi unit you can find, but it allows you to do the basic tasks with perfection. For people who require a simple unit without too much expense, this is a great choice.
The unit gives you nine "one-touch" profiles that you can use for instant scanning. By default, you can choose between Scan, Search, Email, Print, Fax, Edit, Archive, Magazine, and Photo. However, you can edit the profiles to your liking by hooking them up to a computer.
Its scanning speed is decent, handling up to 25 pages per minute in Simplex mode. In duplex scanning, you can get through 50 images per minute which might not be the best out there but is also not the slowest. It might not be the best choice for professional work environments, but for home, it is quite usable.
Sadly, the unit does not come with a touchscreen interface. You also do not get any wireless connectivity which means you need to have a PC to make use of this unit. Its OCR performance is excellent and can deliver high levels of accuracy, which makes it a worthy choice for almost anyone.
Highlighted Features:
Nine editable One-Touch profiles.
Decent speed of scanning.
Excellent OCR performance.
Perfect for home office or students.
9. ClearClick 20 MP QuickConvert Photo, Slide, and 35mm Negatives to Digital Converter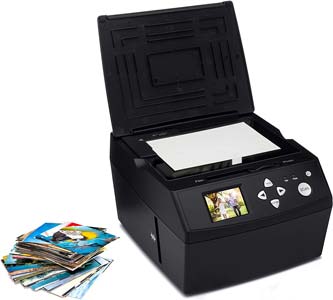 Coming up next is a neat little photo scanner by the brand ClearClick. At first glance, it might feel a bit underwhelming as a slide photo scanner. However, if you take the time to check it out, you will not be disappointed with its impressive color accuracy and performance.
Simplicity is the main goal of this unit. It allows you to easily organize your old photos from slides or negatives and enhance them to digital images with a resolution of 20 megapixels. You can preview the photos using the small 2.4-inch screen. The controls for the unit are neatly arranged beside the display.
Its speed of conversion is also quite high, allowing you to convert a photo or slide to digital within only a few seconds. You can do all the tasks of conversion without using any PC. You also get an 8 GB memory card with your purchase to transfer the photos for safe storage.
The unit also includes a powerful software, the PhotoPAd Professional Edition. With this, you can edit the pictures once you transfer them to your PC to give the images all the enhancements you want. This is an excellent addition to an already impressive unit at such a low price.
Highlighted Features:
Compact and lightweight design.
Quick conversion rate.
20-megapixel interpolated resolution.
Includes a powerful software and an 8 GB SD card.
10. Digital Photo Slide & Film Scanner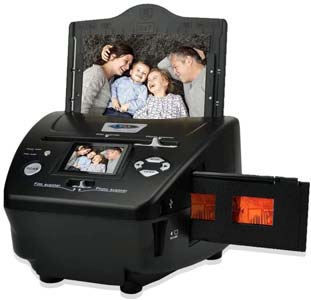 We will be finishing up the list with another slide scanner, this time by the brand QPIX. This unit is the perfect choice for professional photographers because of its excellent color fidelity and resolution. It is also quite portable and allows you to preview and edit photos on the fly.
Its 8.1 megapixels CMOS sensor allows you to enhance the resolution of the scanned images so that there is no noise or loss of clarity in the output picture. There is no calibration or warm-up required, and you can use it the moment you power it on.
The unit features a speed-load adapter that allows you to load up your images from slides and negatives quickly. You can also preview the images on the 2.4-inch LCD screen, and the straightforward controls let you access the finer functions of the machine.
It also has some excellent functions, such as automatic exposure and color balance that enhance the quality of the images you scan. The unit comes with a built-in 16Mb memory which you can expand using an SD card. It can either be powered by USB or a 5V adapter.
Highlighted Features:
Compact design.
High-resolution picture output.
Features automatic exposure and color balance.
Built-in 16Mb memory.
Top 10 Automatic Photo Scanner with Feeder Comparison Chart
| | | | | |
| --- | --- | --- | --- | --- |
| | | | | |
| | | | | |
| | | | | |
| | | | | |
| Raven Pro Document Scanner | | | | |
| | | | | |
| | | | | |
| | | | | |
| | | | | |
| | | | | |
| Digital Photo Slide & Film Scanner | | | | |
Photo Scanner With Feeder Buying Guide for Beginners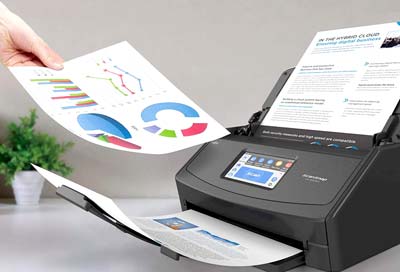 With the review section out of the way, you should already have a decent idea about some of the finest options available to you.
But before you take your pick, it is worth understanding the important aspects of a photo scanner with an automatic feeder. These factors will help you get the most out of your investment.
Here are some of the features that you should consider before choosing the best photo scanner with a feeder.
Auto Feed Capacity
Choosing an automatic photo scanner with a feed capacity that matches your requirements is a must. These days, you can find units with an automatic feed capacity that far exceeds your requirements. However, those might be a lot pricier, and you might not even be able to make the full use out of them.
The best way to proceed is to take some time and think of your own necessities. If you do not need to scan large batches very frequently, a feed capacity of 50 pages might be enough for you. On the other hand, if you want to scan documents in bulk, you should go with at least a capacity of 100 pages.
Resolution
For an auto feed photograph scanner, the resolution is a critical factor. Some models offer only around 300 dpi, while others can go as high as 6400. The higher the resolution, the better the image clarity. With a high-resolution scanner, you can enhance a small picture to a large size without losing any of the details.
However, not everyone needs such high resolution for their work. The ideal choice for most people is around 600 dpi. But if you work professionally, then you might want to consider a higher resolution, somewhere around 1200 dpi. That way, you will be future proofing your investment.
Color Fidelity
Resolution is not the only factor that contributes to the quality of the image. You also need to see if the color that you get after scanning is accurate and bright. This is one of the main reasons why photographers use a photo scanner with auto feeder instead of a regular scanner for images.
A low-quality photo scanner will often lose a lot of the colors when digitizing an image. If you do not want that to happen to you, you want a unit that takes color fidelity seriously. The best way to check this aspect is to try out the unit yourself. You want a unit that gives you accurate colors; otherwise, the image might look washed-out.
Connectivity
Connectivity is an important factor to consider when you are going for an auto feed scanner for photos. By connectivity, we not only mean the way to connect the machine but also the way you can store the scanned images. You want a unit that gives you complete freedom.
Some units come with only USB or ethernet connectivity, while others can feature wireless connections. There are also a few excellent models that allow you to upload and store the data directly to an FTP server, cloud, or even mail it to your e-mail address.
Scanning Speed
Scanning speed might not be as important as the other factors when choosing the best photo scanner with a feeder. But it still matters, especially if you want to scan a bulk number of images or documents. With a fast speed of scanning, you can finish your project faster.
There are models that can scan around 100 pages per minute, but they might also be a lot more expensive. You want a unit that nets decent speed without getting to absurd price. However, for a professional, an expensive unit with excellent scanning speed is almost essential.
Optical Character Recognition
Are you using the unit solely for photo scanning, or do you also want to scan documents?
A photo scanner is a versatile tool that can serve many functions, and if document scanning is one of your requirements, then the unit needs to feature decent OCR software.
OCR function allows the machine to scan the image for texts and digitize it. This is important for creating searchable PDFs that you can store online or on your physical hard drive. However, not everyone requires this function, and if you want to skip it, you can.
Portability
Another factor that might not be important for everyone but still worth considering is the portability of the device. Some units allow you to use it as a standalone device without requiring the use of a computer. There are also some that can run a decent amount of time on batteries.
If you need a portable photo scanner, then this type of unit might be a better choice. However, keep in mind that they are not as powerful as their bigger brothers and have limited functionality. But it is still nice to have a portable backup scanner on hand for when you are taking pictures.
Price
A photo scanner is not usually a small investment. Most units take a decent chunk out of your wallet. But there are still a few excellent products that do not cost as much. If you are on a budget, our list of reviews should give you plenty of fantastic budget-friendly options on the market.
Getting the most expensive unit is usually not the way to go when you are choosing your photo scanner with automatic document feeder.
You need to be smart about your investment and focus on the factors that are important to you. That way, you will be able to make a purchase that satisfies you instead of leaving you with buyers' remorse.
Read More: How to Put Film in a Polaroid Now. Polaroids are gaining popularity again, so here's how to put film in them!
Top Auto Feed Photo Scanner Brands On The Market Today
We have already given you all the information you would need to make an informed choice when buying a picture scanner feeder. Knowing about the top brands in the market will further make it easier to take your pick.
So here are some of the leading brands that make high-quality and reliable photo scanners.
Epson US
Epson is a USA-based company and is one of the leaders when it comes to printers or image scanning devices. They also have an excellent list of professional projectors and display machines. One of their unique printer features is the PrecisonCore technology.
Fujitsu Limited
Originating from Japan, Fujitsu limited is a true powerhouse of IT equipment and services. They manufacture not only photo scanners but also a wide array of computing devices. You can also find many high-quality Fujitsu cameras that are being used by professionals worldwide.
Brother Industries, LTD
Brother Industries originated from Japan but has spread out all over the world with their high-quality printers and scanners. Its initial headquarters was in Nagoya, Japan. Apart from printers, the brand also manufactures typewriters, mostly in the United Kingdom.
Canon Inc
Canon Inc., coming from Japan, is a multinational giant. Their versatile product list includes cameras, printers, scanners, projectors, calculators, copiers, camcorders, and even virtual reality headsets. It was founded way back in 1937 by four people Takeshi Mitarai, Saburo Uchida, Goro Yoshida, and Takeo Maeda.
Eastman Kodak Company
Simply known as Kodak, this is an American public company that mostly focuses on analog photography. They also offer some high-quality digital printers and scanners that offer reliable performance over a long period.
Frequently Asked Questions
1. What is DPI?
The term DPI stands for Dots Per Inch and is the measurement of resolution in a photo scanner.
It directly contributes to the clarity and quality of the picture, with higher numbers meaning a better resolution. For example, 600 dpi means that there are 600 dots in an inch of the image.
2. Is an all-in-one scanner enough for photo scanning?
If you take photography seriously or care about the quality of the image you get, you would not like the image output of a regular all-in-one scanner.
Photo scanners often come with better resolution and offer better clarity in pictures. All-in-one scanners are mostly aimed at document scanning.
3. Should I scan photos as JPEG or TIFF?
It mostly depends on what you want to achieve. JPEG format compresses the image, which also involves the loss of some data after scanning.
However, the scanned image takes less space in size. On the other hand, the TIFF format involves no compression, which means no data loss. But the size of TIFF images is also larger.
Final Thoughts
If you do lightweight photography as a hobby or take it more seriously, then investing in an auto feed picture scanner should be your priority. The utility this machine offers is way too good to pass up.
That being said, you should definitely have a look at the Epson WorkForce ES-400. This scanner hits the sweet spot between price and performance. We hope our extensive article on the best photo scanner with feeder could help you pick out the perfect unit for your requirements.
Also read: