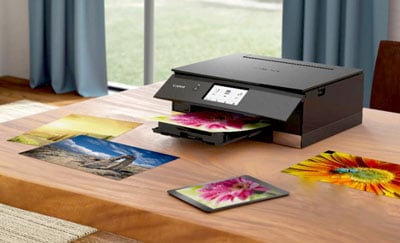 From your wildlife photography to digital art, printers make everything sustainable on paper for years to come.
But when it comes to printing on watercolor paper, you will need to look for a printer with specific capabilities. Choosing a printer with all these in mind can be hectic.
We have rigorously researched on some of the most popular printers on the market for printing on watercolor paper. So, let's get into the nitty-gritty of these printers and see what they have to offer in return for what.
Best Printer For Watercolor Paper Reviews
The following printers performed excellently well in our tests and are recommended to everyone who wants a good printer at an affordable budget.
1. Canon Pixma iX6820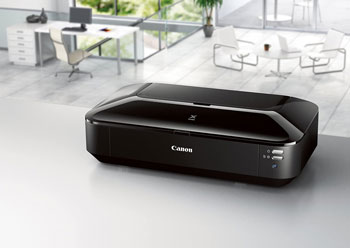 Most of the affordable printers in today's market aren't compatible with larger-sized paper than a letter or legal which makes Canon Pixma iX6820 stand out.
This inkjet printer can handle a wide variety of papers, including glossy photo paper and watercolor paper. Often, we are most worried about the resolution of the printout on watercolor paper.
 The good news is this printer can print up to 9600 X 2400 dpi, which is double that of almost any other printer in this class. Getting professional-quality print with a printer of this price range is a big plus.
As the name implies, iX6820 uses Wi-Fi to be connected with your devices. And it is compatible with most devices like Windows, Mac, Android, iOS, etc.
So, you can directly print your art or photo from your smartphone or pc. It makes sense when you have only one printer at home, and everyone is using that.
Coming to the output, we were satisfied with the sharpness of the color and detail. Using a 5-ink system, this printer produces crisp photos on watercolor paper.
Print speed is also adequate at 14.5 images per minute for color and 10 images per minute for black.
What we have found most useful is the cloud print capability. You can directly print your media from cloud storage like Google cloud or iCloud.
And wrapping up your art with printing it borderless is one of the most fascinating things you can get from this printer.
Highlighted Features:
The 5-ink tank system ensures excellent quality print and sharp detail.
Prints at a maximum of 9600 X 2400 dpi.
Uses Wi-Fi, Ethernet, USB to be connected with any devices you may have.
Can print from cloud storage.
Support paper sizes up to 13″ X 19″ for your bigger needs.
2. Epson Expression Photo HD XP-15000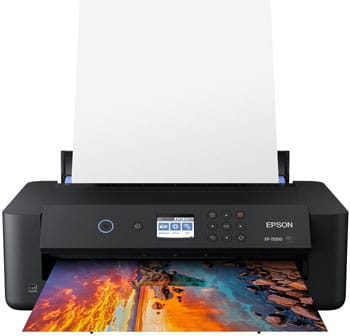 As the name suggests, XP-15000 from Epson can handle a wide range of papers up to 13 X 19 inches which are mostly enough for moderate printing. But the paper size or printer size isn't the only wide thing here.
This printer is made for an ultra-wide color gamut by inserting red and gray inks in place of light cyan and light magenta.
 As a result, you get sharper photos with an increased color gamut. It also enhances the grayscale image by adding an extra layer of gray ink in between.
Besides color accuracy, you can print borderless photos on papers up to 13 X 19 inches that is an excellent feature on a printer of this range.
 Another great feature is the duplex printing technology. It allows you to print on both sides of the paper at the same time.
Print speed is moderate on this pick, with 9.2 pages per minute for monochrome and 9 pages per minute for color.
 You can use a 200-sheet large front tray to stack up against your watercolor papers for input. The 50-sheet rear tray also comes in handy while handling unique papers.
With a wide variety of connectivity options, you can choose to connect the printer from all of your devices using Wi-Fi or Ethernet, or USB.
No matter what way you choose, it lets you print all your media effortlessly with a super user-friendly control panel on the front.
Highlighted Features:
Compatible with larger-sized papers yet compact in size.
6-color Claria Photo HD technology ensures a wider color gamut than its predecessors.
Prints the best output possible in this budget.
Can print borderless photos pretty quickly.
Connects to almost all devices to make printing easier.
3. HP ENVY Photo 7155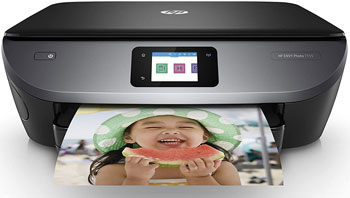 This incredibly affordable printer from HP is our next choice for printing onto watercolor paper. Give life to your photos and digital art with this low-cost printer.
Using an inkjet printer on watercolor paper to get a 4800 X 1200 dpi resolution is something you can cherish for.
The maximum paper size is the letter here; what else should you expect from a $55 printer? But the print speed compensates for this at up to 14 pages per minute for black and 9 pages per minute for color.
So, if you are searching for a printer that will print on watercolor paper frequently, you can save some of your time by using this.
It comes with a 2.65 color touchscreen from where you can control all the functionalities. In our opinion, this is one of the sleekest looking printers available on the market in this budget.
Connectivity is above standard considering the price range of this printer. You can connect to any of your devices using Wi-Fi.
But what we have found interesting is its capability to print directly from an SD card. You can insert your SD card directly into the printer and browse your documents using the color touchscreen.
Printing from the cloud is enabled on this printer. But the most convenient feature will be printing from the HP Smart App that you can download from the app store.
Keeping all these in mind, a printer that costs a small amount and gives the best photo possible on watercolor paper should be the ideal choice.
Highlighted Features:
Highly affordable and cost-effective.
Multifunction printer can perform print, scan, and copy.
Connects wirelessly to all your devices.
Supports up to letter-sized papers.
Can print directly from SD card.
User-friendly interface and easy control with a color touchscreen.
4. Brother MFC-J895DW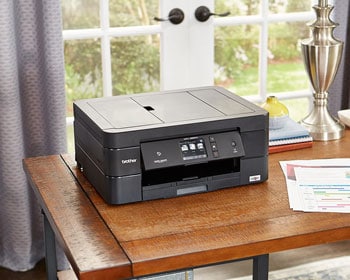 Next comes the all-rounder, Brother MFC-J859DW, which is duplex ready. You can simultaneously print on both sides to save a lot of paper.
On one side, it cuts less of your pocket, and on the other side, you pollute the planet less. With inkjet printing technology, watercolor printer paper can be easily handled with the printer.
Though the print speed is slightly slower at 12 pages per minute for black and 10 pages per minute for color, the sharpness and color accuracy are spot on.
You don't need to worry about frequently refilling as it has a 150-sheet paper tray for automatic feeding. Another 20-sheet auto document feeder helps to scan your documents effortlessly.
While you scan documents, you can choose to save them in local storage or scan directly to various cloud services right from the printer.
The intuitive touchscreen on the front of the printer is 2.7 inches. From here, you can easily control the functionalities of the printer. It also connects wirelessly with your devices to be print-ready at any time, anywhere.
As the direct scanning, you can also directly print from your cloud storage. When it comes to the maintenance of the printer, this printer is far easier than its competitors.
The ink can be easily replaced, and if you pair the printer with Brother ink, the output will be a lot better.
With attention to all the details, this printer from Brother deserves to be on the list of the best printer for watercolor paper.
Highlighted Features:
Auto duplex feature saves a lot of paper, hence a lot of money.
An all-around printer at a highly affordable budget.
Performs printing from any of your devices and even the cloud.
Moderate print speed and excellent quality output.
5. Canon IP8720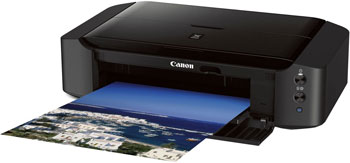 As we all know, Canon makes great devices for capturing the world. So, it is their responsibility to make the best devices to bring that photos on watercolor paper, right?
Jokes apart, Canon has some serious expertise in making printers, and the legacy has been continued for decades. Cannon's IP8720 leaves a much smaller footprint on the desk than its competitors.
So, whether you use it in your office or dorm room, you get the most compact setting. The output produces a maximum of 9600 X 2400 dpi to present sharp color and the ultimate detail.
The auto power-on feature lets you automatically turn on the printer by sending the photo or document you want to print to the printer.
And you can use a handful of options to send any document to the printer, Wi-Fi being the easiest. It also connects to your devices with Ethernet or USB's help if you want to connect with a single device.
You can also send your pictures directly from the camera using the PictBridge feature. Starting from Google cloud print, you can also use AirPrint to print from your Apple devices.
Six ink tank system is the new upgrade in this generation where light cyan and light magenta are replaced by red and gray to give more punch to your photos.
It also increases the color gamut of the output. The wide range of features in this Canon printer indeed makes it the best printer for watercolor prints.
Highlighted Features:
Prints at a stunning 9600 X 2400 dpi to give sharper output.
Six ink system widens the color gamut and gives high color accuracy.
Houses a lot of features like auto power on, cloud print, AirPrint, etc.
Can print borderless photos.
6. HP OfficeJet Pro 9015 All-in-One Printer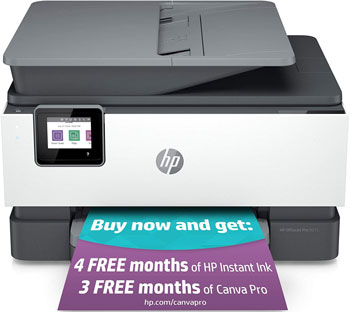 Hewlett-Packard makes printers stand out in any given situation. The OfficeJet Pro 9015 is the next solution for printing on watercolor paper.
Though it is on the bulkier side than most other printers on our list, it packs bundles of features inside.
As the name suggests, this AIO printer can be used to print, copy or scan your photos or documents. You can even directly Fax from your printer, which is a big plus.
You will need to have a bigger space to accommodate this printer. But once you set up the printer, there is nothing much to worry about.
The fast-printing capability goes up to 22 pages per minute on monochrome and 18 pages per minute on color, which is a good number. But the print speed never determines how good a printer can print on watercolor paper.
With the extra nozzles fitted in the printer, you can expect an even distribution of the ink on the paper to produce outstanding quality images.
Whether you are a professional photographer or an artist, you will love the crystal-clear output from this printer.
Many of its features might be found in other printers. But the ability to print, copy, or scan both sides of the paper simultaneously is something that you don't get commonly. It even supports printing from USB drives.
In our opinion, whether you use this printer for creativity or productivity, it is going to support you all the way around.
Highlighted Features:
Multifunction printer can print, scan, copy or fax.
The dual-pass feature allows you to get the best efficiency.
Supports up to legal paper and prints at a moderately higher rate.
250-sheet input tray and 35-sheet auto document feeder put less stress on you.
Easy-to-use functions can be controlled via a color touchscreen.
7. Epson WorkForce WF-7720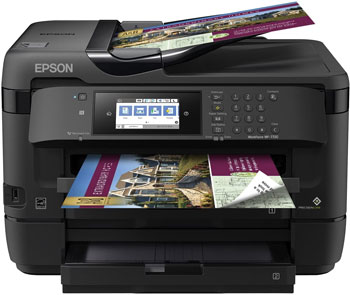 The first thing that hits our mind when experiencing this printer is the neat and spacious control panel.
With a bigger color touchscreen and keys separated by a greater distance, Epson WF-7720 is more functional and user-friendly than its predecessors.
When it comes to usability, you get two distinct paper trays to handle 500 sheets of super tabloid-sized papers, 250 each.
The capability of printing on super tabloid papers (13 X 19 inches) is useful when you want your photo or art to be exhibited on a bigger canvas. But the scanning capacity is limited to tabloid papers (11 X 17 inches).
Though the front trays can't handle special-sized papers, you will get a rear cassette to manually feed the printer's special papers. Connecting it both wired and wirelessly is a breeze that lets you pair with multiple devices.
This comes in handy when the printers are used in a small office or home where multiple users handle a single printer. But the most convenient printing solution in this printer can be the NFC.
With NFC-compatible devices, you can just touch and print from your devices without connecting them to the printer.
But remember, this printer is quite heavy. So, if you are planning to place it beside your PC or on your reading table, think twice.
Better find a separate space for the printer. You will also need to use Epson cartridges only with the printer to get the best possible output.
Highlighted Features:
Heavy in size, price, and performance.
Produces high-quality images on large papers up to 13 X 19 inches.
Incorporates sleek and smart control panel to operate the machine.
Support NFC to print effortlessly from your compatible mobile devices.
8. HP OfficeJet Pro 9025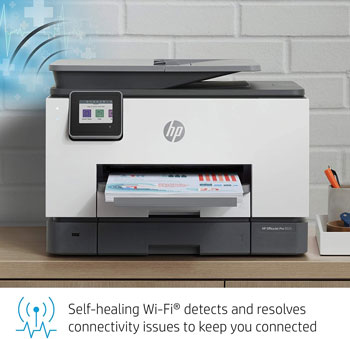 OfficeJet Pro 9025 is the slightly upgraded version of the previously mentioned 9015 from the same brand. With a few tweaks here and there, 9025 is capable of handling your prints and papers better.
Though you know most about the features of this series of printers that will print on watercolor paper, here are some more clarifications.
9025 is perfectly cubic. Unlike other printers that have a lot of rounded corners takes more space than assumed.
But in the case of this printer, the scenario is somewhat different. As all the sides are symmetrical, it takes the least space possible on any desk, making it perfect for home or small office use.
Another difference with the 9010 series is its double scanning speed. It scans documents at double speed and scans both sides of the pages in one go.
 It reduces a lot of processing time. Saving those scanned documents into your USB drive or cloud storage is also a lot easier.
The print speed of 9025 is also faster than its predecessors at 24 pages per minute for black and 20 pages per minute for color. The input tray can handle 500 sheets, while the output tray capacity is 100 sheets.
All other connectivity features are almost identical between these two printers. But 9025 certainly performs better when it comes to the primary duty, printing. It also causes more, but the final output justifies the price for enthusiasts.
Highlighted Features:
The compact design of the printer takes the least space possible.
Has faster scanning and printing speed than most other printers in this class.
Plenty of connectivity settings allows you to effortlessly use the printer from anywhere.
Control panel is easy to navigate, even for beginners.
Can print on different types of paper, including watercolor paper.
9. Canon PIXMA TR4520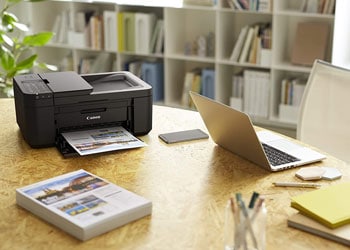 We will end with the TR4520 from Canon who dominates the printer market for a long. When it comes to printing photos or arts on watercolor paper, beating Canon printers is close to impossible.
Why this printer deserves to be on this list?
This entry-level AIO printer takes only 12 X 18 inches of space on your desk and weighs only 13 pounds. Perfectly light for those who don't need a multifunction printer at a higher budget.
TR4520 can print some good hundreds of pages per month which should be enough for any individual or small family.
As a smaller printer than its competitors, it also holds less paper on the tray. The maximum capacity of the top tray is 100 sheets.
But the ADF houses 20 sheets for duplex scanning and copying. When it comes to connectivity, TR4520 doesn't disappoint us at all.
With a wide range of connectivity options, it can be paired with pretty much every device you may have.
You can print from any of your devices being completely mobile. Though the screen on this printer is smaller, perfectly leveled touch buttons are easy to navigate and use.
We find this a great pick if you are planning to use the printer for a lighter workload. At under 100 bucks, this printer performs on the par.
Even if you have a bigger multifunction printer, it can easily be your second printer for occasional performance.
Highlighted Features:
The slim profile matches any workplace at ease.
Costs a lot less than those funky, bulky printers but performs better.
Prints professional-quality photos on watercolor paper.
Needs less maintenance than other costly printers, so you save a lot.
Top 9 Printer for Watercolor Prints Comparison Table
| | | | |
| --- | --- | --- | --- |
| | | | |
| | | 14.5 (Black) / 10 (Color) | |
| Epson Expression Photo HD XP-15000  | | | |
| | | | |
| | | | |
| | | 14.5 (Black) / 10.5 (Color) | |
| | | | |
| | | | |
| | | | |
| | | 8.8 (Black) / 4.4 (Color) | |
Printer For Watercolor Paper Buying Guide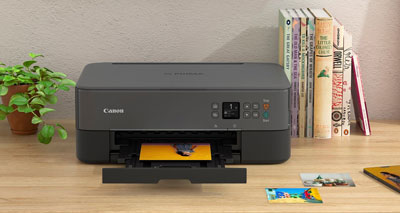 It isn't possible for everyone to check every single printer available out there separately. Though we have already mentioned some of the best printers, here will be a complete buying guide about what to look for when you are down to buying.
Consider these factors to get the best printer for watercolor paper, no matter which brand it is.
Resolution
The first thing you should look at a printer's spec is its maximum resolution. The unit used here is dpi which stands for dots per inch.
For example, 4800 X 1200 dpi means your printer can print 4800 dots horizontally and 1200 dots vertically per inch of space. The more dots you have on the paper, the more details you get in the output.
Most of the inkjet printers mentioned in our review do print at a maximum of 4800 X 1200 dpi, which is pretty good for printing on watercolor paper.
But if you need sharper output for your photos or arts, go for the printers that can print up to 9600 X 2400 dpi.
The price of the printers varies depending on the resolution. So, if you constantly need to print at high resolution, choose a printer that can serve your purpose.
Laser or Inkjet?
Laser printers are known for their high-speed printing and sharp details. But this type of printer is suitable for thinner papers.
As watercolor papers are comparatively thicker than regular papers, they can face difficulties feeding into laser printers.
Also, the amount of heat applied during the printing is crucial. On thinner papers, ink can easily penetrate in high heat.
But in the case of watercolor papers, ink can't penetrate in high heat. So, inkjet printers are most commonly used for watercolor papers.
Here is the complete details about two common printing technology.
Type of Ink
As the watercolor papers' surface is different from the regular ones, inks might need special care to sustain on the paper.
Usually, any regular ink can be used to print text or images on regular paper. But you should never be using just any ink on watercolor papers as the output quality might fall.
Always try to stick to the guideline of the printer manufacturer for the right ink to be used.
Also know: Pigment Ink vs Dye Ink: Which one to use?
Number of Cartridges
The quality of the output of any printer mostly depends on the number of cartridges it uses to print. Every brand has its distinct ink technology.
Though the printing principle is almost the same for all the printers in the same category, every brand uses a few tweaks to perform better.
Printers that are budget-friendly often come with two cartridges. One of them is black, and the other contains three colors named Cyan, Magenta, and Yellow.
For monochrome documents, only the black cartridge comes into action. But for color prints, both cartridges take part.
In this case, the color accuracy might be pretty low. We shouldn't expect much from this type of printer.
For a professional-quality printout, you should choose a printer that has 4-6 cartridges. In these printers, different base colors are used to give the perfect vibrance to your valuable photos.
Paper Size
Often we overlook the maximum size of the paper a printer can handle. If you are using regular letters or legal papers for printing frequently, there shouldn't be any problem. Most of the printers in the market can handle papers of the above sizes.
But the difficulty arises when you need to print on larger papers. For example, printing photos or art on larger paper can be necessary if you are doing it professionally.
In that case, you need a printer that can handle larger papers. So, choose the printer that can handle the paper size you commonly use.
Connectivity
Modern printers can connect to various devices using different technologies. The more connectivity you have, the easier it gets to use the printer.
We, nowadays, use different devices to store our media. So, if you don't have an easy synchronization between these devices and the printer, your job will be much more difficult.
Choose a printer that can connect to devices via Wi-Fi, Ethernet, USB, and NFC. Most budget printers have the first three in common.
Also, look for different OS compatibility like Windows, Mac, iOS, Android, etc., to pull out the maximum from your printer.
Ease of Use
Buying high-end printers can be a good investment. But if you don't find the right function when you need them, nothing can be more stressful than that. Easy navigation in the control panel reduces a lot of your hassle while printing.
There should be a moderate-sized display to show all the relevant information regarding your job. Some printers also have accessibility to cloud storage right from the control panel.
Such a printer can save a lot of your time and hassle. So, look for a printer that is easy to use and does the job in the least amount of time.
How To Print On Watercolor Paper?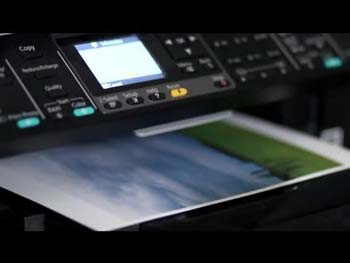 Printing on watercolor paper isn't any rocket science. Still, beginners might be confused about how to get their desired photo or art on watercolor paper.
Here is a step-by-step guide to how you can get the best output in the easiest way –
The first thing to do is check the maximum size of paper your printer can print on. Otherwise, you will nothing but waste the paper.
Most inexpensive printers are compatible with letters and legal papers. If you are printing something big, try selecting a printer that accepts bigger paper.
If you have any paper of regular use on the input tray, remove that. Often papers get stuck with each other, which causes malfunction. Put the desired paper onto the tray if you are printing only once. Otherwise, you can stack up the required amount.
Go to the document you want to print. Click on the Print option and select the required settings from there.
For example, select the printer, number of copies you want to print, monochrome or color, paper size, paper type, etc., to get a hassle-free printout.
You can also save your setting that you frequently use to print the same type of media, which will save time in the next.
FAQs
These are the answers to some frequently asked questions to broaden your knowledge about watercolor printing. Hope, you find these useful.
Why do I need watercolor paper?
Regular papers can pill or tear with the use of watercolor. So, it needs a specially formulated paper that can absorb the moisture quickly and remains consistent.
This is why watercolor paper is widely used. These papers usually weigh around 300gsm.
Do printers support watercolor paper?
Partly, yes. While some printers might not support thick watercolor papers, some others are compatible with thicker papers. So, you better find a printer that can print watercolor paper.
Can I print on both sides of the watercolor paper?
Printing art on watercolor paper isn't like our regular printing. Even if we can print on both sides of watercolor paper, we shouldn't be doing it.
 Usually, watercolor papers are supposed to be printed on the right side. Finding the right side is easy. The right side is on which side you see the brand watermark.
Final Words
Gone are days of struggling with feeding watercolor paper into the printer. Now you can avail a lot of high-end printers that smoothly pass watercolor paper inside and brings you the highest quality of image or art on the other side.
Whether it is inexpensive, fancy, high tech, or regular printer, your knowledge about the printer and the quality of the paper are crucial to getting the best output.
Often, it's not the device that matters; it is our passion and experience that matters the most!
Related Watercolor Article: