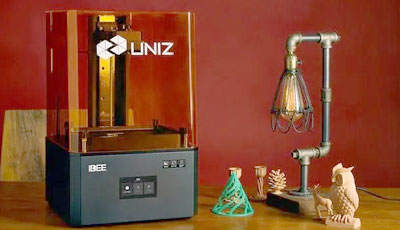 Back in the days, every kind on the block had a fascination for miniatures. You will hardly find anyone that doesn't love action figures, whether it is a superhero model or a G.I. Joe. In fact, I owned my own army of G.I. Joe action figures.
While you still have the option to buy them, there is a better way. You can now 3D print your own action figures.
3D printing these days is a lot simpler than it used to be.  These days, getting a decent device to print high-quality models is quite affordable.
Although there are many different types of printers that use different technologies to print 3D models, I will focus mostly on SLA 3D printers.
Why?
Because SLA 3D printing offers the highest print quality at an affordable price. The only setback might be the relatively slower pace.
But since you will be making these models for my own satisfaction, speed is not my primary concern. In this article, I will go through everything you need to know about the best SLA 3D printers and also give you a complete review of the products that you should know about.
What is SLA Printing Technology? How does An SLA 3D Printer Work?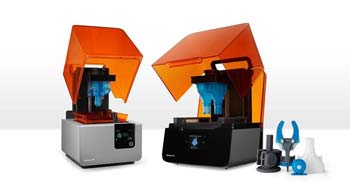 There are a few different printing technologies available these days for 3D printers. SLA or Stereolithography is one of the most popular and common techniques. Apart from this, the other two techniques are LCD which stands for Liquid Crystal Display, and DLP meaning Digital Light Processing.
The idea of SLA printing was first conceived by Chuck Hull back in 1986. It might be the oldest printing process that still stands up as one of the most efficient and effective ones if you want high precision and accuracy in your 3D models. However, it has gone through its fair share of changes.
This printing technology utilizes UV laser and galvanometers (which are essentially mirrors) to harden the photosensitive resin and mold it into the desired shape. An SLA printer is not a single item but rather a combination of a build plate, laser, two galvanometers, and a resin vat.
How do resin printers work? If you're new to resin printers, discover if they're worth it for you in this guide!
Top 10 Best SLA 3D Printer Reviews in 2021
Now that you know how an SLA printer works let us head on to the fun part. In the following section of the article, we will give you our top picks for some of the finest SLA 3D printers you can find on the market. Whether you want to use this tool commercially or as a hobby, we have got the right device for you.
1. ANYCUBIC Photon Mono SE Resin 3D Printer
The Photon Mono SE Resin 3D Printer by the brand Anycubic offers an excellent entry point for casual enthusiasts in the world of 3D printing because of its affordable price tag. It might not feature any mind-blowing features, but it delivers consistent print quality and excellent speed.
With a rating of 51 microns of XY resolution, this unit is capable of producing 2560×1620 pixels without any complaints. Needless to say, this means you will be getting extreme levels of details and surface quality without spending a lot. Since the unit requires minimal support for complex modeling, you will also be saving a lot of resins per print.
In addition, the unit features a 2k resolution monochrome LCD. Since monochrome LCDs are innately better than colored ones, this is a great feature to have. Besides, it is also highly energy-efficient and durable, so you do not have to worry about rising electricity costs, even if you use it frequently.
See our related article, Does 3D Printing Use a Lot of Electricity? for more information on the energy consumption of 3D printers!
The only real lacking of the device is its subpar build volume. Despite its rather large design, the maximum build size of the unit is quite small. However, this means you have a faster print speed taking up only 1.5 seconds to print each layer of your highly detailed model.
Highlighted Features:
It comes at an entry-level price point.
Excellent print quality and speed.
Delivers of 51 microns of XY resolution.
Energy-efficient design.
2. ELEGOO Mars 2 Mono MSLA 3D Printer
These days, it seems like the 3D printer market is brimming with new brands aiming to make this device both accessible and affordable for newcomers. The Mercury Plus by Elegoo is a desktop SLA printer that offers excellent functionality in a smaller size.
This unit is a noticeable step-up from the original Mars SLA printer by the brand. It offers an enhanced resolution of 2560 x 1620 pixels thanks to its 6-inch monochrome LCD. This means you get approximately 50 microns at x and y resolution compared to the previous model's 47 microns.
It also boasts an excellent curing speed delivering fast layering without wasting any time. Despite its compact design, it offers a decent build area allowing you to work with larger models. Sadly, this also means the cooling fans need to spin faster, resulting in a higher noise floor than average.
However, that should in no way be a deal-breaker if you are looking for a high-quality SLA printer at an affordable price.
Although it might not be well-suited for commercial use, if you are a casual user who likes to 3D print as a hobby, this is one of the best SLA printers that you can buy.
Highlighted Features:
Compact design.
Excellent build area.
A fast layer curing period.
Impressive print resolution and quality.
3. LONGER Orange 10 Resin SLA 3D Printer with Parallel LED Lighting
Coming up next, we will be looking at another entry-level SLA 3D printer that offers an excellent value for the price. The Orange 10 by Longer comes with an excellent host of features making this unit the perfect choice both for casual and commercial use. Despite its low-price tag, it offers spectacular performance.
The proprietary slicer loaded in the unit boasts a faster performance compared to any after-market ones. Since it is pre-configured to work seamlessly with the printer by the manufacturer, you do not need to spend any time setting it up. This is as much plug-and-play as you can get with a 3D printer.
In addition, the quality of print that it delivers is pretty impressive considering the low price of the unit. If you have used any FDM printers previously, then this SLA printer would be a massive leap in performance.
Since it has a layer height ranging between .02 to .01 mm, you will be able to create intricate details on your 3D models without any problems.
Although there is a built-in overheat prevention system in the unit, this can work against you in some cases. If the system detects too much heat building up, it will shut down automatically. Despite being an excellent safety feature, it can negatively impact your workflow to some extent.
Highlighted Features:
It comes at a highly affordable price.
Layer height ranges from .02 to .01 mm.
It comes with its own proprietary slicer.
Built-in overheat prevention system.
4. ANYCUBIC Photon Mono 3D Printer
If you loved the Photon Mono SE that claimed the number one spot on our list but would prefer something a bit cheaper, the Photon Mono original might be a good choice. It shares many similarities with the Special Edition version but understandably shaves off in some places to lower the cost.
Thankfully, the speed of the printer is still quite decent, thanks to its monochrome LCD. You can expect as low as two seconds to print each layer of your desired model without sacrificing the least bit in terms of quality and accuracy. For a casual user, this is all that you need.
Thanks to its high-resolution of 2560 x 1620 pixels which translates to 51 microns on the X and Y axis, you will be able to easily craft fine details on your 3D models. It might not be anything ground breaking by today's standards, but at this price, the performance is quite superb.
Despite featuring such a tiny design, the unit offers a decent build volume. You can comfortably print models with a dimension of 165 x 80 x 130 mm, which should be more than enough for a casual user. Overall, we would definitely recommend it to anyone who is buying an SLA printer for the first time.
Highlighted Features:
Decent printing space.
Excellent printing resolution.
Prints each layer at high speed.
Perfect for casual use.
5. EPAX X1-N-DJ UV 5.5 inch LCD 3D Printer
Until now, we have been focusing on affordable entry-level options that cater mostly to casual hobbyists. However, if you want a 3D printer for commercial reasons, then the X1-N-DJ by EPAX might be an excellent choice coming at a moderate price range.
The unit features a 2K LCD display capable of producing 47 microns in X and Y resolutions. So, you can expect a resolution of 2560×1440 pixels giving you an excellent level of detail in every print. For commercial applications, we do not expect anything less than this.
The approximate layer curing period for this printer is 7 seconds. Although the speed is a bit slower than competing models, it is still fast enough to give you excellent efficiency. It operates using the ChiTu Box software and comes with an SD card slot for added flexibility.
With your purchase, the company provides you with a handful of resins to get you started right out of the box. However, you are not limited to the specific resins you get as it is compatible with almost any sort of resins on the market. As a result, you do not have to worry about running out of raw materials for printing.
Highlighted Features:
2k resolution LCD.
Suitable for commercial use.
It comes with an SD card slot.
Includes a good selection of resins.
6. Creality LD-002H
For many people, Creality is the go-to budget brand when it comes to 3D printers. The LD-002H, despite its modest price tag, comes packed with features that put many of the top 3D printers to shame. This unit is an amped-up version of their older LD-002R model and deserves a rightful spot as one of the best cheap SLA printers.
If we had to compare this product directly to any other one, we would say it is a better version of Mars 2 Pro by Elegoo. But the Mars 2 Pro features a higher price tag and does not come with an activated carbon filter that gives the LD-002H an edge when it comes to your top choice for a budget printer.
As you might expect, the unit features a monochrome LCD screen with a resolution of 1620 x 2560pixels delivering stunning details in every print. The speed of printing is also quite excellent, giving you a curing time of around 1 or 2 seconds for each layer.
It is also no slouch when it comes to build area offering a dimension of 130 x 82 mm for you to work with. So, you will be able to make miniatures without struggling for space. Besides, its simple design makes it a joy to work with, even if you do not have a lot of experience with this sort of device.
Read our related article on How to 3D Print Figures and Miniatures for a step-by-step guide and helpful video!
Highlighted Features:
Features an activated carbon filter.
Monochrome 2k LCD screen.
Excellent printing speed.
Easy to use.
7. QIDI TECH Shadow 6.0 Pro 3D Printer
For our next option, we will be going with the Shadow 6.0 Pro 3D Printer by the brand Qidi Tech. As far as budget-friendly printers go, this one is one of our favorites. It offers an excellent balance of performance and price, making it a great choice for both beginners and experienced users.
This unit comes with a 2k LCD screen similar to other competitors. However, the screen is slightly larger, coming in at around 6 inches instead of the traditional 5 or 5.5 inches.  It also boasts the Matrix UV LED, which lets you experience a superior print quality whenever you use it.
The print speed of the unit is also quite decent, although a bit lacking compared to a few others on this list. Each layer of print takes around 5 to 6 seconds, which is not the best but is definitely not an issue for some people. However, if you require faster printing performance, you might get better results with another option.
Since the printer is mostly aimed at beginners, it features a very simple and straightforward interface. Sure, it is capable of high-quality printing, but even if you have little to no experience with 3D printers, you should have no trouble operating it. It is definitely a great choice for just about anyone.
Highlighted Features:
It comes with a 2k LCD screen.
Moderate printing speed.
Easy to use.
Features Matrix UV LED.
8. UNIZ IBEE SLA 4K 3D Printer
The IBEE LCD 3D printer by the brant UNIZ comes at a moderate price tag and is suitable for both commercial and casual usage. However, due to the slightly higher price tag and greater performance capabilities, we would suggest this printer to people who want to use it professionally.
Where all the other units on our list had a maximum 2k resolution, this unit uses a 4k monochrome LCD which is extremely rare to find in this price range.
So you can expect the highest levels of clarity and details in your print. If you do not want to compromise on the print quality, this is the unit you want.
Furthermore, the unit gives you an impressive build area with a dimension of 192 x 120 x 200 mm. So, you will be able to print larger models without any issues. It has a maximum printing speed of 80 mm per hour, which is quite impressive considering the detail it can deliver.
The machine comes with a host of connectivity options, including WIFI, Ethernet, and can even utilize a USB flash disk. In essence, this is a desktop SLA printer which means it comes in a compact, lightweight structure. So even if you have a cramped workspace, it should not cause any issues.
Highlighted Features:
4k resolution monochrome LCD.
Print speed of 80 mm per hour.
Impressive build volume.
Premium unit that is suitable for professional use.
9. ZORTRAX INKSPIRE SLA 3D Printer
Zortax is a brand that used to mostly deal in FDM printers. The INKSPIRE is, in fact, their first entry into the world of SLA 3D printing, and boy, did it make an impression!
At a high budget, this is arguably one of the best SLA 3D printers that you can find anywhere.
When it comes to printing speed, this unit truly delivers. Boasting a speed of 20 to 36 mm per hour, this device is one of the fasted 3D printers on the market.
Despite the higher speed, the quality of the print is never compromised. Its consistency of speed and quality really helps it stand out from the rest.
The reason why this unit delivers such excellent quality is because of its UV LCD printing technology. This process is much faster than standard SLA and often gives you a better build volume and quality. Whatever design you use in the CAD application, the printer will replicate flawlessly.
With your purchase, the manufacturers include a set of high-quality resins to help you get started. When you run out, you can use just about any after-market resins without any issues.
Although the unit is on the pricier side, it has a very low cost per print, making it a great choice for commercial usage.
Highlighted Features:
UV LCD printing technology.
Fast and efficient printing.
Easy to set up.
Low cost per print.
10. MALYAN SLA Printer
Wrapping up our list of reviews, we will be looking at an exquisite SLA Resin 3D printer by the brand MALYAN. It is a highly cost-efficient unit suitable for those who want to experiment with 3D printing. Despite being a less-known brand, the quality of this unit is quite decent.
The best element about the unit is its larger build volume. It has a total build area of 192 x 120 x 230 mm, making it an excellent choice for producing larger models and prototypes. This opens up a lot of creative possibilities, and considering the low price tag is a great option to have.
It also delivers an excellent level of accuracy thanks to its high-resolution 4k LCD. Even at this resolution, it does not take more than 2 seconds to print each layer. Furthermore, because of the Dynamic Parallel Matrix UV LED, the unit is extremely energy-efficient, keeping your production cost low.
The unit is quite accessible to beginners thanks to its easy-to-use interface. It uses the proprietary Malyan slic3r software and comes pre-calibrated eliminating a lot of the hassles of setting up a 3D printer for the first time. This is definitely a great choice if you are on a budget but want a high-quality unit for yourself.
Highlighted Features:
Compact design

.
It comes with a 4k LCD screen.
Excellent printing speed.
Low energy and printing cost.
Things To Consider When Buying The Best SLA 3D Printer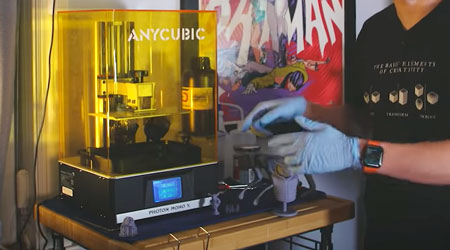 When it comes to 3D printers, there is no definitive "one printer above all" sort of rule. What is perfect for another person might not be the right one for you. That is why we tried to include a wide variety of options at different price ranges in our list of reviews that can cater to a broader range of people.
But there are a couple of factors that we considered critically to ensure the printer matches our standards. Taking the time to go through these features will help you figure out which unit is the best choice for your specific requirements.
So, without further ado, here are a couple of key factors you want to look at when buying an SLA 3D printer for yourself.
Print Quality
The first thing you want to check why buying an SLA resin printer is the quality of print. Unless the print quality is decent, there is no point investing in it. All of the units that we showcased in our list feature excellent print quality, and some of them are pretty affordable.
If you are new to 3D printing, naturally, the quality of prints would be a bit wanting. This has to do with your skills and optimizing capabilities.
So naturally, the more time you spend with a specific printer, the better your prints will come out. That is also something you need to remember when checking for the overall print quality.
Build Volume
The maximum build volume that the printer allows is also a critical feature to consider when buying an SLA 3D printer kit.
If you want to print large models, then you need a printer with a higher build volume. Typically, the build volume of a printer does not directly result in a higher price.
This means you can find many cheap SLA printers with a larger build volume. But the quality of print on budget SLA printers might not be as good.
That is why you need to find a balance between build volume and print quality. It is generally not a good idea to sacrifice the quality of print for higher build volume.
Print Speed
A lot of different factors come into play when calculating the printing speed of an SLA printer. For instance, if you are going with higher print quality, the speed will take a drastic hit. Inversely, if you bring down the print quality, most 3D printers will deliver a better speed.
So, there is no easy way to calculate the exact printing speed of a specific printer. The best you can do is look at the different values it gives at different quality levels. This would give you a decent idea of the speed you can expect at your desired output quality.
Ease of Use
There used to be a time where you needed to be an engineer to know how to operate a 3D printer. These devices used to be exclusive and highly expensive. However, those days are behind us, and many affordable 3D printers come with a short learning curve.
If you are a hobbyist, who wants to print 3D models from time to time, you would have a better experience with a simple device.
You do not require a unit that has many complex features that you might never use. However, if you use it for professional purposes, this might not be an option for you.
Accuracy
A 3D printer replicates the model that you design in a slice or CAD application. But if the accuracy of the printer is not good, it will not be able to print the model perfectly. The better the accuracy of the printer, the better the model will come out after you print it.
If you are shopping on a budget, accuracy is the most important thing you need to check. We have made our list carefully, ensuring that the accuracy is not compromised.
However, if you are planning to buy a device outside our list, you need to tread carefully to avoid making the wrong choice.
Durability
Durability is always a concern when you are buying something. For SLA printers, the concern is even greater because of the relatively expensive nature of this type of device.
Even a budget unit will set you back a couple of hundred bucks. So, make sure your money does not go to waste.
Check the maintenance requirements of the printer and also the overall construction materials. It also helps to check out different forums to get a general idea about the model before investing your money.
The last thing you want is to buy a unit that requires troubleshooting and maintenance every few months.
Material Compatibility
An SLA 3D printer uses resin as the raw material to construct a 3D model. But there are many different types of resins available on the market.
Although some resins are quite affordable, there are resins that can be quite expensive. If your device requires a specific type of resin, it might be a problem for you.
So, make sure you are going with a unit that can utilize a wider variety of resins.
That way, you will be able to get the material easily from your local stores without having to contact the manufacturer for the specific resin. This drastically enhances your flexibility when working with the printer.
Customer Support
Even though 3D printers have become much simpler these days, it is still a complex machine that requires timely maintenance. If you are not comfortable with taking care of your device on your own, you need to contact the manufacturer to send licensed professionals to fix it.
That is where good customer support comes in handy. If the unit you buy is from a reputed brand, there is a good chance that they offer excellent customer support. This means that anytime you face any issue with your printer, you can rely on the manufacturer to help you out.
Price
When you are investing in an SLA 3D printer, price is definitely a big factor. Not everyone can afford the most expensive unit available. Thankfully, not everyone requires the most expensive machine either.
You need to understand your requirements and think objectively to get the best value out of your investment. The first thing you want to do is set yourself on a fixed budget. Having an idea of how much you can spend helps you filter out expensive units out of your list.
That way, you can focus on a few models and look at their features closely to figure out which unit will best serve your needs. Overspending on a model with complex features is never a good idea if you do not need it.
Read More: Comparison of 3D Printing Technologies. See how resin vs filament in 3D printing compares!
Benefits of Using an SLA Printer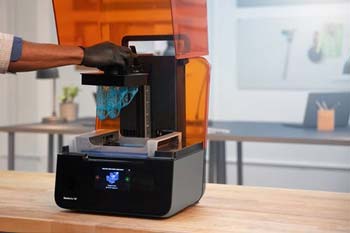 Having an SLA printer offers a lot of utility whether you use it commercially or produce small models as a hobby. Although there are many different types of 3D printers, the SLA printer is the better choice out of the bunch for a number of reasons.
In the following section of the article, we will give you a brief idea of the major advantages that you get from using an SLA printer:
Precise 3D prints
If you want the highest levels of precision when printing your 3D models, then the SLA printer is the way to go. Since it uses lasers to create intricate details using resin as raw materials, the quality of the print is much better with it.
Smooth surface finish
Precision is not the only good thing about SLA printers. The texture of the print is also smoother after you finish. That is why both hobbyists and professionals opt to go with this type of printer rather than fused deposition modeling ones.

Wide variety of material
SLA printers use resins which can come in quite easily available. You can also buy LCD resins which are much cheaper compared to standard ones.
Lower production cost
Although the cost of resins is a bit higher than that of filaments, the cost of print with SLA printers is much lower. So even if you have to spend a bit more on buying your actual machine, your production cost will be significantly lower, which in turn gives you a better value.
Large Volume
Since the production cost of SLA printers is lower, you can naturally print a greater volume. In addition, it allows you to mass produce any 3D model you want without any extra hassle. These days, most of the custom hearing aid you find on the market are made using SLA 3D printing technology.
Stiffness and strength
Another great thing about SLA printed models is the overall stiffness and strength of the product. You can create strong and sturdy models using this type of printer that will not break or crack under impact. This, however, depends on the type of resin you are using for your model.
Chemical resistant
Similarly, you can use resins that give your models chemical-resistant properties. Because of the flexibility with the type of resins you can use with your SLA printer, the models you print with it are usually extremely durable. Just make sure you do not compromise on the quality of the resin.
High-resolution prints
If you are after high-resolution prints, then an SLA printer will not disappoint you. And the best part about it is that there are many affordable options in the market that delivers high-resolution print at a low price. You have already seen some of them on our list.
See our related article, What Does Resolution Mean in 3D Printing? We define terms in this helpful guide!
SLA Vs FDM 3D Printers: Which One Is Better?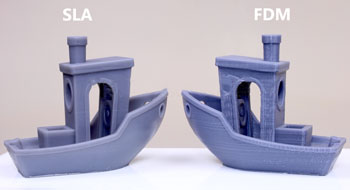 The term FDM stands for Fused Deposition Modeling. This type of 3D printer is the most common one you will find on the market. We have already discussed how SLA printers work. Before we make the comparison, you also need to understand the basic principles of FDM 3D printers.
Where an SLA printer uses resin as raw materials, FDM printers use thermoplastic filaments. This type of printer melts down the plastic and layers it on the print bed to replicate the 3D model you set in your CAD application.
Filaments are much cheaper compared to resins. In addition, the printing speed of an FDM printer is higher. However, the quality of the print is way better when you are using an SLA printer. That is why most commercial users go with SLA printers over FDM ones.
Although both SLA and FDM printers require a bit of study to learn to use properly, FDM printers might be considered the easier of the bunch. It is a much simpler machine compared to SLA printers and thus better suited to new users who have no experience in 3D printing.
If you are wondering which one is better, sadly, there is no right answer here. In terms of print quality and precision, SLA printers are the clear winner. However, for people looking to find the most affordable way to get into 3D printing, FDM printers offer the perfect solution.
Read our related article on the Types of FDM 3D Printers. We dive into the main FDM printer types, what they're used for, and their advantages and disadvantages.
Frequently Asked Questions
Here are the answers to a few common questions you may have about SLA 3D printers.
Are SLA 3D printers Expensive?
There used to be a time when SLA 3D printers were considered too expensive for casual use. However, these days there are many affordable options available that can serve you well if you want to use them as a hobby. Our list of reviews focuses on a few affordable models that you might like.
Do 3D printer resins have an expiry date?
Yes. Regardless of the quality and price of the resin you buy, all of them come with an expiry date. Typically, most resins expire after 365 days.
However, you can still use the resin even if it expires. But its efficiency will be reduced drastically so it is better to buy a new batch if you can afford it.
Should I wear protective gear when working with an SLA 3D printer?
Yes. Resin is a highly toxic material and can cause severe health issues if you are not careful. You can easily develop a rash if it touches your skin. And if it somehow gets into your lungs, you need to rush to the hospital.
That is why it is a good idea to always wear protective gear such as masks or gloves to ensure your safety when operating a 3D printer.
Read More: How Dangerous is Resin 3D Printing? Should you be worried about the negative health effects of using your 3D printer? Resin can be toxic. Here's what you need to know to protect yourself!
Final Thoughts
Investing in your first SLA 3D printer is a big step towards learning the different techniques and tricks of printing 3D models like a pro. It involves a lot of trials and errors, but that is all part of the learning process. SLA printing isn't everyone's cup of tea. There is a bit of a learning curve here.
With practice, the quality of your prints will improve before you know it. That being said, these printers that I have recommended are sure to help you throughout the whole learning and printing process.
We hope our article on the best SLA 3D printers could help you figure out the perfect product for yourself.
Up Next: Mouse for auto CAD and 3d modeling.