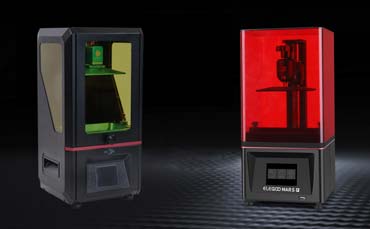 There was a time when 3D printing in resin seemed to be only for people with no budget limits.
SLA machines that supported this kind of printing used to cost thousands and thus were meant for professionals mostly.
Luckily, some brands launched certain SLA printers a few years ago which were priced at much lower scales.
This opened up many new doors for the creative individuals who wanted to invest in one of those machines just to see how it goes!
If you consider yourself a creative individual or a low-key 3D printing enthusiast, let us tell you about two affordable resin printers you can check out.
Because of their many similarities, we have decided to compare Elegoo Mars vs Anycubic Photon head-to-head.
What Is Elegoo Mars?
Elegoo is a Chinese start-up that focuses on technological products. Mars has been a highly popular line of printers for them since these devices make resin printing more affordable for many.
As a result, the upcoming entrepreneurs can start bringing their creative ideas to life by making a small investment in these printers.
Since their launch in 2017, these consumer-grade 3D printers have been doing a great job of keeping both newbies and experts satisfied.
Advantages Of Elegoo Mars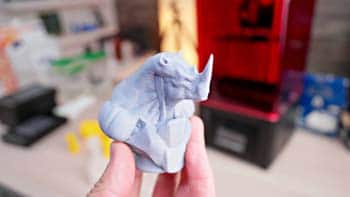 Peaceful Experience
Elegoo Mars is constructed based on the technology of masked stereolithography. Utilizing this technology, the printer is able to create the target model by curing the photoreactive viscous liquid resin in extremely thin layers on the build platform.

Compared to the usual FDM, this process continues in a much more hassle-free manner. You don't have to deal with wrangling filaments or nozzles damaging the previous layers with Elegoo Mars. Here, the liquid resin comes out smoothly while a moving axis creates layers on the build plate quietly.
Premium Feel
The body of Elegoo Mars printers is a robust one made from aluminum. Along with the sturdy structure, it also ensures an appealing design using a matte finish. All of these make it seem like a premium device. This cubic 3D printer weighs about five kilograms which makes it light enough to be used at home.
Great Performance At Low Price
Anytime one sees a cheap price tag, it usually translates into cheap quality and low durability in their mind. However, Elegoo Mars has proven itself to be a pleasant exception.
Even though its cost is quite low, the 3D printer provides a high quality of performance that ensures better productivity for your team and maintains the good reputation of your business at the same time.
Disadvantages Of Elegoo Mars
Awkward USB Position
USB is often the primary medium to establish a connection between the 3D printer and your computer. So it will surely be a regular inconvenience if the USB port is placed at a spot you can hardly reach.
Elegoo Mars has this port on its back panel which makes it difficult to access, especially if you have set up the entire printer in a way that its back is facing the wall.
Size Limitations
This 3D printer is not meant for large structures. It is confined by its decent printing volume of 120x68x155 mm which only allows creating miniature decoration pieces, jewelry and small mechanical prototypes.
Therefore, you will need to keep the size limitations in mind before deciding or taking on a project.
What Is Anycubic Photon?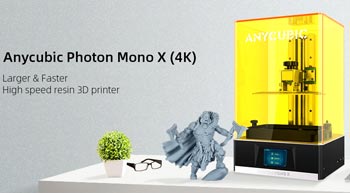 Photon is another 3D printer series that delivers excellent printing quality at a very reasonable price. It belongs to the brand of Anycubic that is completely dedicated to 3D printing products and solutions.
The machine works based on resin stereolithography which makes it capable to produce models with higher definition. It works well with all the popular operating systems including Mac, Windows and Linux.
Advantages Of Anycubic Photon
Proprietary Software
One of the most attractive features of this printer is the proprietary software it comes with. Anycubic themselves developed this slicer software which enables you to prepare the model in a faster and easier way. Novice users will find it quite simple to understand and benefit from some predefined properties as well.
Auto-Generation Of Support
If you are not used to working with support structures or 3D printing before, Anycubic Photon can take care of it for you. This device will let you choose between automatically generating the support structures and manually inserting them.
Generally, going for an automated function in a creative job may often result in messy or inconvenient situations. However, the automatic generation and slicing of support by Photon have proven to be quite sound and reliable.
Offline Printing
You can use it to materialize many creative structures in resin – even when there is no internet connection!
There is a built-in operational system included in it so that you can continue printing the 3D designs offline. As a result, you don't have to worry about network connectivity and can enjoy print stability.
Read More: Comparison of 3D Printing Technologies. This guide looks at resin vs filament in 3D printing!
Disadvantages Of Anycubic Photon
Unpleasant Odor And Long Post-Processing
While Photon does provide many convenient features to make each printing session productive, it also gives you a ton of work to get through after that session is over.
In general, resin printing is quite messy and the process produces an unpleasant smell. Unfortunately, the carbon filter on Photon's fan fails to dilute it enough and the odor overwhelmingly prevails throughout the space.
Moreover, it will take a lot of time to clean and cure the parts involved.
Lack Of Customizations
Even though their proprietary software is very easy to use and great for beginners, it doesn't have enough attributes to play with for experienced users.
The few things you can change in its settings before starting a 3D printing task include support generations, resolutions, normal exposure time, bottom exposure time, bottom layers, layer thickness and off time.
Comparing Anycubic Photon Vs Elegoo Mars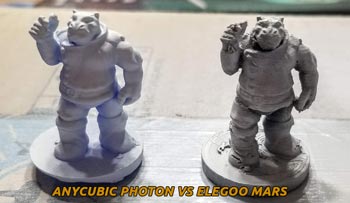 Uses
Both Anycubic Photon and Elegoo Mars are used for producing similar 3D printing structures. That is because their build volumes are very similar – 120x68x155 mm for Elegoo Mars and 115x65x155 mm for Anycubic Photon.
Because of their limited space, they can only accommodate printing small structures. They are usually ideal for making jewelry parts, tabletop showpieces, board game miniatures, and detailed models of versatile projects. Even though they have a limited build volume, you can still use them to make intricate designs.
Read our related article on How to 3D Print Figures and Miniatures for a video on 3D printed miniatures and a step-by-step guide!
Bed Leveling
Bed leveling is an undeniably significant part of any 3D printing process. If it is not done right, the first layer of your 3D printed structure may not be tight enough to hold up the rest.
So it would be more convenient if the printer was able to take care of this step by itself.
That is why, Elegoo Mars wins this round since it offers a self-leveling bed. Anycubic Photon, on the other hand, needs you to manually level it.
Assembly
This is another aspect where these two printers share a similarity – they both arrive pre-assembled. There are only a few more steps to complete their assembly and the time it takes to complete these steps determines which one saves more of your time.
Elegoo Mars seems to be the better choice in this regard since completing its assembly takes only a couple of minutes while Anycubic Photon takes about 20-30 minutes.
Slicing Software
A great advantage Anycubic has over Elegoo is its proprietary slicing software. Because of their own software which comes with many predefined properties, the Photon can be much easier to use for the newbies. However, the same presets also limit the possibilities of customization for the user.
Elegoo Mars, on the other hand, takes help from ChiTu Box software to let you make all the inputs for settings. Even though it is not their own software, it can satisfy experienced users with a variety of customizations and interesting features like model hollowing.
Touchscreen
Although both of these 3D printers come with a color touchscreen, Elegoo seems to show the information more clearly due to a larger display. Its touchscreen is 3.5 inches in size while the Anycubic Photon's touchscreen is a compact one of 2.8 inches. However, both are good for viewing the printing status in real-time.
Bottom Line – Which One is For You?
As you can see, we have found a lot of similarities while comparing Elegoo Mars vs Anycubic Photon. Both of these 3D printers offer you high-end quality, intricate details and a number of convenient features at a very economical price point.
Elegoo Mars has a bigger touchscreen and self-leveling functions whereas Anycubic Photon has proprietary software.
However, since the software also limits the scope of customization, Elegoo Mars seems to be the winner by a narrow margin.
Also read: