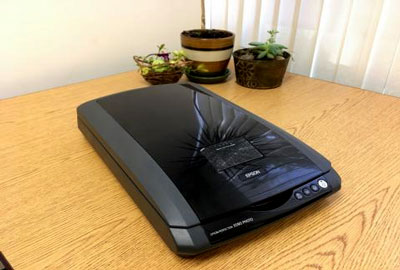 Have you found some vintage photographs that you never knew existed? The same goes for the discovery of the long-lost written agreements or letters.
As you keep looking at them, you realize how old and worn out they seem. The photos have spots on them while the documents, well, almost moth-eaten!
There is only one way to preserve such treasures, digitization. Making soft copies and keeping them forever intact means scanning them with high-end quality.
This is why it is crucial to acquire the best flatbed scanners that can handle these tasks. So how do you find the right one to keep things low profile and provide stellar performance at the same time?
Why, we have got a bunch of them for you to check, evaluate, and own!
Our Recommended 12 Best Flatbed Scanners Reviewed
So what makes a flatbed scanner apart from the other? Let us find out which product the hobbyists and professionals opt for most and why.
1. Plustek Optic Slim 1180 Flatbed Scanner, White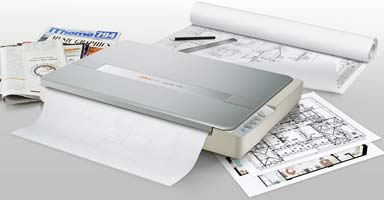 Believe it or not, this A3 device is the best portable flatbed scanner than most compact ones out there. If you are an artist or architect, the 17-inch maximum area can be a good start for your projects.
It offers a powerful software bundle in order to attain versatile file sharing and other attributes within your reach. May it is maps, large blueprints, or newspapers, you will not experience such quality in similar products.
While the Grayscale A3 size only takes nine seconds to complete, it is about fifteen seconds for colored images. The device supports almost all operating systems, giving you access to flexible usage.
It also comes with a maximum DPI of 1200 that aids the architectural firms to preserve the aged paper-based drawings. The device will help you tremendously in managing large arrays of archival files once digitized.
The same goes for magazine clippings, old newspaper headlines, or examination papers for future handling. It has an LED light source, which means efficient energy utilization plus no more pending on warmup stage.
There are four pre-set buttons to simplify the scanning process. In short, this product is good news to all the libraries, firms, and artists who have to deal with mounds of papers but zero protection against damages.
Highlighted Features:
11.69 x 17-inch scanning area.
48 bit/16-bit color depth with 1200 DPI.
Includes software bundle for various sharing operations.
LED light source to eliminate warmup and save energy.
4 pre-set one-touch button for quick function.
2. Plustek ePhoto Z300 Scanner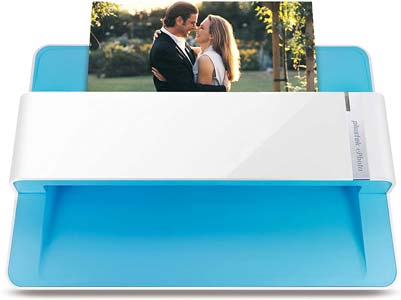 This is another amazing flatbed scanner by Plustek that people have found helpful for safeguarding valuable photographs. Its compact design is perfect for small workspace desks.
What we loved about the machine is how well it can handle decent photo prints at this price. The product is something most hobbyists with a tight budget can benefit from.
While it falls slightly behind at high-grade scan quality, the output for household use is pretty impressive. This unit is best for snapshot digitization and old documents preservations.
It is quite easy to set up and get to work. The Z300 scanner uses a button-free scanning process and supports various sizes of photos, letters. Its highest DPI is at 600, but the user can set it to 300 for a different resolution.
The best part about the product is the quick conversion to soft copies in a matter of a couple of seconds. Moreover, it can automatically detect the photo size to crop the blank space and rotate accordingly.
You can easily save the scanned images to a list of formats via the software interface. The only drawback is that the device is terrible at document scans. It takes more than a fair share of time to have a document scanned.
Still, we think it is a great investment for your house where many old memories are hidden in shoeboxes.
Highlighted Features:
Supports 4 modes of photo sizes.
2-5 seconds quick scan when fed.
Two DPI settings; 300 DPI/600 DPI.
Works with several operating systems.
No buttons operation.
3. Epson Perfection V600 Scanner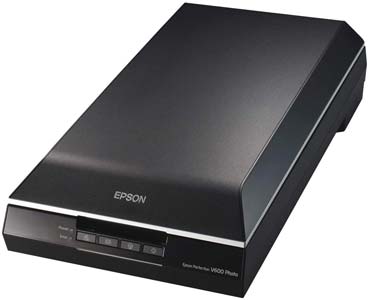 Do you need a perfect way to digitize all the golden days' moments before they are damaged? Well, nothing can beat the quality of Epson Perfection V600 for being the best flatbed scanner for photos in this case.
The whooping 9600 DPI resolution ensures flawless soft records of all your precious memories. It will help you restore the damaged photos with quick fixes in no time.
Plus, creating extra-large photos up to 17 x 22-inch from films is a piece of cake in this device. The machine is small and lightweight enough to set up anywhere on the desk.
Since it will not take much space on the given surface, the user can enjoy the vast productivity of scanning operations. It also features digital ICE for both films and prints.
The one-touch color restoration will bring back the originality of the dusty old films and scratched-up photographs. This device can even scan receipts, invoices, and other minute details for archival purposes.
It comes with an energy-efficient LED light source that poses no threat to the environment with mercury assimilation. You can say it is one of the ideal choices you can find for film and photographs scanning.
The device has versatile options that are superb for both home and office use. It will not disappoint you to achieve remarkable outcomes.
Highlighted Features:
6400 x 9600 DPI for film enlargements.
Digital ICE to remove dust, scratches, tears, and creases.
Built-in Transparency Unit to scan slides, negatives, or films.
ReadyScan LED light source to eliminate warmup time.
OCR software to further convert documents into editable texts.
4. Xerox XD-COMBO Duplex Flatbed Document Scanner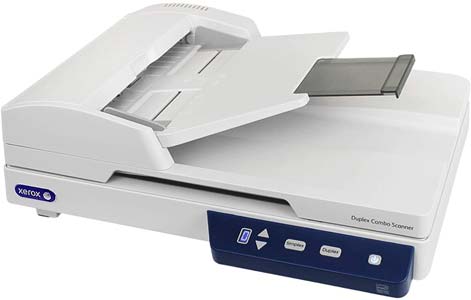 Most of the dedicated business scanners with feeders cost more than one can spend. Remember that these devices have to go through a lot of scanning at work.
However, you can acquire Xerox XD-COMBO at a very reasonable price and achieve packed-in features to guide you into time-saving results. Admittedly, it will not bring out the best of qualities like the expensive ones.
But it sure can do the job diligently. It comes with a bed feeder that is great for clear image quality. We would not put much faith in the device when it comes to photo scanning, though.
The unit is more suitable for versatile forms of documents for records and archiving reasons. It is compact but allows duplex and simplex scans. There is also the 35-page auto document feeder option to work in color/grayscale at up to 300 DPI.
This model also offers quick image enhancement before saving with the help of the software. So you can improve the clarity of a blurred ID photo without much effort.
You might have some trouble with a thick book or file when scanning, but the lid will do its best to capture what it can without darkening the process. In any case, if the user is looking for a scanner to store the documents, this will be it.
However, it is not suitable for large duty cycles in comparison to heavier needs. It still does the job of digitizing the important files without a complaint.
Highlighted Features:
25 PPM/50 IPM at up to 300 DPI with 1500 pages/day Duty Cycle.
 Includes ADF for 8.5 x 118-inch long continuity area.
Creates PDF searchable files.
Visioneer Acuity technology to enhance image clarity.
Duplex and simplex scanning with the one-touch destination.
5. Canon CanoScan LiDE Portable Flatbed Scanners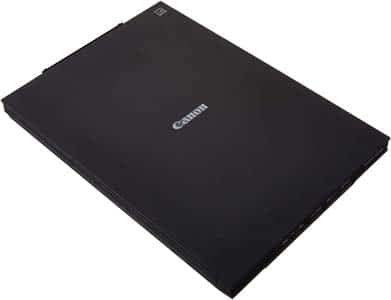 This is one of the portable flatbed scanners that are slim, black, and look incredibly stunning in the working area. It offers 4800 DPI resolution for the high-end outcome.
Although it is most flexible for photographs, it takes in old documents as well. Thus, you can keep a record of a bunch of long-forgotten letters or legal papers.
While some users claim to have poor image quality experience, others remarked on the Mac compatibility issue. These are the only problems some have faced. To clear your confusion, the device is suitable for Mac users; just a tad tricky, that is all.
As for the image quality, it delivers decent enough to have them printed and framed. The only thing it misses is the auto-tone correcting option in the software, the application is quite inadequate apart from scanning operations.
If you want to retouch the photographs, you might have to rely on a third-party solution. Despite mentioning 4800 DPI by the brand, almost all the consumers have found the 3800 DPI during scanning.
On the other hand, it comes with a satisfying 8-second, high-speed function. This allows the user to work on a collection of photos quickly.
What we loved the most about this model is the way it can scan upright, saving more space on your desk. This is why we think it can be a great option for those with a small workspace but requires constant use of a flatbed scanner.
Highlighted Features:
Scanning duration is 8-second for a high-speed result.
Includes Type-C USB for data and power.
4800 DPI resolution for detailed image preservation.
EZ button to avail auto-scan mode.
48-bit color depth for better picture quality.
6. Epson Perfection V19 Scanner Professional Flatbed Scanners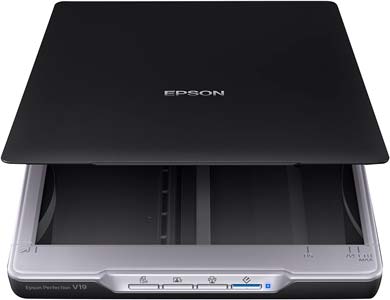 When it comes to flatbed scanner models, nothing can beat the popularity of the Epson brand. Its various functions let the users create many secured and digitized files without any problem.
So, does the Perfection V19 meets such beneficial features overall? It is a slim, small device with a detachable lid function. That makes it a great space-saving scanner for plenty of projects.
It even has a built-in kickstand to place it vertically on the desk. This design makes the unit more elegant and fitting to a congested surface area.  
The 4800 DPI resolution makes the letter-sized images all the more detailed and clarified through software touchups. Remember that this is a USB powered model, a modern feature that some old computers might not be compatible with.
It consists of quick, shortcut buttons to scan directly to email or PDF files. The 10-second speed provides greater service than most of the old-school scanners.
If you are thinking about making soft copies of a bulky album, do not worry anymore. The V19 model with a removable lid will ensure it fits the scanning surface.
Keep in mind that the device is compact, so the album should be around a similar size, too. It is affordable and a better way to scan, retouch, and preserve the files for reprints/sharing.  This can be a preferable option for regular use at home.
Highlighted Features:
4800 DPI resolution.
One-touch buttons for a direct scan to email/PDFs.
10-second duration for letter-sized photographs.
Includes software to share on cloud services.
Built-in kickstand for upright placement.
7. HP ScanJet Pro 2500 f1 Flatbed OCR Scanner

The brand HP is yet another name in the market almost every consumer has heard of. While its printers have taken the world by storm, many are unsure of the scanner quality.
Let us clear your mind of the confusion and tell you that this scanner model is pretty decent to make ends meet. In fact, it is a favorite to many loyal customers of HP for delivering speedy operation.
The device can produce up to twenty pages per minute scans, including a large number of sheets on a daily basis. You can either choose single pass or double-sided scanning to ensure automated workflows.
Moreover, the ScanJet Pro 2500 also offers an ADF (Auto Document Feeder) that can take in about fifty pages. You can even leave them unattended; the unit will perfectly do its job.
From various paper size administrations to multiple sharing platforms, it has them all within 1200 DPI resolution. We have to tell you that this is not ideal for photograph scans.
The unit is rather used for digitizing documentation on regular terms. Thanks to its higher DPI number, all the papers with identification photos will not have to suffer through poor-quality renders.
And its software will make sure to adjust the scanned papers based on your requirements.
All in all, this HP flatbed scanner model is a great investment for the government/finance/education sectors that necessitates large masses of archiving.    
Highlighted Features:
1200 DPI resolution for versatile paper sizes.
1500 pages/day & 20 pages/min speedy function.
ADF loads up to 50 pages scanning when unattended.
Simplex/duplex option with an LED light source.
Scan directly into Cloud services or emails.
8. Plustek OpticPro A320L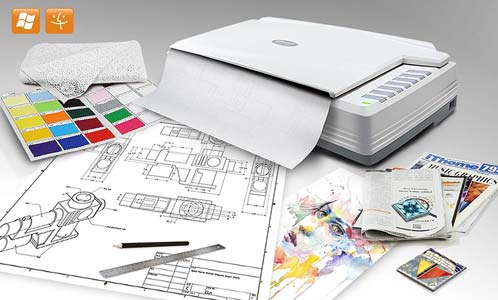 If you are a fan of Plustek and wish to replace the old model with a new one, here is the best flatbed photo scanner for you. It can be an amazing way to preserve what you value the most.
This is why it turned out to be a reliable source of digitization for many artists. Whether you want to create posters for a gallery or backup your artworks, the 1600 DPI optical resolution enables desired depth in the pictures.
The unit uses CCD dual lighting source that ensures balanced shadow, greater dynamic range, and noise reduction. Therefore, the scanned image will have an identical color depth to the original.
It is a significant feature for all creative artists who do not like odd highlights or shadows that ruin their works. You will be impressed by its higher details even when you are 10mm away from the surface.
You can connect the device to many operating systems, a huge relief to many users. And the best part is, it only takes around 7.8 seconds for an A3 image scan, of course, with the DPI lower than 1600.
Overall, it is a superb solution for many users who has to scans large drawings, maps, or even large bound books. The several buttons on the device will make scanning a breezy operation.
Highlighted Features:
Up to 12 x 17-inch working area, supports A3 size.
Maximum 1600 DPI resolution.
CCD image sensor for preventing distortions/shadows.
7.8 scanning speed on any mode at 300 DPI, A3.
Supports various OS for effortless connectivity.
9. Xerox DocuMate 3220 Duplex Document Flatbed Scanner, Gray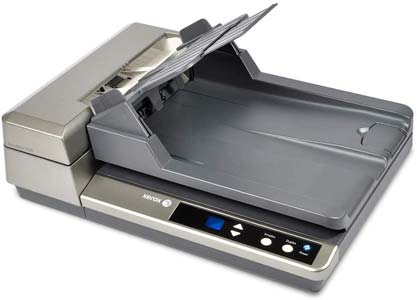 Here is another Xerox flatbed scanner model that is quite decent for document records. It is heavy-duty and offers loads of operational period at workplaces.
Although we admit the product was a letdown to some consumers, it is still a quality unit for paperwork. You can literally reduce the cluttered sheets on your desk by scanning them to your PC.
So, it is also a kind of a device to resolve messy office desk. The best part about the unit is the straightforward process to get things done. Do not mistake the DocuMate 3220 for a high-grade image scanner.
It will do a good enough job for the normal pictographic documents, though. The only 200 DPI resolution limits the imagination to a level. Despite comprising multiple one-touch and shortcut buttons, it is not suitable for high color depth scans.
Other feature includes the ADF with 50 sheets without supervising the process. Plus, the low DPI offers shortened scanning duration and compatibility to multiple operating systems.
In brief, it is a solid model to last for many years, though it eliminates the premium grade image quality. The machine can be a good inclusion at workplaces that requires digital documenting.
If you do not wish to spend much and have a bunch of similar model scanners for your business, this should be under initial consideration.
Highlighted Features:
Input sheet capacity of 50 in ADF, 8.7 x 38-inch paper size.
8.5 x 14-inch flatbed sheet size.
200 DPI with the 24-bit color depth.
23 PPM/46 IPM in B&W; 13 PPM/26 IPM in color.
Simplex/duplex availability with single-press buttons.
10. Epson Expression 12000XL-GA Flatbed Scanner, Gray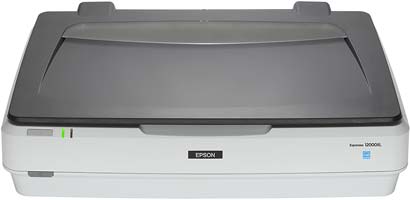 Of all the flatbed photo scanner reviews we have provided, this one is our most favorite. It does not have the slim, compact vibe at all, but it certainly picks up the best in all functions.
The Epson Expression 12000XL-GA can give you the most extraordinary image quality with a maximum 4800 DPI resolution. This means whatever photograph you scan can be reprinted in a larger size without compromising the quality.
Although it has a bulky design with not so appealing gray lid, the cover is not detachable, so you might have to take out the photos from the thick albums for a proper scan.
It is also slightly heavy and takes up space, being large and all. However, if you have to use the machine every day for large photographs, we think this is a better option than the compact ones.
If you have a lot of reflected media, you do not know how to fix, simply use this scanner with its software bundle for quick touchups. Another time-saving aspect includes the batch function, where you can add multiple photos for scanning.
You will not have increased productivity but also achieve an energy-efficient LED light source for uniform performance.
Highlighted Features:
Maximum 4800 DPI for up to 12.2 x 17.2-inch formats.
ReadyScan LED light source to save energy.
One-touch color restoration with Epson software.
Batch-scan facility for increased output.
 Automatic dust removing option.
11. Fujitsu fi-7260 ADF + Flatbed Professional Scanner, Gray + Black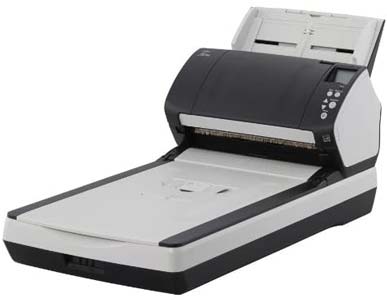 The Fujitsu fi-7260 is one of the professional flatbed scanners many offices or firms utilize daily. It is known for ease of operation throughout the day when one needs to scan a bunch of old documents.
On the other hand, some have found its software to be quite daunting. Thus, many users had the irritating experience of figuring out the system. Once you grasp the way about how it works, you will love the machine more than anything.
It is highly reliable in terms of keeping important papers secured as soft copies without losing the quality. The device may be compact but covers wide ranges of scanning operation without failing.
A lot of the consumers have chosen it as their daily-use for work. With a 600 DPI optical resolution limit, anything is attainable to preserve the details. On top of that, it focuses on sixty pages per minute — an incredible feature for busy people.
The attached flatbed alongside the ADF ensures scanning of delicate book pages and other thick bundled options. And if the paper gets jammed in the feeder, the machine automatically realizes the matter and stops immediately.
We have to tell you that it hardly had to face any jamming issues so far. The device also comes with optical character recognition function. This feature allows the program to recognize text when you convert scans to Word documents.   
Altogether, the user will greatly benefit from this model for daily use. However, the software might give a slight headache at the beginning.
Highlighted Features:
600 DPI optical resolution with 60 PPM.
ADF with a flatbed for versatile scanning options.
Intelligent sonic paper protection to stop during a paper jam.
Skew reducer for steady paper feeding mechanism.
Abbyy FineReader OCR to recognize text during conversion.
12. Canon CanoScan 9000F Flatbed Photo Scanner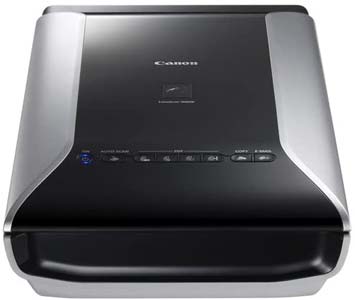 We have selected Canon CanoScan 9000F as our final and one of the top flatbed scanners for your assistance. This will come in handy for those with artistic projects to digitize.
It also works superiorly with old and new photographs. This device offers the highest DPI of film scans on our list. The 9600 seems a bit steep for normal users, but it is a dream come true for all the photographers, designers, etc.
If you add the 48-bit color depth with the high resolution, you are getting about several hundred trillions of color possibilities. It will bring out the most vivid, the brilliance of the original image effortlessly.
The device incorporates EZ buttons for most operations, an auto-scan button, and a software bundle for innumerable retouching. You can even make the old 35mm films look virtually new with this device.
It has a Film Adapter that can include one whole strip each time during scanning. The Auto Document fix maintains the color tone and contrast by advanced analysis correction.  
Additionally, the dust and scratch removing feature restores any photo, bringing back the long-forgotten memories! It also eliminates dark gutter problems during page scans.
In short, nothing can go wrong with this brilliant CanoScan 900F scanner when it comes to upholding the precious still moments.
Highlighted Features:
9600 DPI with 48-bit color depth at max 8.5 x 11.7-inch.
EZ buttons for one-touch operations.
Various retouching and fixing options with FARE Level 3.
Auto-scan mode; film guide for 35mm positive/negative films.
Includes USB 2.0 Hi-Speed for super-fast transmission.
Top Flatbed Scanners Comparison Chart
| | | | |
| --- | --- | --- | --- |
| | | | |
| | | | |
| | | | |
| | | | |
| | | | |
| Canon CanoScan LiDE Scanner | | | |
| | | | |
| | | | |
| | | | |
| | | | |
| | | | |
| | | | |
| | | | |
Flatbed Scanners Buying Guide
If you go for these machines blindly, you will likely be handed out something that is not in your forte. Hence, a few factors of consideration before venturing into that field.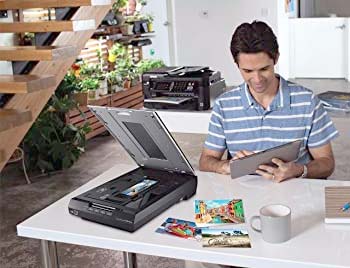 Space Availability
You are happy to have found the best flatbed scanner for your essentials. Now, as you look at the state of your desk/workspace, what comes to mind?
That is right, never choose a model that cannot sit comfortably on the desk surface or next to the printer. Most of these units have a compact build so the person can easily fit the device.
However, some workspaces overfill with files and other accessories that one hardly can place a scanner. We advise you to avoid bulky ones, for that matter.
However, if the user can provide an additional area for a big model to scan larger documents, feel free to aim for the big ones.
DPI
This is one of the most crucial factors to consider for good-quality flatbed scanners. DPI or dots per inch explains the resolution quality of the scanned image/document.
Our all-time recommendation would be to opt for greater DPI. The higher you get, the more excellent the digitized copy will be. Usually, a scanner with moderate DPI is sufficient for most users.
If you are a graphic designer, photographer, then the number must be at the peak. In fact, the most top DPI is advisable for such professions.
On the other hand, the DPI between 600-1200 is quite enough for business purposes.
Bit Depth
The bit depth is what represents the image in a given color pixel when transferred to the screen. Therefore it is somewhat similar to DPI when it comes to its importance.
Lower bits in per color channel means limited hues to work with. It could ruin the originality of the image. This is why greater bit depth is rather preferable to most people.
We suggest the range should be around 24-36 for significant depth in general terms.
However, you might want to aim for an even higher bit depth if you are a designer or the projects involve daily graphics assignments.    
Budget
Know that all the units in our flatbed Scanner reviews consist of the variable cost factor. It is to lay out an idea about a brand's worth and how each has a different value.
Although it is an unenthusiastic step to take, it is also a sensible one to ensure an efficient purchase. Therefore, do not forget to set a budget about how much you can spend.
It should come to you before deciding on any make or model in haste. Features like DPI and bit depth will alter the price range. So check their number to match your target.
Also, you must not overlook the need for a cheap product. Make sure the one you choose covers the practical requirements and nothing more.    
Suitability
You might discover many features and functions of a scanner that fail to meet your needs. As you continue your research for a new model, you will come across many advanced options.
Nowadays, scanning does not only mean traditional methods of operations but also software and data storing capabilities. So you will have to weigh on the highlights of these products to make a better decision.
Frequently Asked Questions
What is a flatbed scanner used for?
You can think of it like a copier machine, only flatter. It uses leveled glass surface to scan documents and such.
A lot of these products come with adjustable lids. It lets the person raise to a degree for scanning thick books, magazines, albums, etc. 
Is it better to scan photos in PDF or JPEG format?
Honestly, PDF format is never a good option for image scans. You cannot control the image compression, and it will eventually turn out worse for editing. So it is better to choose the JPEG format, which is easy to share.
What format is best for saving photos?
The straightforward answer is TIFF and PNG. While TIFF delivers lossless data when scanning, PNG is more about saving space. Although PNG is widely supported, the TIFF format never compresses data like the other options.
JPEG format should not be the ideal choice since it compresses the image and loses much data. Despite setting the function at 100% quality, JPEG often minimizes the document/photo value poorly.
What is the best DPI to scan old photos?
You can start from 600 DPI if the original image is about 2 x 3-inch. The scanned result will make it a 16 x 24-inch soft copy without losing the quality.
What is the best resolution for scanning slides?
The best recommendation for scanning slides is about 3000 DPI to 4800 DPI. However, the process will take a long while to finish due to high DPI.
On the other hand, this type of scanned images is much suitable for larger prints.
What light sources does a flatbed scanner use?
Many come with a fluorescent lamp or a CCD array as the light source of a scanner. They are also best known for good detectors.
Nevertheless, the recent manufacturers have found the light emission diodes (LED) tends to be more constructive than fluorescent lamp. 
Final Words
Have you found a favorite yet? Do not worry if it takes a while to comprehend the suitability. As long as you get the best flatbed scanner for your use, we are more than happy to comply. 
All the options in our list are great in terms of the biased popularity of consumer remarks. So good luck in finding yours!
Up Next: Our selected document cameras for teacher – Top 10 picks.