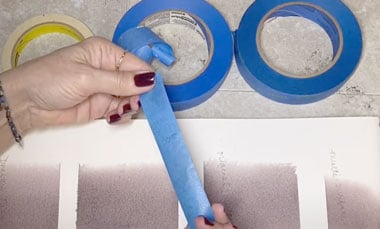 When painting with watercolor paper, the biggest fear is the smearing of colors near the edges. Masking tapes are handy to give your painting a sleeker and cleaner look.
But not every masking tape will serve your purpose. So, you need to pick the best tape for watercolor paper.
Which tape has all the features to provide you with the best overall experience in watercolor painting?
We will go through some of the best tapes available in the market and help you find the ultimate tape. Let's get started.
Our Top 5 Best Tape for Watercolor Paper 2021
We have manually chosen these tapes from the market depending on their quality, performance, and features.
Let us share all the details with you and help you decide which will be the right fit for you. We will try to be as concise as possible.
1. Mr. Pen Masking Tape Roll
Be it your watercolor painting or DIY project; a thin masking tape is always better to save your back.
You can use Mr. Pen masking tape roll for narrow spaces, which is 50 yards or 150 feet in one roll. You get 3 of these rolls in the package, so they are good enough to cover 150 yards or 450 feet.
The adhesive strength of this masking tape roll is higher than many others, so it gets attached to any surfaces like walls or paper.
For watercolor painting, you can easily fix the tape near the edges of your canvas to get clean paint without smearing colors.
But peeling the tape after the painting is where the problems begin. Often you ripple the paper while peeling the tape.
But with this tape, you get a clean peel after you are done. It won't tear your paper and ruin your artwork, so you can use this tape without any worry.
In tape adhesives, acids are commonly used to make the adhesive perform better. But in the long run, these acids result in discoloring the paper over time.
To save your artwork for a longer period, you need tape like Mr. Pen made without using any acid.
You can also use this item as labeling tape. Writing on this tape with a pen or marker is easy. You can label jars or tins with this tape. The 3-in-1 deal is also very convenient for those who need a lot of tapes every day.
Highlighted Features:
Very long masking tape, precisely 50 yards or 150 feet in one roll.
Comes in a pack of 3 tapes to get you covered for larger use.
Acid-free formulation takes care of the paper.
Easy application and removal ensure you don't tear the paper.
2. Nova Supply Watercolor Masking Tape
This piece of masking tape is 1 inch in width, so you can cover a larger area in the edges of watercolor paper or other surfaces like floor, wooden surface, etc.
This helps you complete your DIY projects without tempering the smoothness of the surface.
Once you take the tape out of the packaging, it tears into pieces so easily. You don't need to apply any extra force to use the right size of tape for different purposes.
The application is also easy as the tape is made with precision. You get 60 yards of tape in one roll, so most of your works will be covered from dripping paints.
The adhesive power of this tape is remarkable. It stays in place until you peel it off. And when you peel it off, it gets removed gently from the surface, leaving no residue at all.
So, no matter how delicate the surface is, you are guaranteed to have a clean surface after removal.
This tape comes at a low price. But buying a bulk deal can be even more advantageous. For example, if you need a lot of tape for painting or other jobs, you can buy different bulk packs for a better deal.
Using it was soothing. Removing it was easy and effortless, the outcome was outstanding every time we have applied this tape. So, this can be a good choice and worth trying.
Highlighted Features:
1 inch in width, so you can cover more space for whatever job you are doing.
60 yards long tape is good enough for frequent use.
Peels like nothing was there from any surface and left no residue.
Acid-free so doesn't affect your watercolor paper.
The versatile tape can be used for several purposes.
3. Scotch Delicate Surface Painter's Tape
As you see in the name, this tape is ideal for delicate surfaces. Any watercolor masking tape can be used to mask other surfaces during paintwork or decorative art.
But this tape outperforms almost any other tape in easy application, wide-coverage, and clean removal.
Everything starts from the lovely packaging of this tape. You can get different widths of this tape based on your preference.
Starting from 0.94 inches, you can buy tapes of 2 inches in width. Also, the length varies between 45 yards and 60 yards, so you can choose the right package for your purposes.
Once you are on the job, you will find tearing this tape very easy. Taking snippets of the tape according to your choice is a breeze, and tape pieces can be applied on any surface, including watercolor paper, wood, veneer, etc.
In addition, the adhesive holds the tape firmly with the surface so that no paint can drip inside the tape. As a result, you get sharp and clean paint every time.
Removal of the tape might be even easier than the application. You just need to have some patience until the paint is dried thoroughly.
Touch with your fingers to check that, and then pull the backward tape, maintaining about 45 degrees with the surface. This should cleanly remove the tape even if it is 60 days later than the application.
Though we haven't finished our reviews yet, it can be declared the best tape for watercolor paper for its compelling features.
Highlighted Features:
The width and length of the tape vary, so you can get the right size according to your needs.
Easy application and removal.
No damage or residue after removal, and that is valid for 60 days.
Edge-lock technology ensures you get a perfect seal.
4. Mr. Pen- Watercolor Paper Tape
This item is solely made to use on paper, watercolor paper to be more specific. As a result, you will get better performance than other general-purpose tapes from this.
And this is not a single tape. Instead, you will get a collection of 6 different colored tapes in one package.
In our use, we have found differently colored tapes handy because we were dividing different sections of the paper with different colors.
This helps you recognize which part of working on when and what is their order. So, the whole process becomes a lot easier with this tape bundle.
But the width of this watercolor tape is less than most other tapes available in the market. The length of the tape is also short at 15 yards.
But as you get 6 rolls in one package, it adds up to 90 yards of masking tape. So if your project size is small, you can get it done with fewer rolls, and if the project is large, you might use all the rolls in the package.
These small rolls are very effective when it comes to adhesive power. They gently sit on the target area and fix themselves as you roll on.
The seal of this tape is quite firm and won't let any paint go inside. Removal is also effortless and clean.
The texture of this tape is a bit rough, but it helps write with markers on it. So, it can also be a good choice for labeling.
Highlighted Features:
Small rolls are perfect for smaller projects, but a bundle pack can handle big ones too.
The fine tape makes an excellent seal on paper.
Not usable on other surfaces.
Removal is hassle-free and residue-free.
5. ProTapes Artist Tape
These bright-colored tapes are available in many colors, so you can choose according to your preference.
Whatever you choose, it will help you separate sections on your artboard and use paint effortlessly. But often, using tapes itself needs a lot of effort. To free you from that hassle, ProTapes is the solution.
For any color, you will get one roll in a package. The length of this tape roll is 60 yards. That's a reasonable length of tape, you know. And the width of the tape is 1 inch, so you can cover a good amount of space on the paper with this tape.
Though we haven't tested whether the tensile strength of this tape is as mentioned in the specification, we have found it to be good enough in general use.
 It can be torn easily for smooth application and removed cleanly without damaging delicate paper surfaces or ruining paints.
Making a bundle with different colored tapes would be a better idea for the manufacturer, but it would be a bit costlier for consumers.
But you can still avail of large bundle deals of different widths if you are working on large projects or want variation.
The overall performance of the tape is satisfactory, leaving this on our list and being a popular choice for artists or hobbyists out there.
The vivid colors of this tape will make painting easier and the result more spectacular. Give this a try before you settle for anything and see how it changes the perspective.
Highlighted Features:
Standard sized tape at 1 inch in width and 60 yards in length.
Comes in different colors, so you have a lot of options to choose from.
Easy tear, application, and clean removal.
The acid-free formulation ensures the least damage to the paper.
Great adhesion and perfect sealing.
Comparison Table of Top 5 Tape for Watercolor Paper
What To look Before Buying Tape for Watercolor Paper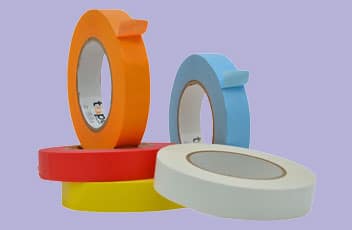 Finding the easiest watercolor paper tape to use is often the toughest job to do. But as long as we are here, you don't need to take the hassle of checking intricate details.
Here are some key points that you should be looking at while choosing the right tape for watercolor paper. Let's get into it.
Masking Tape or Artist Tape
Though the working principle of both these tapes is almost the same, they are used for different purposes.
Masking tapes are a more common and cheaper solution for keeping your painting stain-free. But artist tapes are only used by veterans or professionals, and they are high in price.
Masking tapes shouldn't be attached to the paper surface for so long. Otherwise, they can ruin the texture of the paper.
 They are used for short periods. On the other hand, artist tapes are used for more extended periods, and they peel off the paper surface cleanly even after a long time.
So, you should think carefully about your purpose and choose the suitable tape for watercolor paper.
Acid-free Formulation
Acids are commonly used in masking tapes for watercolor paper. They extend the adhesive power of the tape but affect the paper in the long run.
 Acids in masking tapes can cause the paper to deteriorate over time and ruin your valuable arts. So, it should be checked whether acids have been used in the formulation of the tape or not.
Length and Width
Watercolor paper tapes come in various lengths and widths. So, you need to be cautious about that.
Usually, tapes are measured in yards for the length and inches for the width. You will commonly get tapes of 1 inch in width and 45 to 60 yards in length.
Choose the right size for your projects. Smaller rolls are more cost-effective if you are doing a small project. But larger rolls will be convenient if you need to use them frequently. So, think and decide.
Easy Removal
No matter how good the tape is, it is not the right one if it doesn't peel off the paper surface smoothly without leaving any residue.
 Getting a clean peel every time is crucial as you don't want to damage the paper or your painting. Pick a tape that is easily applicable and gets removed effortlessly without damaging the output.
Firm Adhesion
If the tape doesn't get attached firmly to the paper surface, paints can drip inside the tape and ruin your valuable art by creating unwanted stains.
So, choose a tape with enough adhesive power to settle on the paper surface and never curl in the middle. This way, you will get clean paint after you remove the tape.
Frequently Asked Questions & Answers
If our blogs are familiar with you, you might have already assumed that we will answer some frequently asked questions regarding the best watercolor tape.
Follow along to get answers to your questions too. Let's see if we have a match.
Is masking tape acid-free?
Cheap and non-branded masking tapes are often formulated with different acids. Unfortunately, these acids can cause harm to your paper and valuable art.
But good-quality masking tapes are made without acids, so they don't hamper the longevity of your art.
Is masking tape better than frog tape?
It depends. Some find one more effective than the other. So, we suggest you check the effectiveness of both tapes and decide it on yourself.
How to peel the masking tape off the paper without ripping it?
Most good-quality masking tapes get removed easily from the paper surface. But if your tape doesn't, don't worry.
Apply a small amount of heat on the tape, preferably with a heat gun or hairdryer. But be careful so that the heat source doesn't touch the tape.
After a few moments, you can easily remove the tape from the paper surface without leaving any dirt or residue.
Can I use regular tape instead of masking tape?
Yes, you can. But we can't guarantee the smoothness of the paper surface after you use regular tapes.
Masking tapes or painter's tapes are specially formulated to leave you a clean and smooth surface after removal. You shouldn't be ruining your art for a few bucks, so it is wise to choose a good-quality masking tape.
Final Words
We are almost to end this discussion. All we want is for you to find a tape that will help you perfectly mask the drawing lines you need.
No matter what the difficulty of your project is, masking tapes can always be by your side in making clear sections.
But not just any mask will always be the right companion. To be more precise, you need the best tape for watercolor paper to get a stain-free, smooth painting.
In a world full of unique tapes, go around and take a look at all possible options. But be sure to choose a tape only when it meets all your criteria.
Also read: