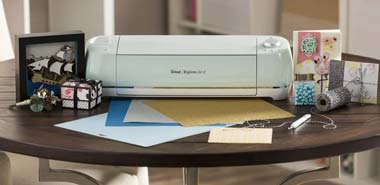 Realize everything you craft, there's a story behind it…!
And to bring your stories into reality, Cricut print and cut is a highly popular cool-crafting technique.
Whether you're a designer, artist, or have an art shop, this will come in quite handy for all your print and cut projects.
However, there's an important catch!!!
If the print quality is ugly without sharp registration marks around it, the Cricut reader fails to make a precise cut. Well, we know the feeling!
So that's where we start looking for the best printer for Cricut print and cut. And you'll be surprised by seeing what we came up with!
We've inspected 7 best Cricut printers that help to print excellent quality images on various types of materials including papers, cardstocks, vinyl, matte or glossy papers, and so on. So with any of these great items, let's make something you love!
In-Depth Reviews of 7 Best Printers for Cricut Maker Project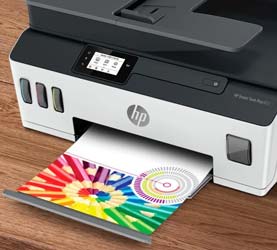 At the very beginning of our exclusive inspection procedure, we've tried to ensure all these high-performing Cricut maker printers are able to work with the design studio.
Later on, we've tried to keep the list sorted with some versatile machines. So they can handle a variety of printing materials, support a wide range of sheet sizes, and finally, the quality is up to the mark.
With that in mind, let's get to find your best match RIGHT AWAY…!
1. HP OfficeJet 3830 All-in-One Wireless Cricut Printer
HP OfficeJet 3830 is our number one best printer for Cricut print and cut. It's the perfect one to get into the fun and creative world of crafting and making cool things you love!
With the convenient 2.2″ touchscreen, it's really simple to control. You can adjust the printing settings in a very short time.
What's more interesting is that it's network-ready. And this printer can detect ink levels when it's running out. Then, it'll order itself and get your ink delivered at the right time. This cool feature ensures you never miss a single Cricut project.
One of the essential features of a Cricut making printer should have wireless functionality. Luckily, this printer has it!
By this, you can remotely connect the printer with your computer. So you won't have to move around the device thus saving some space on the desk.
Remember that paper jamming is a common issue with low-quality printers. For instance, vinyl stickers won't flip inside, leaving you to open the internal compartments and remove the jams. You know it's really boring and happens too frequently.
However, with this high-quality printer from HP, you forget all those messes!
As long as you ensure the paper or vinyl is InkJet compatible, you can print on them very much conveniently. With its high-quality printing technology, you get the text or image elements printed bright and clean. It can handle varieties of papers, cardstock, envelopes, printable heat transfer vinyl, etc.
Highlighted Features:
Sharp printing makes clear registration marks
Easy to maneuver with touch control screen
Smart device even works with Alexa voice command
Quiet-mode makes it easy to place in any room
Support paper sizes up to 8 x 10 inch
2. Canon IP8720 Wireless Printer for Cricut Print and Cut
This is another amazing InkJet printer made by Canon. For its incredible performance, we found it to be best for any Cricut project.
So be ready to get some OWO-compliments from your mates and fellows seeing your cool sticker and signatures on books, hats, T-shirts, whatsoever!
You'll get high-quality printing output that's easy to read by the Cricut machine. The registration mark and the silhouette will easily be identified by the blade. So it can move around the element and make a very precise cut.
What's so good about this printer is that it supports a bit larger printing materials.
You'll get a little more extra room in comparison to what we've seen on the first mode. That's said, you can use vinyl sizes up to 13 x 19" which is definitely a great feature to get excited about!
The noise level (43.5 dB – A) is perfect for high-quality black or color printing. Besides, it utilizes 6 colors, provided you'll get more vibrant and brighter results. The fine droplets ensure there'll no room for mistakes.
Like the previous one, the wireless connectivity function is also present here. So you can connect your Wi-Fi devices and print from a fair distance when needed.
With one caveat, there's not control screen. That's why it seemed to us a little bit of unknowing of the settings without inspecting the functions in the computer. Other than that, this is a compact-size black Canon Pixma printer at an affordable reasonable price!
Highlighted Features:
Produces precisely vibrant color with 6-color inks
Easy to connect other smart devices through Wi-Fi
Amazing borderless vinyl printing up to 13 X 19 inches
Fine droplets and max. of 9600 DPI gives Detail printouts  
Allows printing on CV or DVDs
3. Epson HD XP-15000 Crafting Printer
Our list of the top 7 Cricut maker printers wouldn't be worthwhile without the famous EPSON brand. The company is well known for manufacturing some highly popular electronic devices.
With that in mind, Epson HD XP-15000 Wireless Printer is not an exception!
This high-quality InkJet printer has an auto-duplex printing function. If you compare this with the very first model we've seen above, the Alexa voice command controlling feature comes really identical between these two products.
Moreover, this printer can also be controlled remotely from your smart devices.
No matter if it's set somewhere away from your working desk; you can still connect it through Wi-Fi then print. Once done, it'll be ready to set the element on the cutting mat for the Cricut to get started on its job, TADA!
Even better, you can use Ethernet cables to set up a connection with your computer and be able to send the printable graphic. All these are really cool features….huh?
But a few gripes we've noticed on this product, though!
First, it's only said to be compatible with Epson ink cartridges. So if you're planning to reduce the expenditure by using third-party inks, this might not be the right product to buy. Secondly, this printer doesn't have a touchscreen controller.
Hence, controlling might not be as convenient as the HP OfficeJet 3830 printer.
Otherwise, it's a great printer with tons of advantages to use for any DIY Cricut printing project. And it all worth it in the end!
Highlighted Features:
Borderless Ultra HD printouts up to 13 x 19"
6-color ink system ensures vibrant results
Rear loading tray comes really handy for cardstocks
High capacity front loading tray holds up to 200 sheets
Easy-to-use buttons with 2.4″ color LCD display
4. Canon Pixma iX6820 Printer to Pair with Cricut Maker
Remember that silhouette Cricut projects require high-quality printouts with proper registration marks and everything. That's where the Canon Pixma iX6820 Wireless Business Printer comes to serve with its best!
It's a cloud-compatible and network-ready printer made for all modern-day printings at the home, office, school, bank, and what's left…!?!
Consequently, when it comes to printing graphics for Cricut, the results are so satisfying.
Noticed how low-quality printers get jammed with card stocks, and shuts your envelopes? Well, it's time to forget about cursing because this Canon printer will hack all those puzzles easily enough!
Unlike a few other models we've seen up until this point, this excellent quality printer features a nice rear feeder tray. And this will come quite useful for handing thick printing sheets. It doesn't have to fold and turn from the bottom front tray.
That makes it easily feed, preventing the sheet from jamming inside.
On top of that, this printer can be used with various operating systems including Linux, Windows XP, Vista, and MAC. This feature adds an extra layer of advancement of technology. So crafting with Cricut has no more bounds!
With this printer, you'll get high-quality printing each time.
It utilizes 5-color inks with a maximum print resolution of up to 9600 x 2400 dip. As a result, whether it's a text-based printing of vinyl labels, signatures, or any graphical shape element, you can get the job done with ease!
Highlighted Features:
Good for printing on glossy photo papers
Compact design easily saves spaces on your desk
Compatible with Windows and Mac operating systems
Ethernet, wireless, and high-speed USB data transfer
Turns on automatically whenever an element is sent
5. HP ENVY Photo 7155 Printer for Cricut Maker
Here comes another great HP printer for Cricut print and cut. Whether you're a designer or an artist who's passionate about cool Cricut crafting, this smart voice commanding printer will be highly beneficial!
It's multipurpose and high-performing, provided you can print at a very lower cost.
The borderless printing functionality is really awesome! Besides, it supports printing a wide range of paper sizes up to 8×10 inches. Well, that's clearly less than the Epson HD XP-15000 printer where you could even load 13×19" sheets.
However, that doesn't make any of a big difference since it's a product-wise specification. And you can choose between any sizes you would prefer.
Moving on, the wireless connectivity function makes it easy to print from smart devices. In addition, the exceptional Bluetooth technology comes quite handy in case somehow you're out of network.
What's engaging is that HP cares about its customers. That's why they've initiated ink subscription plans to keep you up all the time! Ink is safely delivered to your home, ensuring you get stunning printouts each time…without missing a single bit!
If you prefer printers to be easy to use, then this would be an obvious choice!
With its sensitive color touchscreen, you can learn to maneuver the settings in the shortest possible time. However, you should take note that USB drivers might not be supported here. Also, it's featured as not capable of setting Ethernet network.
As long as that is considered, for any Cricut projects, it's a great value for the money!
Highlighted Features:
Climate pledge friendly, made from recycled electronics
High-quality printouts on various paper sizes
Multipurpose that can copy, scan, and print borderless
Comes with Bluetooth and wireless connectivity functions
Really easy to control using the cool color-touchscreen
6. Canon Pixma Pro-100 Wireless Cricut Inkjet Printer
This is another incredible Canon Pixma wireless and best printer for Cricut maker. It has some really cool features that are hardly found on any ordinary models. Even though it's a little bulkier, it is well worth every penny!
Its size allows professionally printing on paper sizes up to 13 x 19 inches.
Having two separated front and rear loading trays, printing on thick vinyl sticker sheets is flawlessly easier! You won't have to worry about the sheets jamming inside. And the fine printing technology allows putting 4800 x 2400 dots per inch for excellent detail quality outcomes.
Moreover, the ink system is somewhat different in this device than what we've seen on other models up until this point. It needs to be loaded with 8 dye-based inks with 3 specified for black and white printouts.
The dye-based inks are known for their brighter and vibrant outputs. There won't be any swap of ugly shades. All these together put up really nice plain and gradient color effects utilizing the full power.
So with lots of fun, all your Cricut print and cut come out highly productive.
One of the most amazing and unique features here is the CD printing. That clearly says how versatile this machine is for real!
As always, you can connect this InkJet monster to various Wi-Fi enabled smart devices. Consequently, it supports USB cable and mobile memory insertion. It seems like you can transfer your printing documents from almost anywhere within no time!
Highlighted Features:
Individual ink cartridge replacement
Easily handles thin to thick printing sheets
Vivid printouts with 8 dye-based color inks
Maximum print resolution is up to 4800 x 2400 dpi
Hi-speed USB connectivity function
7. VP750 Industrial Water Resistant Color Label Printer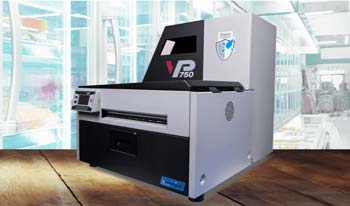 If you already have or are planning for a startup Cricut print and cut business, VP750 is for you! It's a water-resistant color printer ruggedly made for heavy industrial uses.
You can print a bulk amount of labels at a fairly cheaper cost.
The fast and flexible automated technology gets the job done precisely. Its 1600 dip print resolution ensures you get top-notch print quality almost with zero effort.
The waterproof printing technology makes it easy to print labels for items that are continuously placed around water-prone areas. Besides, the Ethernet and USB connectivity feature allows easily setting up with your computer.
Or, it's also remotely accessible through an embedded web server.
When it comes to talking about ease of use, things are boundless!
If you open the black lid, it gives easy access to the Printhead thus making it easy to clean any media jams. Also, from the bottom of the front side, you get convenient access to the ink cartridges.
Some of the handling materials include Matte Paper, Glossy Paper, Synthetic, etc. However, since it's originally made to be a label printer, the maximum paper size it can handle is about 8.5 inches. Considering all its amazing features, it's really simple to use.
It's like an office printer with all the easy controlling functions. So let's get ready to through that old crap into the trash!
And get yourself this highly motivating printer to finish any DIY craft and decorations. Surely, you'll love how stunning the results will come out!
Highlighted Features:
Millions of droplets per second
Uses 4 color variation in 5 high capacity cartridges
Ensures low-cost printing in the shortest possible time
Maximum of 1600×1600 dpi detail printouts
Makes the surface water resistant
Printer for Circuit Print and Cut : Comparison Table
| | | | |
| --- | --- | --- | --- |
| | | | |
| | | | |
| | | | Envelopes aren't supported |
| | | | |
| | | | |
| | | | |
| | | | |
| | | | |
Printer for Circuit Buying Guide for Begginers and Experts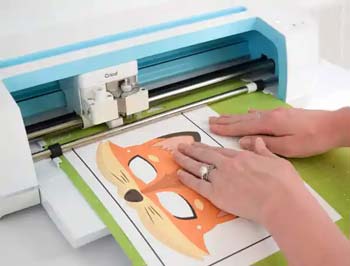 Choosing the best printer for Cricut print and cut isn't really that simple! It's a little bit technical and you need to ensure a few important things. Such as the sheet size allowed, printout quality, materials allowed to print on, and so on.
The sad truth is that you won't directly find any specific printer to pair with a Cricut Maker. Indeed, you'll have to analyze the printing aspects to match your needs. That way, it becomes easier to manage to find a printer for Cricut maker.
But how do you ensure it matches your needs? Don't be worried, it's time to dig deeper down into that. So let's get started: –
Print Quality
It's hard to explain how keen you should be on this point! You need to understand that for the Cricut machine to make a precise cut, the printed object should be clearly visible. It should be printed without losing quality.
So the Cricut maker can easily read the registration frame and the printed elements in it. Then it'll make appropriate cuts around the silhouette. There are two popular paper cutting machine we already discussed in another post cricut explore air 2 vs silhouette cameo.
Luckily, we've included some high-quality printers to pair with your Circuit makers. And hopefully, their outstanding printout performance won't make you disappointed.
Sheet Size Allowed to Print
This is crucial and you must ensure the printer can handle the right sheet size you expect to print. If you choose one having the capability to print paper sizes up to 8×10", you'll surely regret bigger sizes!
Assuredly, they'll come in quite handy for lots of small stickers and label making.
However, wider (13×19") sheet handlers can cover everything in one place. So if you're not obsessed with any particular product, we suggest that you look for a printer that can handle wider printing materials.
And you can conveniently handle everything from making small vinyl stickers, product labels to large signature or wall decorative items.
Materials Allowed to Print
Cricut machines can handle thin papers, vinyl, cardstocks to thick glitter cardstocks, fabric, poster boards, and so on. So whatever material you're using, make sure the printer is able to handle it.
Although, most devices can't handle many of those materials, but ensure it at least covers a good range. So you stay up with crafting in a fun and productive way.
Loading Tray
If you load the printing material from the front bottom tray, chances are that it might get stuck inside. However, if you've got a rear loading tray, that makes it easy to insert.
So the sheet won't have to take U-turns thus reducing the chances of jams. But it doesn't mean printers without a rear tray are less worthy. Indeed, we've reviewed some excellent versions that can handle the thing quite effortlessly.
All in all, it's good if you have a rear tray. But without that, if you can ensure the other aspects of a quality printout, it'll certainly be well worth the money!
Ease of Use
We've actually found a few great items with each of them having pros and cons on their own. It's pretty common but the thing is that you should choose something that fits your needs. More importantly, it's should be easy to maneuver based on your prior experience in using printers.
With that in mind, some are a little bit complex to control using only buttons. But the other side of the pond is really amazing with the easy controlling color touchscreen function. It allows viewing or, editing documents loaded through an external storage.
We know that's rarely needed when you print to cut with Cricut. But it comes quite handy for other printing needs expected from a versatile printer.
Tips to Print Perfect Vinyl for Cricut
Printing on vinyl sticker paper is becoming more and more popular. In recent years, many people are just getting into this creative and effective idea of making waterproof stickers, labels, signs, symbols, brand names, or any other home decorative items.
However, the procedure one has to follow isn't quite simple for someone putting his hands on for the very first time. And to make things easier for you, here're some important tips to perfectly print on vinyl materials in the easiest manner –
Take High-Quality Images
The image or text element you're about to print should be in high resolution. Or, at least leave it to its original file size without stretching from the corners. Otherwise, you might get blurry and pixelated printouts, no matter how good the printer is!
Learn the Cricut Studio
This is a vital step in the whole process of printing on vinyl. If you're completely new to the Cricut design studio, it's better to get familiar with at least a few important functions so that you can customize the elements to achieve efficient results.
Follow Up Proper Settings
In the Cricut studio, ensure you've set all important functions before sending the file to the printer. These include things like bleed, number of copies, setting the perfect dimension of the cutting mat, etc.
Use an InkJet Printer
InkJet printers are good for vinyl printing since they use inks. It can be either dye-based or pigmented but toners aren't capable of handling this. So in other words, laser printers aren't suitable for sticker papers. In this step, it's also vital to ensure the paper size handling capability that you intend to print on.
Ensure the Right Vinyl
Even though you've got an InkJet printer, it might not be able to print on any type of vinyl. Instead, it needs to be compatible with the machine. So the vinyl you tend to use for Cricut print and cut needs to be printable.
Use a Workable Printer
If the printer is running out of ink, make sure it's reloaded with new cartridges. Also, ensure there're no media jams from the past job. If so, clear the line first and load the sheets on the input tray. Then, send your document from the Cricut to print and cut.
How to Cut and Apply Cricut Vinyl for Beginners
There are two different ways to make vinyl print and cut. First, you can choose to use a printer for printing the material. Or, you can directly use the 'print and cut' function from the Cricut to make objects and text elements.
Next, it comes to cutting and applying Cricut vinyl to your favorite piece. If you're a beginner at this puzzle, let's make it easier!
Printable Vinyl: Cutting and Application Instructions
Step – 1: Cutting the Paper
Once the printing element is ready in the Cricut studio, it's time to prepare for printing on the right size of vinyl sheet. Make sure the size you cut from the roll isn't smaller than the defined printing object.
Step – 2: Setting on the Mat
If you're printing first, then load it into your printer and send the element using the "send to printer" function from the design studio.
Or, just directly attach it onto the Standard Grip Cricut Mat. Make sure it's precisely attached so there's no bubble underneath. You're going to want to make sure it lines up perfectly from the top left corner of the mat.
Step – 3: Load into the Cricut
From the design studio, you were working, it should tell you to connect the Cricut machine. If you've done that properly, the opposite-arrowed GO button should start blinking. It's the sign that the machine is ready to accept the mat.
So now, load the mat carefully and press the button.
The machine will take the mat in rolling on its receiver. It'll then start reading the mat based on the instructions set on the design studio. Once it finds a valid instruction, the cutting "C" button will blink.
If you press that, the blade will start cutting it around.
Step – 4: Unload and Weed
Once done cutting, the machine will leave the mat out. So now, take it and detach the sheet from the mat. By now you should have your own comfortable technique to remove all unwanted parts in and around the cut object.
You can use some kind of weeding tools to accomplish that quickly.
Step – 5: Clean Any Residues
It's time to apply the vinyl with some transferring techniques. Before we do that, the surface of the item should be cleaned thoroughly. You can use an alcohol wipe to clean. However, make sure the surface is fully dry before the transferring process begins.
Step – 6: Put Transfer Tape
Put adhesive transfer tape right on top of the vinyl cut piece. Now, use a Cricut Scraper squeeze and press down so the tape sticks well on the surface. It'll also ensure there are no unwanted bubbles underneath and help to transfer the vinyl smoothly.
Step – 7: Transfer on the Surface
Now, carefully remove the liner at around 40° – 50° angle. If it doesn't come out easily, give the transfer tape a few more strong squeezes using the scraper. Once you get it right, press-fit it on your intended surface.
Remember, it's good to press the center first and move out towards the sides. This will eliminate any remaining air chambers that prevent it from sticking to the item appropriately. Finally, it's time to peel off the transfer tape, and BOOM!!!
Kiss Cut Proper Vinyl Cutting Guide
| | | | |
| --- | --- | --- | --- |
| Machine | Pressure | Blade Depth | Blade Assembly |
| Cricut Imagine | 3 | 3 | Fine-Point |
| Cricut Expression | Medium | 3 | Fine-Point |
| Cricut Expression 2 | 3 | 4 | Fine-Point |
Frequently Asked Questions
1. What type of printer can I use for Cricut prints and cuts?
Answer: You can use any InkJet printer that supports the type of media you're about to use for Cricut crafting. One thing you should keep in mind is that any ordinary printer isn't able to accomplish this task.
While some are designed for fast and bulk printing on thin papers in a short time, some high-quality machines can handle thick material/ sheets. So you can easily print on vinyl, cardstocks, matte or, glossy papers, etc.
That's why it's an obvious thing to make sure you're keen on that.
2. Quality vs. speed, what to look for in a printer?
Answer: Any high-quality printer like the few great items we've reviewed above will guarantee you both. You can print stunning quality images within a very short time. However, with some cheaper models, you might have to decide between them.
And we suggest that you go with the quality. It's not a problem if the printing speed is a little bit slower, but we can't compromise on quality. Otherwise, the outcomes will be ugly and unprofessional.
3. How do I choose the right printer for the Cricut Maker?
Answer: We've already laid the exact information in the "Buying Guide" section above. But for your convenience, we'll give a short overview here.
So these are the things you need to consider in order to choose the right printer for your Cricut projects: –
Print quality should be good enough.
It should allow printing wider sheets like 13 x 19" or more.
Thin to thick, it should be able to print on various paper types.
Should have separate front and rear loading tray.
In fine, it should be easy to use overall.
4. Do I need a printer for the Cricut Maker?
Answer: Well, it's not compulsory to have a printer for Cricut maker. You can even directly cut a silhouette from your Cricut machine. Hence, this is going to be just a plain shape of the paper cut to the right size of the object shown.
This method comes useful for plain stickers, signatures, names, etc.
However, if you want to cut any graphical objects or images, you must use a printer to first print the element on a piece of paper. Then, you'll be able to cut it so the necessity of a printer actually depends on which method you're choosing.
Final Word
That's it for today and we hope that now you know what is the best printer for Cricut print and cut!
We strongly suggest you take a hawk-eyed view on our "Purchasing Guide" section. It has some really important key points to make your decision more specific.
So with your hands-on any of these great items, rest assured you can print a lot easier. We've inspected their quality, performance, versatility, and ease of use. And they are worth every penny you invest!
If you find this comprehensive guide to be helpful, please make it go viral. Also, we'd love to know which one you like most and why! We'll bring that up in the ranking order with your valuable suggestions on the benefits and drawbacks you've noticed.
Consequently, many other audiences can sort out their choice in the shortest possible time if they are winding up with the same sort of requirements.
That's it, have fun!!!