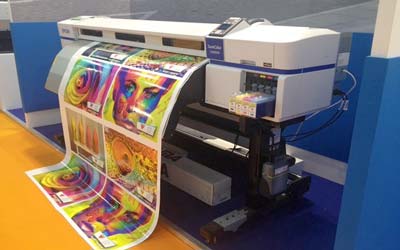 Whether you are in the corporate sectors crunching numbers, the scientific/research field digging up new theories, or for casual everyday use, posters will give your work a massive boost.
It will visually aid your work and embellish it tenfold. A poster printer is a great tool to have under your sleeve.
There are a lot of such printers in the market. Each of them has its traits and features. Buying one can be overwhelming.
Not to mention, you don't want to buy one that offers too much and one you don't need.
The good news is that today we are here with a comprehensive list of some of the best poster printer in the market. These printers are the most positively reviewed ones in the market and will surely give the quality poster you deserve.
Our Recommended Best Poster Printer Reviews For The Money
In this list, we have considered characteristics and unique features of each printer. We also included why and how one might find particular aspects helpful.
So, without further ado, let's delve right in!
1. HP Poster Printer OfficeJet Pro 7740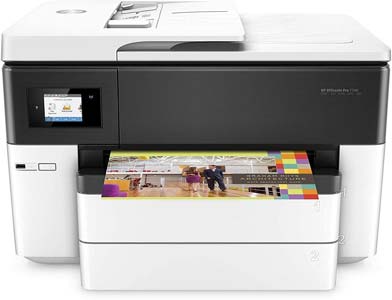 A very versatile unit from the leading company of the industry. Pro 7740 can take care of all your document-related needs in a jiffy.
Print, fax, scan, copy – do anything you want with ease and zero hassle with this fantastic printer. Its versatility makes it a fine addition if you are looking for poster printers.
It can print amazing pictures with wide-formats measuring up to 11×17 inches. So, next time you need a printer to put out beautiful pictures in wide dimensions, you know where to look for.
This unit also comes with a very handy HP Smart app. What is this, you say? Well, this app makes installing the printer easier and connects the printer with your smartphone—all the more reason to splash money on it.
This printer is also very economical compared to a typical laser printer. It can save up to 50% of your expenses per page. When it comes to printing, its economic sense defeats that of a laser one.
Lastly, its printing rate is very impressive, allowing you to do the heavy-duty job in no time. If you are looking for a poster printer for your organization, hands down, this is the best poster printer you can ever lay your hands on.
Highlighted Features:
Incredibly versatile, allowing you to print, fax, scan, copy, and whatnot in due time
Print beautiful 11 x 17 inches with wide-formats
Economical and saves money
Fast rate of printing than other units in the market.
2. Epson WorkForce WF-7720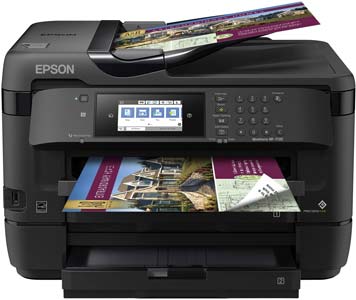 If you are currently using Epson ink and looking for a new printer for posters, look no more.
This excellent unit is what you are looking for. This unit was made for Epson inks. It will go hand in hand with your Epson inks and give you prints like never before. For the best utilization of Epson inks, you need this printer.
Alternatively, inks from a third party might damage it, so if you own those, then this is not for you.
It comes with WF-7720, a strong core that makes sure you get superb prints in no time. It gives a premium level print that other units fail to reach.
Additionally, it is bound to save your money on electricity. This incredible print uses up to 80 percent less power than that of other printers in the market.
Such shrinkage in electricity usage will surely save you a fortune, if you plan to use printers frequently.
Its body features an incredible 500 sheet capacity that's a lot even for professional needs. Additionally, there are dual trays and a bonus read feed for papers that need unique treatments. It can hold 125 sheets on the tray at the output end.
In short, it has superb anatomy and is designed to give you nothing but premium performance.
Highlighted Features:
Perfect for users owning Epson inks and vice versa.
Strong WF-7720 core ensuring relentless, heavy-duty printing.
Uses up to 80 percent less electricity compared to other units, cutting bills and saving money.
Unique built with phenomenal capacity for a smooth endless printing experience.
3. Brother Duplex Poster and Brochure Printer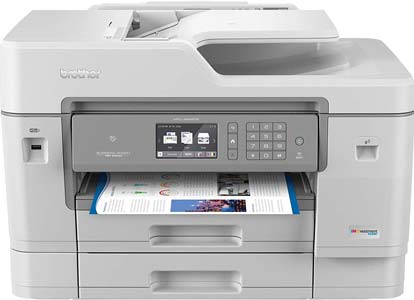 If you do heavy-duty printing every day and find feeding the ink tank now and then irritating, then this is the ultimate go-to printer.
This unit from brother comes with a mega ink tank. The ink tank is so huge that it can provide a tank for up to one year like a walk in the park. It makes sure you don't need to feed the tank now and then.
It also makes printing cheaper. This unit takes in powerful high capacity INKvestment Tank cartridges that make sure you don't need to run to the store for buying ink in one year or so.
Additionally, its anatomy is also quite impressive. Coming with two rigid papers trays with 500 sheets carrying capacity and a multi-purpose tray that can take about 100 sheets., it can printing fun and relatively effortless.
If you are running a professional printing business and need to deal with various types of paper, then this is the printer your business need.
Lastly, it comes with a smart dash replenishment system which can prove nifty at times. Once you enable it, it will measure the printer's toner levels and order it all by itself.
It can behave like your own printer assistant and make sure you don't need to pay attention to trivial things.
Highlighted Features:
Mega ink storage with high capacity cartridges offering a high volume of ink.
Saves a considerable dose of money by reducing frequent ink purchase.
Trays with impressive capacity to help you carry out any printing in any quantity.
Its smart dash measures toner level and orders new ones all by itself.
4. Canon Pixma iX6820 Printer for Printing Posters

This delightful unit from Pixma is the perfect printer you want in your business. First of all, it can print a range of sizes with ease and superiority.
Whether it's 4″ x6″ formal mailers to 11″ x17″ long spreadsheets containing extensive data to even 13″ x19″ charts for presentations, this unit can do it all. For diverse printing needs, this is the ideal printer.
It also offers a 9600 x 2400 dpi for the user. The details are crisp and enhanced, creating the owner's ultimate visual experience with an excellent resolution. It creates a superb outlook that will leave anyone with awe and a smile.
Also notably speaking, this unique printer will also take care of your worries. Its smart system will connect you to thousands of exclusive templates.
You can download them and use them where it suits. No longer will you have to worry about making templates that we all know how lousy can be. Let your printer do it.
Lastly, it comes with special software called "My Image Garden Software." This super handy application brings in all printing features together under one umbrella to give you a new definition of flawless printing.
Additionally, it will also organize your photos like Google Photos for your utmost convenience. Having a superb application under your sleeve sounds like a bonus.
Highlighted Features:
Print a range of size of prints comfortably.
An excellent 9600×2400 dpi color resolution for amplified visual.
Connects the user with awesome templates ensuring zero hassle from making new documents.
"My Image Garden Software" stores photos and brings every printing feature under one roof for impeccable printing.
5. HP DesignJet T130 Large Format Poster Printing Machine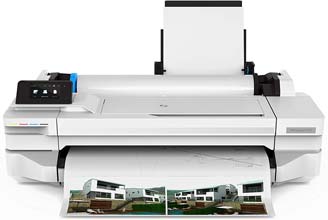 A poster printer from HP, designed for one purpose: to deliver fast printing. This delightful printer works fast and efficiently, taking only 35 seconds for one sheet of A1 and printing 70 prints per hour.
That's really impressive compared to any other printers in the market. The plotter in it is also of superb quality. If you are into printing large plans or massive drawings, then having an adequate plotter is essential.
Thus, this printer would be ideal for people in the architecture line or need to print building plans often.
Plus, it has all the extra tools one needs for a comforting printing experience. It includes wireless access, a roll feeder, a sharp cutter, and all the features.
On the flip side, it does not include any stand. Instead, it has a file cabinet. The tradeoff might be inconvenient for many users, so we felt the need to note it here.
In the end, we feel the benefits outweigh the lacking, and it is one of the best printer for posters in 2021.
Highlighted Features:
Exceptional fast printing rate designed for users who need rapid prints anytime and anywhere.
Great plotters giving accurate prints suited for people who need to print impeccable diagrams.
Includes all the tools such as wireless access, rolls, and cutter for premium printing experience.
It doesn't include a stand for ease but rather a spacious file cabinet.
6. Canon imagePROGRAF TA-20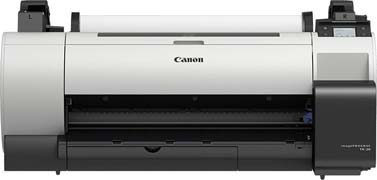 This unit can print at a terrific rate giving 104 24x 36 posters per hour. This fast rate will surely appeal to the user and make it an essential tool to have. Need printing on short notice? No problem. Just leave it to the machine.
It enables you to print posters while going completely wireless. It will give you access to use it anywhere in the office or workplace. Roam around or pay attention to whatever you are doing while making top-notch prints.
The best part is that it includes a heavy dosage of ink on purchase. It includes ink worth almost 250 dollars. This printer will make sure you don't need to buy ink soon enough. Cool, right?
The paper roll size is also pretty decent, coming with 8″-24″ sizes and including 2″ cores. You will indeed find such measures helpful to your project. A 3″ is also available, but you need to spend additionally for that.
It allows you to print on a range of papers such as imagePROGRAF photo, signage, and bond / coated papers.
Printing on a range of papers gives you convenience and the option to experiment. However, it does not support fine art media.
Overall, if you are looking to print on large scales, this is the best large format printer for posters you can get in the market. Indeed, it will prove to be worth your money.
Highlighted Features:
Swift printing rate allowing you to print 104 24×36 ones in one hour.
A robust wireless connection enables you to operate it from anywhere you want.
It comes with a ton of ink included.
Supports a range of papers for printing.
7. Epson SureColor T51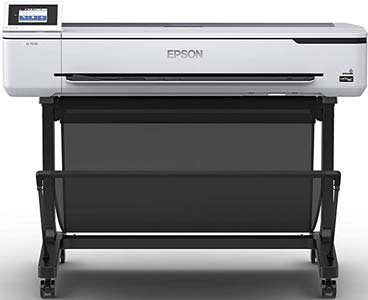 This printer includes a 4.3″ touchscreen LCD monitor. This is a cool addition to the printer and will make operating it ten times easier.
The cartridges are powerful. The color ones contain 50mL color, and the black one is 80mL. In other words, fewer ink replacements with these high-volume cartridges and saving money in the long run.
Print anywhere in the office with this printer, including from tablets or smartphones. The printer comes with an integrated wireless system added with router-free Wi-Fi direct. You don't even have to move from your workstation to get the printing done.
Is your workspace jammed, and there is not sufficient space for a printer? Well, if it is then, this is the printer you are looking for.
SureColor has a sleek minimal design ensuring it takes up a small space as possible. It also has ultra-small footprints and takes almost no time for installation.
Highlighted Features:
4.3″ touchscreen LCD monitor will make operating easy.
Relatively large cartridges containing a lot of ink, so that you don't need to repurchase ink soon.
It allows wireless operation so you can make beautiful prints from anywhere in the office.
The smart design takes up the smallest space, perfect for offices that don't have a lot of available space.
Top 7 Printer for Posters Comparison Chart
| | | | |
| --- | --- | --- | --- |
| | | Printing Dimensions (in inches) | |
| | | | |
| | | | |
| | | | |
| | | | |
| | | | |
| | Banner paper, Fabric, Glossy | | |
Poster Printer Buying Guide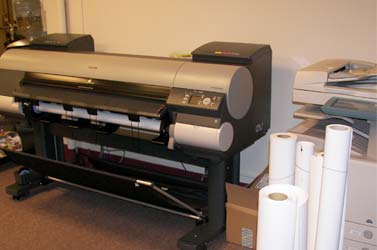 These products are doing well in the market. One can say these are the top products with the most positive reviews.
However, these are not the only products in the market, and there are tons of other units flooding in the market. Buying anything in 2021 can be challenging, indeed.
Here is a simple breakdown of all things you need to keep an eye on while purchasing the best poster printers.
Purpose of the printer
The first thing is you need to straighten out your priorities. Ask yourself why are you buying this printer?
A home printer does not bring a professional disposition to your prints, and a business printer at home might be too extravagant and a waste of money.
If you need occasional prints, then get yourself a home printer. If you need lots of rapid printings, get yourself an office printer or printer that gives you a professional experience.
Printing Speed
Whether you are printing for a client, yourself, or in the office, sluggish and dragging prints are never welcomed.
If you do a lot of printing and need quick deliveries, opt for a printer with a fast printing rate.
 Consequently, if you print at home and not a frequent printer yourself, then you can choose to settle down with a printer with a moderate speed.
Color Cartridges
Poster printing involves the usage of a lot of colors. Almost all the posters you print will need colors to make them look lucrative.
You want to impress anyone who sees it and a compromise in colors in something you don't want to do.
If you want enormously enhanced visuals, get yourself a high-end printer that takes in a lot of colors. We recommend getting a printer that supports at least four ink colors.
You don't want a poster that looks dull or unappealing to the eyes of the beholder.
Cost per page
Whether you use a premium printer or a moderate one or your printing frequency, it is always good to estimate your cost per page.
You can estimate your cost per page by taking into account the number of prints you will take out every month and how many months will a set of ink run for.
Additional Features
Take a look into what else the printer can do. Can it perform other tasks except printing? Additional tasks that you want to look for are copying, scanning, etc.
Also, check whether it works with Cloud, wireless access, whether it uses a USB, etc.
Feeders and Output Tray
This is something a lot of people don't take into account before buying a printer. Once they do, it usually after the trays break down, which is probably too late.
You want a printer that can withstand how many prints you do. Estimate how much printing you need or paper you will deal with, and then buy one with a capacity that matches your numbers.
Dimensions
Poster printers are naturally very large. So, it is a good practice to take a look at the dimensions before you buy one.
You don't want a situation where you buy one, return home and, saw that it is too big to fit in the dedicated space you had allocated.
 Therefore, before you decide to buy one, it is wise to check whether the printer's dimension fits the space you have allocated for it.
Warranty
A printer with a more extended warranty can prove to be very handy at times. So, it is one of the things you want to keep in mind.
Additional Software
Nowadays, almost all printers offer something more than that meets the eye. In other words, all of them come with unique software to give the user something extra in the table.
Some come with software to connect the user with a range of free, downloadable templates to help them out in projects.
Others include a photo storage system similar to Google Photos. A few also comes with image improvement software to embellish prints.
Take a look at which one fancies you. All the choices are beneficial and can drive hard bargains.
Resolution
Your posters need to have top-notch qualities when your print them. One of the determinants of qualities is resolution.
It is essential to have high resolutions. Printing in poster means it is in large display and getting more eyes. A poster with low resolution will look poor, dull, and lousy.
If the details are not crisp enough, the viewer will find it challenging to follow through if the poster contains data or figures.
Therefore, buying a printer with at least moderate resolution is necessary.
Frequently Asked Questions
Why is estimating the cost per page necessary?
Poster printing, as much essential as it can be, can also come with costs. The cost of paper, toner cost, electricity expenditure – all these can increase your cost.
So, when you are on a budget, it is wise to sketch possible cost scenarios in the future. Sketching out cost possibilities will help you stay within your budget or not concede too much.
What program should you use to create a poster?
You can use Microsoft to design posters. Users who use Microsoft PowerPoint, Word, or Excel should save their files as PDF before printing them. Saving as PDF ensures the fonts and images are printed correctly.
Additionally, you can also use InDesign, Photoshop, or Illustrator. Some printers come with software that allows you to make excellent posters and have free, downloadable templates for rapid results.
Can you use third-party ink?
Some printers restrict the use of third-party inks. Usage of any third-party ink might work with the printer, but it won't produce the absolute superior quality it was supposed to give out.
Moreover, many companies have policies that say the guarantee will not cover damage caused by third-party inks, so we recommend not using third-party inks for the best results.
If you don't use the printer frequently, will the cartridges dry out?
Inks in the cartridges might dry out in idle printers. The ideal way to stop this drying out is to carry out printing jobs every week, even if it is a small-scale one.
Ensure that you use all four colors to keep the cartridges in shape. You can also run a nifty function called "print head cleaning function" to keep your cartridges in shape.
Conclusion
Undoubtedly, you put a lot of effort into your work. But, it would be tragic if you fail to make a proper poster for your work. It would be tragic to let all the money, effort, and time go in vain!
If you have been with us so far, you will lay your hands on the best poster printer in the market. It has been nothing short of a pleasure to have you with us.
Hopefully, this list enlightened you in many ways, and now you know more than you did yesterday. We hope you found this read eye-opening.
Go through our buying guide if you are utterly clueless about this product, and then visit the product review and get yourself what fancies you.
Good luck making those fantastic posters!
Also read: