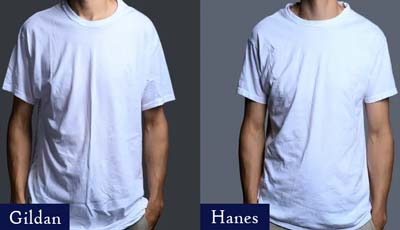 "Hey can you sell us printed tees instead of having us bring blanks?" – is an all too familiar question. As your t-shirt printing business grows, you'll have many customers that will want you to sell them printed t-shirts.
That means having to get blanks.
When looking for t shirt blanks for business or personal use, Gildan and Hanes are some of the brands that come to mind.
These two are alike, though there are subtle variations. This can create confusion.
If you're scratching your head over which one suits your needs, you've come to the right place.
This is Gildan vs Hanes head to head comparison is meant to put to rest all the doubt and help you choose.
What Are Gildan T-Shirts?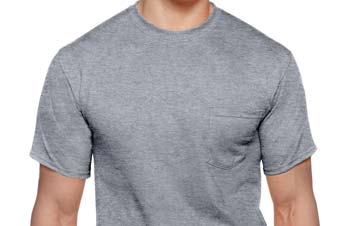 If you like Canadian clothing, Gildan is the brand for you. It was founded back in the 80s by two people, Greg and Glenn.
Today, Gildan is one of the most popular sellers of blank tees around. The reason why they're making such huge sales is simple. Their clothing, especially the t-shirts, are of reliable quality and they're seen as affordable compared to other brands.
One of the notable features of the Gildan t-shirts is that they're made from 100 percent cotton. This makes them very suitable for screen printing, as they're able to absorb the pigment optimally. Know about how to remove screen printing from a shirt.
But they're not just for printing. If you're looking for tees for casual wear, you should try them out.
Gildan t shirts come in a variety of weight levels. The heaviest, dubbed the G600, weighs in at 6 ounces. Apart from being the most comfortable t shirt from the brand, it holds up to a wash.
Another reason why people find these tees comfortable is the fact that they're seamless. Instead of having seams, they feature double-needle stitching.
For someone who wants a good fitting tee, the brand is a good consideration. That is because it offers sizes ranging from S to 5X. Also, there are numerous colors to choose from.
Advantages of Gildan T-Shirts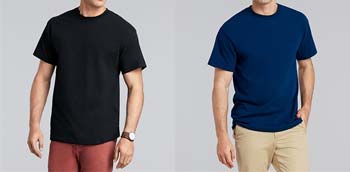 Preshrunk 
One of the biggest issues with t shirts is that they shrink after you wash them. If you've ever experienced this problem, then you know how unwearable a t shirt can be after shrinking. But Gildan, aware of the challenge, preshrinks the materials it uses for making tees.
That way, there's no more shrinking after washing.
Wide assortment of options 
We all have different tastes. Some people like blue, others like black, others purple, and so on. Gildan is one brand that pays attention to personalization. Its tees come in all sorts of colors, so much so that getting your favorite is a cinch.
Also, the t-shirts are available for all body sizes. You can get any size from small (S) to 5X.
Comfort is top-notch 
Is Gildan good quality? That's a question I hear a lot from people that want to know if the tees are comfortable.
The garments are made from cotton, or a mix of cotton and polyester. With regard to softness, these are some of the best tees in the market. Furthermore, the measurements for each size is taken according to the industry standard, making certain everyone gets a good fit.
Affordable 
If you've viewed other Gildan t shirts reviews, you've likely realized affordability is one of the reasons why so many people love the brand. You can get a blank at less than 4 bucks if you're buying in bulk.
On average, these tees are around 60 cents cheaper than Hanes. 60 cents might not seem like much, but if you purchase 10 pieces, that's a whole 6 bucks, which definitely isn't nothing.
Disadvantages
Tags 
Gildan t-shirts come with tags attached at the back to the inner side of the collar. These display the logo and a few picture instructions for washing. The problem with tags is that they make clothing uncomfortable as they scratch your skin.
What Are Hanes T-shirts?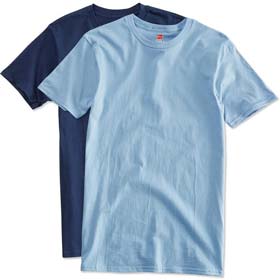 Hanes t-shirts are simply t-shirt that are made by the clothing brand known as Hanes. This brand is owned by the parent firm Hanes brands, a giant US clothing company situated in North Carolina.
These tees are mostly made from 100 percent pre-shrunk cotton. For comfort without compromising strength, Hanes uses double needle stitching coupled with seam taping.
When Hanes began operations in 2006, it started with products like the Beefy T. Notably, the t-shirts they were selling were heavier than the typical t shirts of the day. But they were softer and people found them comfy.
Hanes would thereafter explore the clothing industry to a larger extent, producing a line of garments from leggings and socks to underwear.
Where does Hanes make its products anyway? That's a crucial question that helps assess the quality.
First, note that Hanes brands came into existence a long time ago, in 1900 to be precise. Back then, and in most of the 20th century, the company made clothing in the US and hired US workers.
Probably in a bid to boost the profits, the company closed most of its factories in the US and started contracting independent manufacturers in other countries to make their clothes. In the US, what they have are now mainly warehouses and distribution offices.
That might lead you to question the quality of the t-shirts, but actually, they're really great. The tees are very well made with a thick weave. Even when you wash and dry them repeatedly in the machine, you'll barely notice any change in the value of the fabric.
Advantages of Hanes T-shirts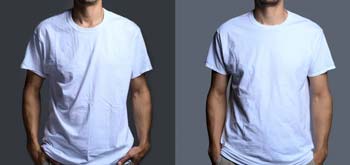 Great materials 
If you're in the t shirt printing business, cotton is one of the materials you should go for. Why? It is dense, and hence absorbs ink more efficiently than other fabrics. With cotton, achieving a high-grade print is easy.
For the wearer, cotton is the most comfortable material. It is warm, stretchy, and it absorbs perspiration well.
Being made from ring-spun cotton, these t-shirts come with the aforementioned benefits.
For those who don't like cotton, or who prefer other materials, there's the option of polyester.
No tag
Many clothing brands like to put a tag on their products for marketing reasons or to display some washing/drying instructions. Unfortunately, tags are not very comfortable. Some are very annoying as they scratch the body.
Thankfully, the collars of the Hanes tees are tag-free.
Roomy fit
Ever put on a t-shirt that was either too large or too tight? None of these situations feels good, right? What makes Hanes such a favorite is that it is just the right size. It is full cut, hence provides a roomier fit.
To give you a good experience and ensure you get something that fits, Hanes offers you 14 sizes to choose from. These run all the way from small to 6-X Large.
Disadvantages
Sourced from abroad
Hanes clothing is not manufactured in the US. Instead, it is sourced from manufacturers in Thailand and Vietnam. Here's the problem with that – it is irrefutable that products that are made here in the US from American-sourced materials are better quality than those shipped from abroad.
While that is true, the quality is undeniably great. Besides, it's not as though Hanes is the only clothing brand that ships from abroad. Other popular companies including Polo and Nike are doing the same.
Difference Between Hanes Vs Gildan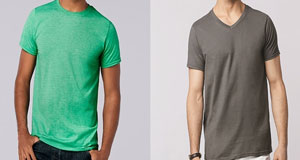 Hanes and Gildan are not worlds apart. There are major similarities, which brings folks to the crossroads when it comes to the choice of which one to buy.
The following variations should help you decide.
Material 
A vast majority of Gildan t-shirts are manufactured from 100 percent cotton. Only a few of them are made from a blend of cotton and polyester. What happens is that the material is pre-shrunk with heat and pressure to prevent further shrinking when the apparel is washed.
Hanes t-shirts are also made from cotton, but it's not ordinary cotton. It is ring-spun cotton, which is stronger than the typical cotton Gildan tees are made from.
Because of that, Hanes t-shirts are more comfortable to wear.
Color Choices 
Both Hanes and Gildan offer their tees in a wide assortment of color options to ensure everyone gets what they like.
Gildan comes in 3 different options. There's Ultra, DryBlend, and Heavy. Each of these has a number of color options, which add to a total of 178. With 178 colors, you can be absolutely certain you'll get your preferred color.
Hanes, on the other hand, offers a total of 60 color choices.
With regard to color options, Gildan obviously beats Hanes.
Cost
Let's face it. We don't all have the same budget. For that reason, price is a major consideration when buying blanks.
Which of the two brands is costlier? That would be Hanes. The cost varies depending on the size and material. Also, men's tees tend to cost a little extra.
On average, Hanes t-shirts are 60 cents more expensive than Gildan. That's not much, right? Wrong! Imagine you're purchasing 50 pieces. If you take the total price difference, you have a margin of 30 dollars. That's a lot of cash if you asked me.
Quality-wise, I'd go with Hanes. As most hanes beefy t review posts point out, they're more comfortable to wear and they also happen to be tagless.
Design
Essentially, Hanes and Gildan are both heavyweight t-shirts. Each of them is rated at 6.1 pounds. That being said, Hanes appears denser and also has a more solid appearance.
Looking at the collar, it's unlikely to miss the fact that Hanes looks thicker has a better stitching. The gaps are much narrower than those on the Gildan tees.
Another difference has to do with the tag. While the Gildan has a tag like any other brand, Hanes doesn't have it. If tags give you that annoying itch at the back of your neck, try Hanes tees. Oh, and the better collar stitching on Hanes collars makes them more resilient in the face of repeated washes.
Wrapping It Up
As this hanes vs Gildan guide comes to a close, it is my hope that the information was helpful. I believe you've noted the differences between the two brands of t-shirts.
If you're buying in bulk, and budget is a major consideration, there's no doubt that Gildan would be the better choice.
But if you want to choose based on quality, Hanes would be the right selection. Hanes tees are heavy, durable, comfortable, and whatnot.
Also Check: