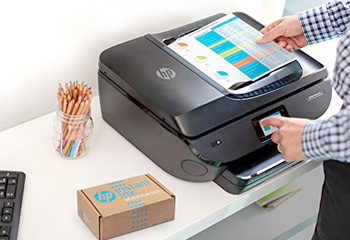 HP is one of those brands which never need any introduction. As soon as you hear the name, you immediately connect it to reliable cutting-edge technological products including computers and printers.
The OfficeJet series of HP is already well-known for its efficiency at the workplace. One of the reasons behind its popularity is its ability to work with HP 920 ink cartridges which guarantee vibrant colors.
If you love them as well and are looking for the exact models to work with them, let's find some printers that use HP 920 ink cartridges!
| | | | |
| --- | --- | --- | --- |
| | | | |
| | HP Officejet 6500A Plus e-All-in-One | | |
| | HP Officejet 7500A Wide Format e-All-in-One E910a | | |
| | HP Officejet 6500 Wireless All-in-One Inkjet Printer | | |
| | HP Officejet 7000 Wide Format Printer | | |
| | HP Officejet 6000 Wireless Color Inkjet Printer | | |
Top 5 Printers That Use HP 920 Ink Cartridge
1. HP Officejet 6500A
Our first pick HP Officejet 6500A is easily one of the most affordable printers you can get your hands on. So if you are running on a tight budget or facing financial issues in your business, this will be a great pick to invest in.
At the same time, it also reduces your monthly utility bills by using about 40% less energy than laser printers. As a result, your expenses get lower which improves your savings over time.
Another reason why it can contribute greatly to your business! Moreover, you can scan, copy and fax with this one machine as well.
You can use it to print both official documents and creative designs or photos. It is capable of working with only black and white shades, or with all colors in the spectrum. For monochromatic content, it can print 32 pages per minute at most, and for colored ones, it prints up to 31 pages per minute.
Set up the printer settings and commands through its color touchscreen of 2.36 inches. Or you can access them through your computer after connecting these two via a memory card or the USB 2.0 port.
Its paper tray can hold up to 250 pages while the automatic document feeder supports 35 pages at a maximum.
Highlighted Features:
Delivers maximum print speed of 31 to 32 ppm.
Saves money by using 40% less energy than laser.
Color touchscreen of 2.36 inches for easy commands.
Paper tray for 250 pages while feeder allows 35 pages.
Can be connected to PC with USB 2.0 or memory card.
2. HP Officejet 7500A
For those of you who are not quite satisfied with the usual paper sizes or want a larger canvas to print on, the HP OfficeJet 7500A model can bring in new printing adventures! It offers printing in a wide format that accommodates a diverse range of paper sizes.
So you can go as small as only 3×5 inches or as big as 13×19 inches. Moreover, this range does not only apply to printing but also to all the other functions this device is capable of doing. Make the most of it by using the printer for copying, scanning and faxing your documents as well.
For printing, you can expect it to go as fast as 32-33 pages per minute. It can print up to 33 pages per minute in black and white, while colored printing can produce up to 32 pages per minute. Since the maximum speed is similar in both categories, you can expect the productivity of your office to never take a hit for color prints.
If your computer is occupied with something else, you can still go ahead with the printing command from your mobile device. Besides, it is designed to print using memory cards or the 2.36-inch touchscreen for a similar situation.
The device has a wide format tray capable of holding 150 pages and an automatic document feeder for handling up to 35 pages. Unfortunately, compared to other products on our list, this one lacks a bit in its tray capacity as well as affordability, since it costs over three times more than the previous printer!
Highlighted Features:
For wide-format printing in 3×5 to 13×19 sizes.
Prints up to 32-33 pages per minute.
Can print from mobile devices directly.
Capable of scanning, copying and faxing too.
The input tray can hold up to 150 pages.
3. HP Officejet 6500
The 6500 is another popular choice among printers that use HP 920 ink cartridge. Although its average speed is about 7 pages per minute for black and white documents, it can print up to 31 ppm of monochrome content and up to 32 ppm of colored content.
You can connect each unit to multiple computers through both wireless and wired networking systems. Alternatively, you can use a memory card to save the digital files.
Because of its automatic document feeder, you can print, copy, scan or fax up to 35 pages in one go. On the other hand, the input tray can make room for up to 250 pages while the output tray can hold only up to 50 pages at once. You can set the device up to print on both sides automatically each time.
Make any command you want and check all the significant aspects from the LCD display which can show two lines of text at a time. It is available at a moderate price point – not as expensive as the previous one, not as economical as the first one.
Highlighted Features:
Maximum speed of 31-32 pages per minute.
Helpful LCD display shows two lines of text.
The input tray has a capacity of 250 sheets.
The output tray can hold up to 50 sheets.
Prints on both sides automatically.
4. HP Officejet 7000
Similar to the second option on our list, this model too is built to print in wide formats. Using it, you can work with paper of sizes 3.5×5 inches to 13×19 inches. Along with the official documents, it is also a good device to materialize images in a fashionable borderless template.
For printing with colorful text, it can work at a maximum speed of 32 pages per minute, while it can take 33 pages per minute for black text.
So the difference between the limits of efficiency for these two colors seems to be very narrow, almost indistinguishable. Therefore, you can pick either without affecting the overall productivity.
Even though it comes at a much higher price point than many other HP 920 ink compatible printers, the operational cost of this device actually happens to be quite reasonable.
The printer can increase your savings since you only need to replace the individual ink cartridge after it has run out. Additionally, compared to laser printers, it uses up to 40% less energy and brings down your monthly utility bills a bit.
Highlighted Features:
Wide-format printing on up to 13×19-inch pages.
Delivers a maximum of 32-33 pages per minute.
Uses up to 40% less energy than laser printers.
Offers one of the lowest operational costs.
Available at a higher price point than many.
5. HP Officejet 6000
Unlike other printers on our list, the 6000 model caters to those who primarily deal with printing colorful images instead of office documents. It is designed to produce photos without compromising the original vibrancy. As a result, it can be ideal for businesses or personal projects which involve regular photo production.
Like other similar OfficeJet printers, it also manages to reach a maximum printing speed of 32 pages per minute for black ink and 31 pages per minute for other colors. While printing black and white content, it can add a silver accent to make the image even more attractive!
In order to prevent your freshly printed photo from getting smeared, the device comes with ColorLok technology. This feature also helps to improve your photo quality by saturating the colors, making the black bolder and reducing the drying time. However, it is meant for plain paper so it may not work well on glossy ones.
It is one of the HP printers that use 920 ink cartridges and you get several of these cartridges when you purchase this model. They come in colors of black, cyan, magenta and yellow since the printer works according to the CMYK color model.
Highlighted Features:
Works at a speed of 31-32 pages per minute.
Prints in black and white along with silver accent.
ColorLok technology to keep smearing at bay.
Meant for printing out photos on glossy paper.
Can be connected via wireless and USB ports.
Comparison Chart of Top 5 HP Printers that Use 920 Ink Cartridges
Buying Guide For HP 920 Ink Cartridge Compatible Printers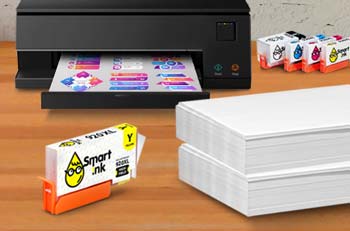 Printing Speed
Usually, the speed at which a printer works is definitely one of the most important factors behind making that purchase decision.
However, in the case of printers that use HP 920 ink cartridges, most of them offer the same maximum printing speed of 31-33 pages per minute. So you can pick any of them.
Multipurpose
In addition to printing, your business card or personal projects may need other clerical functions too. That is why, it would be a smarter investment to settle for an all-in-one printer. A device like that can scan, copy and fax the documents, along with printing them. It can work as a one-stop solution for all your official tasks.
Display
Many modern HP printers come with a color touchscreen through which you can configure their settings. It enables you to pick the most convenient options for different aspects like networking, accessing memory cards and more. You can also use it to select the photos you want to edit, crop and print!
Connectivity
Printers are typically connected to computers via Ethernet for getting access to the files they need to work with. In recent times, they have been equipped with more technologies that make the printer accessible through a wireless network, USB and mobile devices.
Of course, the more flexibility you have in this area, the easier it will be for you to get done with such printing tasks. You can just download a file from your mobile browser and then send it directly to the printer to start making its hardcopy!
Cost
HP printers come in a wide variety of price points according to their respective features and technologies. You can get a decent one within a couple of hundred bucks while some cost three times more! The expensive ones are usually meant for wide format or photo printing.
So depending on your particular projects and regular requirements, you will need to figure out the most cost-effective one from them.
Frequently Asked Questions
Can You Refill HP 920 Ink Cartridges?
Yes, you can refill the HP 920 ink cartridges in your printer once they have run out. To start this process, you will need to remove the particular cartridge that has been depleted and replace it with the new or spare one. Then you can go back to your printing projects in process and finish them up.
What Is The Difference Between HP 920 And HP 920XL?
The main difference between HP 920 and HP 920XL lies in the amount of ink they can hold. Compared to standard HP 920 ink cartridges, you will get two to three times more ink in the 920XL cartridges. The exact ratio of their ink amount varies depending on their colors.
How Do You Know When To Change Your Ink Cartridge?
Although everyone knows how to use a printer for printing, changing its ink cartridge may not be such common knowledge.
You will know when to change your ink cartridge as soon as the computer notifies you with a warning. Even if it can get you a few more prints after this warning, it is just safer to find a replacement cartridge soon. It will become an unavoidable step as soon as you start seeing white streaks on the printed paper.
How Many Times Can An HP Cartridge Be Refilled?
The number of times you can refill an HP cartridge depends on how well you have taken care of it over the years and its electrical contacts.
Generally, the spray nozzles of the printhead can start to dry out after refilling it seven times or less. On the other hand, the electrical contacts made of copper may not be fine with more than 3-4 refills.
Final Words
Even though the printers that use HP 920 ink cartridges seem very similar in many aspects, there are a few subtle differences you may need to keep in mind before finalizing your pick.
The key features to compare include cost, paper capacity in the input tray, output tray and automatic document feeder.
Additionally, how fast you can print out the documents and photos also play a part since that will determine the overall productivity of your business every day.
Alos read: