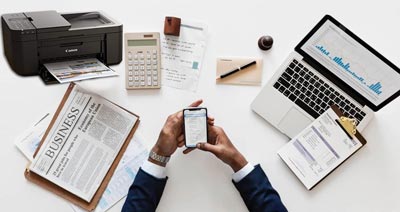 While most printers can be used for basic tasks for a real estate agent, it is not exactly ideal. You need a proper printer with functions other than printing.
For real estate advertising, scanning, copying, and faxing are rather important. If you work as a real estate agent, you understand how necessary it is to have a fully functional printer. So, you need a printer that can handle all kinds of necessary tasks.
In this article, we have included the absolute best options and provided additional details to help you choose the best Printer for real estate agents. So, keep on reading!
Comparison Chart for 10 Best Printers For Real Estate Agents
Here, we have included a comparison chart that shows the primary variations in terms of output color, media, and technology used to make your printer selection process even easier.
Our Top 10 Best Printer For Real Estate Agents 2021
Now, let us dive right into the details about the special features and key specifications of each of these amazing options that have made to our list of the top printers for real estate agents.
1. HP OfficeJet Pro 9015
For our first option, we have this remarkable option from HP. HP generates higher resolution with precise letterings and evenly saturated colors on any and all printouts.
And, this specific model from this well-reputed brand is possibly the best when it comes to options for real estate work and printouts. This is because of all the additional benefits this Printer has to offer apart from the basics.
The HP Smart app is what makes the whole system of this Printer super organized. It also includes a self-healing function that makes sure you are linked to the internet by detecting problems and immediately reconnecting to keep your WiFi secure and effective.
Furthermore, the Printer is developed with security features integrated into the device. As a result, it safeguards confidential information through simple encryption, authentication mechanisms, WiFi surveillance, and data protection.
And, the fact that it has a sustainable design that uses recycled materials only makes it all the more appealing.
If you're looking for the highest overall value, the HP OfficeJet Pro 9015 All-in-One Wireless Printer is the best Printer for real estate agents.
Highlighted Features:
Has a smart app for creating easily accessible and searchable files that can be linked to smartphones.
Comes with WiFi reconnection technology that makes sure the device is connected to the internet at all times.
Offers specialized HP ink subscription for easier access to inks.
Compatible with Alexa.
Has a sustainable design that uses and recycled plastic and contributes to the environment.
2. Brother MFCL2710DW All-In-One Printer
While color printers are more popular at the moment, monochrome printers might be just as effective for you if your work does not entail colored copies. If that is the case with you, this laser printer from Brother will serve you perfectly. 
Brother is an excellent manufacturer that produces printers that provide realistic and reliable technology solutions. Generally, they make solid, well-designed printers with high page yields and sell them at a fair price. Besides, their ink cartridges rarely need to be replaced.
Most of these printers will last up to 5 years with proper care and servicing. Just like most Brother printers, the Brother MFCL2710DW All-In-One Printer is a long-lasting printer that provides excellent performance.
With this Printer, you can print much more in a shorter period of time. It has an excellent printing speed, with a peak performance of 32 pages per minute.
So, if your work requires regularly printing a lot of documents, this might be the perfect option for you.
Highlighted Features:
Allows faster printing with a maximum printing speed of about 32 pages per minute.
Compatible with a number of print media.
Includes an automatic document feeder that makes copying, scanning, and faxing multiple documents much easier.
Can be used to print using smartphones, laptops, and most other devices.
3. Canon Office and Business Printering Machine
As for our next option, we have another inkjet color printer. And this one is from Canon, one of the most iconic and reliable brands.
Canon has been credited for developing groundbreaking imaging devices since the 1930s. This group retains its leading role as being one of the world's leading producers of cameras, printers, and fax machines by constantly developing new designs and innovations.
But this specific model from the company is a wireless one, and it brings some exceptional features. You can find the same device with wired technology.
In terms of extra features, this Printer has a 5-inch LCD touchscreen that helps you to use it intuitively. It has a 6-color individual ink system that allows you to get exceptional printing results.
Besides, it also has improved security features, such as Bluetooth printing, document removal reminders, and a memory card slot, allowing you to sync it to all of your smart devices. Printing is a matter of convenience with this wireless Printer.
And, you can use it to print on different printing media. But it works best with envelopes and plain paper.
Highlighted Features:
Comes in a small and compact size for easier setup and portability.
Includes enhanced connectivity features that allow smoother connectivity to all smart home devices.
Has a touchscreen for a smoother user experience.
Brings additional color options that provide high-resolution results.
4. Epson EcoTank ET-4760
Now, if you want a monochrome printer, this is the second-best option from an overall point of view. However, it does have some amazing attributes that might make it the one for you.
First of all, if you have researched printers beforehand, you must have heard of Supertank Printers. And, the Epson EcoTank ET-4760 Wireless Color All-in-One Cartridge-Free Supertank Printer is the best of its kind.
With the package, you will find two years' worth of ink. You can print about 7,500 pages using the ink provided. As this Printer doesn't use cartridge-based inks, it reduces waste and eliminates unnecessary visits to the store.
However, when you do run out of ink, the manufacturers strongly advise you to use their proprietary ink. This is because they provide a high-quality printing experience while also extending the life of your Printer.
As a real estate agent, you will be able to make the most of your time if you choose to get this Epson EcoTank ET-4760 Supertank Printer.
Highlighted Features:
Allows simpler user experience with its 2.4-inch touchscreen.
Offers auto-documentation deeper and immediate double-sided functionality to help maximize productivity.
Ensures faster printing results in less time.
Has a space-saving layout that makes loading colors more convenience.
Offers easy printing solutions using smartphones and all other smart devices.
5. HP ENVY Pro 6455
Here is another excellent option from HP, and this one is almost as good as the previous one. It lives up to the manufacturer's name of providing highly innovative devices with advanced technologies.
The HP ENVY Pro 6455 Wireless All-in-One Printer works with the brand's part app that makes your work as a real estate agent much smoother and a lot more efficient.
You can print conveniently with this software since it is compatible with almost all smartphones. It gives you direct exposure to your Printer's ink levels and other critical details. You can also print, copy, and scan files directly from the app.
This colored Printer can generate both colored and black and white prints. And, if you are worried about the ink constantly running out, you can subscribe to their HP ink subscription package that delivers inks at regular intervals.
And, since these devices are made with 20 percent recycled materials, they are much better for the environment when compared to other similar options.
So, if you're looking for a high-performance color printer that's also good for the environment, this is a fantastic choice for you.
Highlighted Features:
Works with the HP smart app that allows quick and easy scanning and printing.
Offers a self-healing feature that keeps your device always connected to the internet.
Includes an automatic document feeder that allows you to quickly and efficiently scan and copy documents.
Provides an optional HP ink subscription package.
6. HP ENVY 5055 Wireless All-in-One Photo Printer
With new and improved WiFi and Bluetooth connectivity, as well as faster printing speed, this HP ENVY 5055 drives out the HP ENVY 4520 from the market.
Of course, like all of the latest HP printers, this one requires the HP smart app. And, the app is what keeps this Printer's entire system in order.
By effectively dealing with errors and automatically trying to reconnect to the network, these apps keep your WiFi safe and active at all times using the self-healing feature integrated with the system.
It also ensures the printing of high-quality images and documents. With this device, you can print on different types of media including, plain Paper, glossy photo paper, and envelopes.
Now, this HP Envy Printer is available in a couple of other package options as well. You can get it with instant ink, standard ink, or extra-large-sized ink.
Despite the variation you choose to purchase, you can subscribe to their special ink subscription package. This will save you money in the long run if you need to print a lot of real estates advertising materials.
Highlighted Features:
Offers low-cost printing solutions.
Gives users an option to choose between wired and wireless connectivity.
Includes all the basic functionalities that help to print real estate advertising materials.
Ensures that images and documents are printed in good quality.
Provides a diverse set of networking options.
7. Canon Pixma MG3620 Wireless Printer
Here's our second Canon printer for real estate work. And, this specific model from the company is a wireless inkjet printer that delivers colored outputs. 
Canon has been known for creating innovative imaging technologies for over 80 years, as previously stated. By continuously designing new concepts and technologies, the company maintains its place as one of the world's leading manufacturers of cameras, scanners, and printers.
With the Canon Pixma MG3620 Wireless All-In-One Printer, you will be able to quickly and easily create a wireless connection. The system on this Canon printer is compatible with a number of smart devices including, mobile phones and tablets.
And, you can use WiFi to scan, copy, and print any kind of digital documents. Thanks to its double-sided printing technology, this printer can now print smoothly on both sides of the paper.
But that doesn't slow down the rate at which this machine prints. In fact, it has pretty high printing speeds, peaking at 16 pages per minute for black and white prints and 9.9 pages per minute for color prints.
This is one of the best printing devices for postcards or envelopes. So, if you need to make envelopes often, this will work great for you.
Highlighted Features:
Can quickly and efficiently establish a wireless connection.
Offers improved networking features that allow effective connectivity to smartphones, laptops, and other appliances.
Allows double-sided printing options to save time.
Has fast printer speeds; 16 pages per minute for black and white prints and 9.9 pages per minute for color prints.
8. HP ENVY Photo 7855
Here, we have a multipurpose option that you can use for personal use as well. It works well with a selection of paper types and sizes.
Whether it is for printing on plain Paper, high-resolution Paper, photo paper, or envelopes and labels, this is a great alternative. It has the capacity to handle various sizes of papers starting from 4-inch x 5inch papers, all the way to 8-inch x 10-inch papers.
Since it supports both wireless and wired printing, you can choose whether to use a USB cable or an SD card to connect to your laptop or simply use Bluetooth or WiFi.
If you choose to go with the wireless method of printing, you will have to get the HP app from the App Store or Play Store, depending on your choice of device. You can easily use kinds of Apple, Android, or Windows devices.
A touchscreen is included to make using the Printer far more effective.
Like all of today's HP printers, this one offers the Instant Ink subscription. If you get this package, you will be delivered original HP ink every month. You only have to pay $3 a month, which is better than buying them separately.
Despite which form of printing method you choose to adopt and which size of media you use, you will get promising results every time.
Highlighted Features:
Has a touchscreen feature for more convenient use.
Offers printing through both wireless and wired methods.
Works effectively with different types and sizes of papers.
Offers connectivity with their smart app.
9.Brother MFC-J491DW
Here, we have the last printer option for real estate marketing and advertising tasks. It covers all the expected functionalities from such a printer and brings a couple of additional features to the mix.
While all new printers use the latest technologies and provide connectivity, this one gives you the option to choose from both wireless and wired networks.
If you choose the former, you connect your device to any cloud service, like Google Drive, iCloud, Dropbox, and get printing.
And, if you choose the latter, you can simply connect the Printer to any of your devices with a USB cable and get the work done. Since this model from Brother is compatible with almost all operating systems, your choice of the device shouldn't be an issue.
Whether you want to simply print your documents or want to scan and fax them to your clients, this will work as a great medium for you.
This Printer can handle a variety of papers. It has a unique feature called the automatic document feeder, which enables you to go through a total of 100 sheets at a time.
Highlighted Features:
Provides flexible paper handling ways using automatic document feeder.
Offers both wired and wireless connectivity options.
Can be used to print and save using cloud services like Google Drive, iCloud and more.
Comes in another variation that includes ink and pages.
Offers Amazon Dash Replenishment that checks the level of ink and orders automatically when necessary.
10. Epson WorkForce WF-7710 Wireless Wide-format Printer
Last but not least, we have another color printer that can be used on a number of different printing media. And, it will make the perfect addition to your real estate agency.
From Epson, this inkjet printer is an incredible option. When it comes to copying and scanning, Epson is among the few brands that produce equally great quality results. If you want excellent performance all-around, Epson is the way to go.
And as the brand's reputation goes, this Printer is just as good at scanning as it is at printing. It comes in a light and compact form, and it is available in three different versions.
Besides this model, one comes in a package deal with ink combos and the other with Smart Reorder options. Now, let's look at the more detailed specifications.
Since this Printer is equipped with Precision Core technology, you can make wide-format prints of sizes up to 13-inch x 19-inch. And it has a double-sided printing mechanism that works automatically.
This printer prints at a decent speed, generating 8.7 pages per minute in black and white and six pages per minute in color.
However, it does come at a rather high price point. Unless you're on a budget, this could be a great choice for you.
Highlighted Features:
Can effectively scan, print and fax digital files.
Has Precision Core technology that helps make prints without borders.
Allows wireless printing and networking from all kinds of smart devices, including phones, tablets, laptops and more.
Includes 4.3-inch touchscreen for easier accessibility.
Printer For Real Estate Agents Buying Guide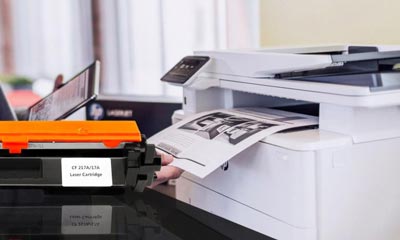 Although there are quite a lot of printers that work for real estate projects, not all of them are worth buying. If you're looking for the best Printer for real estate agents, you should aim for one that can provide high-quality results.
To do so, you must first consider several key elements. Here's an in-depth look at them.
Printing Technology
Printing technology is one of the most important aspects. Printers use two types of technologies, as you might have noted in the overview section above. The first is an inkjet printer, while the other is a laser printer.
Although there has been a long-running fight between the two forms, no real winner has emerged. Both have their fair share of advantages and disadvantages.
The use of ink is the main distinction between the two. Laser printers do not use ink, while inkjet printers do. Rather, they use toner, which extends the life of the product. Laser printers, on the other hand, are usually more costly.
But, inkjet printers may produce higher-quality results in certain cases.
Even though it is an essential aspect, you can't make your whole decision based on this single factor. So, let's take a lot of some of the other factors.
Printer Output
The printer output refers to the presence or lack of color you may want on your prints. Printers either offer monochrome printing options or color printing options; the latter can be used for black and white and colored printing.
You may need to print posters, leaflets, business card printing, and advertisements on a regular interval being a real estate agent. In that case, you don't have much of an option.  A colored printer is a necessity for you.
However, if you just work with contracts and documents and color printing isn't required, a black and white printer will save you money and time.
Usage Purpose
Printers are available in a range of variations to perform a variety of functions. First, you must sort your priorities.
If you want a printer simply for printing out drafts and contracts, you will have plenty of options.
But if you want a printer for scanning, copying, and faxing flyers, posters, and advertising documents to clients, you must aim for a more advanced printer with high-resolution printing.
Printing Speed
The Printer's printing speed is also an important consideration. Even though this is self-evident, speed is absolutely vital.
Pages per minute (ppm) is the unit of measurement for speed. For example, a printer with a speed of 10 ppm will print ten pages per minute.
If you work in an environment where you need to produce files quickly, you should choose a printer with a high ppm. Laser printers are usually the best choice for printing documents quickly as they have an exceptional pace along with outstanding production efficiency.
The ppm of color printing is often lower than that of black and white printing. This means that printing a color page takes more time.
So, before you buy a color or monochrome printer, make sure to verify the ppm ratio. The Printer becomes quicker and more effective as the value increases.
Printing Quality Output
The printing resolution is also another major determinant. Dots per inch (dpi) is the unit of measurement for this factor. It refers to the average amount of ink per inch collected on a sheet of paper by the Printer.
So, 600 x 600 dpi implies that the printed paper would have 3,60,000 dots of ink per square inch (600 x 600 dpi).
Basically, the overall printout output gets better with the amount of dpi. So, you should first make sure what kind of printing quality your job requires, then decide on a printer. 
Connectivity
There are mainly two kinds of connectivity options- wired and wireless. While the former only allows connection using USB cables and SD cards, the latter also offers Bluetooth and WiFi connections.
Check to see if the Printer has easy-to-use networking options. In most situations, wireless solutions are the best because they are much easy to use.
Printer Size
You also have to keep an eye on the Printer's size. Larger printers usually have more options, such as a larger screen or a larger toner power. So, if you have a sufficient amount of room, you should choose a more developed alternative
There are, however, a few excellent choices if you require a small printer. All you have to do now is double-check all of the other requirements.
Tray Size and Capacity
Although it can seem irrelevant, the size and capacity of your printer tray should be taken into account. If you have to frequently print out documents, a printer with a capacity of holding 250 sheets is a good choice.
Now, if you properly consider all the key factors and choose a printer based on that, we assure you that you will be completely satisfied with your choice.
Frequently Asked Questions
Why does it take too long for my printer to start printing?
The print spooler could possibly the reason forcing the printing to take a long time before it starts functioning.
Simply restart your system and erase the spooler data. If you're using a cellular or WiFi connection, though, that may be down to the slow network connection. In that case, you will have to wait for your internet connection to get back on track.
What are the most common issues with printers you can come across?
Although there are quite a lot of issues you could face when using printers, paper jams, inconsistent printing, overridden printing results, and poor quality printouts are among the most common ones.
What causes paper jams on a printer?
Tilted and misaligned papers are a frequent source of paper jams. This is because when you don't align the papers on the tray properly, they have trouble going through the process. So, it is your duty to ensure that the document is correctly placed on the tray.
Another reason could be the lack of compatibility with your Printer. So, make sure the Printer actually supports the type of paper you're using with it.
What to do when a paper jam occurs?
Since it is mostly due to misaligned papers, the best way is to switch off the device. Make sure the device is completely turned off, then manually remove the papers from the tray.
Once you're done, you can turn on the Printer. But make sure to properly position the papers on the tray.
Is it safe to use toners?
Yes, toners are free of toxins and completely safe to use. However, it is recommended that they are handled with caution and that they are not touched or ingested.
So, What is the best printer for real estate agents?
Based on our comprehensive research, we have only included the top options for real estate jobs. Along with detailed descriptions and highlighted features, we have also provided a comparison chart for easier understanding.
We have also given a buying guide for finding the perfect printer for real estate agents. Now, if you want the best option from an overall perspective, go with the HP OfficeJet Pro 9015 All-in-One Wireless Printer.
And, if you want a cheaper multipurpose printer, you can't get better than the HP ENVY Pro 6455 Wireless All-in-One Printer.
My best wishes for your real estate business. Best of luck!